As the decade comes to a close, film lovers, writers and publications alike have done their very best to rank ten years' worth of movies. However, there are some measures of quality that can go unaddressed even the shrewdest critics in the business. The most important one of which is… dogs.

Dogs add a moment of joy to even the most downbeat or serious movie. Humankind's fluffy companions have enjoyed a starring role in motion pictures for over a century! You can always rely on a dog for an extra slice of entertainment, if it is sometimes in some unexpected or – dare we say, controversial – ways. Dogs hold such importance in one's enjoyment of a film that the website Does the Dog Die? has become an invaluable ally in the fight for freedom of information.
And yet, these hardworking actors receive very little recognition for their work, Cannes being the only ceremony to recognise non-human performances in film. To combat this great injustice, we have put together a list of the goodest boys and girls from the decade in film. We are serious when we say the best – there will be no ode to Marmaduke here. And you can leave the tissues in your drawer, because none of these pooches snuff it (except one, sort of).
Merry Christmas to us all!
The Artist (2011)

Michel Hazanavicius' modern silent gem won over the hearts of audiences and critics in 2011, with one star in particular causing quite a stir. Uggie the Jack Russell acted his little heart out, both on the stage as George Valentin's show dog, and off it as Valentin's too-cool best friend. It proved to be a starring turn for Uggie, who now has his own iMDB page, and paved the way for canine film stars in the new decade. Very sadly, time caught up to Uggie and he passed away four years ago, at the ripe old age of thirteen (we promised no fictional dog deaths. We know, reality bites). We love you, Uggie.
Frankenweenie (2012)

This is what we meant by a dog 'kind of' dies. Some typical weirdness from Tim Burton delivers a new spin on Frankenstein when a boy has his heart broken by the passing of his beloved bull terrier, Sparky. He decides to use the wonders of science to bring his dog back from the dead. Predictably, this results in some… unexpected consequences. In Burton's first film since Mars Attacks! (1996) to feature neither Johnny Depp or Helena Bonham Carter, Sparky leads the way in this typically oddball stop-motion. An ode to the human-dog relationship that only Burton could envision.

Knives Out (2019)

Rian Johnson's suspenseful, hilarious and ingenious reinvention of the murder-mystery is impeccable in countless ways. How could such an inventive and piercing story be made even better? The answer is simple. Stick a pair of dogs in the opening shot – which is exactly what Johnson does. The dogs are not just adorable, they also prove integral to solving the mystery, at one point dropping a clue right at the feet of Benoit Blanc (Daniel Craig). They only show animosity towards Chris Evan's character, even though on Twitter the actor has shown nothing but affection for the huggable whodunnit hooligans. His reaction below is what we surely all think whenever a good dog steals the show.

The John Wick movies (2014 – 2019)

If you've seen any of the John Wick films, you'll know how Wick (Keanu Reeves) is antagonised into his furious killing spree: Some evil sods break into his home and kill his dog. Wick seems to have a special bond with pooches. At one point in the latest film, he is asked "all of this for what? Because of a puppy?" to which swiftly responds, "It wasn't just a puppy" – a heart-wrenching line, for sure. And he's right. The dog represented Wick's chance to leave behind a life of violence and pain. That chance was violently taken away from him, and he has been sucked back into the world he vowed to leave behind. He does, however, have a new dog, and the shot of them running through the street together is a moment of quiet adoration in an otherwise violent whirlwind of a movie.

Once Upon a Time in Hollywood (2019)

Brad Pitt's turn as Ciff Booth, in Quentin Tarantino's obituary to the old mannerisms of Hollywood, has to be one of the most laid back performances of the year, and one which rightfully earned him a Golden Globe nomination. And as if the character couldn't be any more likeable (if a bit smug), he has a dog – and a very good dog at that. The pit bull – real name Sayuri – forged such a strong bond with Pitt on set that the actor sent framed pictures of himself and the dog to Sayuri's owners. And an amazing job she did too, bringing yet more life to a film already brimming with energy. She also has an important role to play in the somewhat polarising finale. Even in the most adult-orientated of films, puppies unlock the inner child in us all.

Patrick (2018)

Pugs enjoy a special status among many dog lovers, and one eponymous pug takes centre stage in the family comedy Patrick. The film did bomb slightly at the box office, only making back half of its $6 million budget, but none of the blame for that can be placed on the spoilt, wrinkly beast who changes his owner's life. The pug appeal was perhaps relied on too heavily, but who could resist those big round eyes and soft coat? If anything, it is a lack of Patrick that hindered the film, as Variety commented that it "lacks enough riotous dog action for the little ones." To be fair, it doesn't have near enough for the adults either. But his big round eyes!

The Meg (2018)

The ridiculous shark attack movie that wasn't quite ridiculous enough: Jason Statham versus a giant prehistoric shark is a concept tackled with a little too much sincerity. It does, however, change its tone towards the end, and in what better way than with an adorably pampered terrier? Leaping into the water with as much grace as it can, all it wants is a calming swim in the open sea. Shame, then, that it crosses paths with a 60-foot megalodon. Terriers can give a nasty nip, but this one knows that this is one fight not worth having. Leave the giant shark killing to the humans. Don't worry, he doesn't get eaten!

Blade Runner 2049 (2017)

One of the most expensive artistic masterstrokes ever made – and, sadly, one of the most colossal box office flops ever recorded – needs to make room for dogs when it goes on for over two and a half hours. When K (Ryan Gosling) finally tracks down Rick Deckard (Harrison Ford), he is greeted by a scraggly-looking puppy who Deckard eventually treats to a little whisky. Given how in this world, fake animals are all the rage, K is compelled to ask whether the dog is real. Deckard replies "I don't know. Ask him." End of conversation. Admittedly the dog doesn't do much (it doesn't have to), but it does somehow survive without a scratch when both Deckard and K come under fire.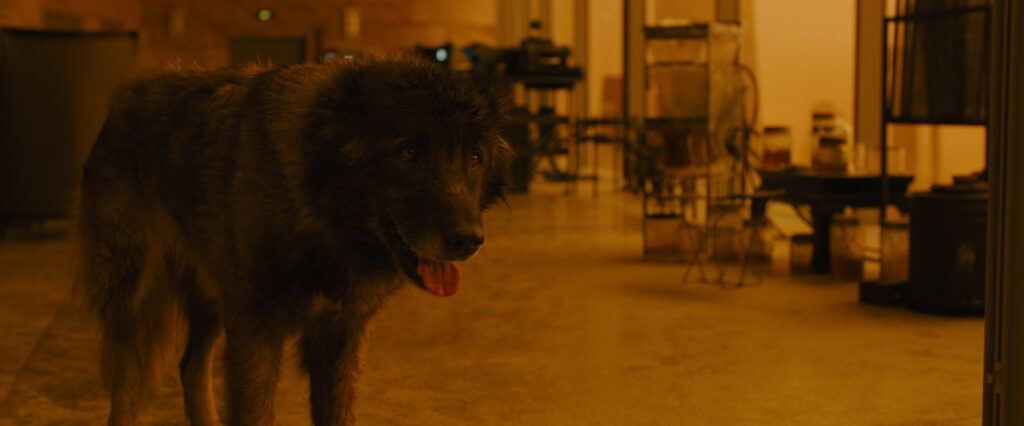 Isle of Dogs' (2018)

If you're a dog lover, the thought of innocent puppies being abandoned on a landfill island is not a good one; unfortunately, that's exactly what happens in Wes Anderson's stop-motion adventure Isle of Dogs. Exiled by cruel politicians who for unfathomable reasons prefer cats, the dogs (led by Bryan Cranston's Chief) must help a young boy who is looking for his own lost pet amidst the rubbish. Admittedly there is always something about speaking dogs that feels a little… off. But the cast here are good enough for you to just eventually accept it. So here are lots and lots of dogs.