The latest installment of one of the most dependable action franchises ever created takes things to the next level. John Wick: Chapter 3 – Parabellum starts with its clumsily long title and never lets up from there. Wick (Keanu Reeves) is now a marked man, and somehow needs to negotiate his freedom if he is to avoid being hunted down by assassins wanting a piece of the $14 million dollar bounty on his head. And most importantly, he has a dog to feed.

Parabellum delivers pulpy, carnal and neon-lit thrills with little remorse. It satisfies every base craving with the sensational eye for noir style and fight choreography that the franchise has become known for. Typically, the action is a blur, but there are several slower moments that even the hardest of audiences will wince at. Chad Stahelski's thriller knows no boundaries. It gets you as close to the action as you dare while also spending time gazing at Wick's world like never before. When you aren't recoiling at the violence, you are in wonder of the sublimely strange places where it all happens.
At the centre of it all is Reeves, who must be making more fans every day. There is a mixture of weariness and anger that fuels Wick throughout the film. His seriousness remains in spite of the strange and almost comic situations Wick gets into (like riding a horse through Manhattan). Such a battle-hardened character almost seems the antithesis of one of the most likeable actors on the planet. Yet Reeves is sensational, saying so much with so little and fully submerging himself into the role. Every line is heard as you imagine it, every punch thrown as you picture it. Reeves even nails a nod to The Matrix – 20 years old this year – that is every bit as satisfying as it sounds. In his capable hands, Wick becomes one of the most believable characters of action cinema.

Reeves is also joined by two new additions to the franchise, who more than leave their mark. Halle Berry makes a massive impact as Sofia, a "friend" of Wick who is more than simply a kick-ass female sidekick. Perhaps the film's most memorable turn though comes from Asia Kate Dillon, eerie and magnetic as a chilling villain simply known as The Adjudicator. Dillon doesn't get involved in any brawls, but has the kind of stare that says they could kick your sorry ass in less than a second. Terrifying and classy, Dillon regularly emerges as the film's highlight.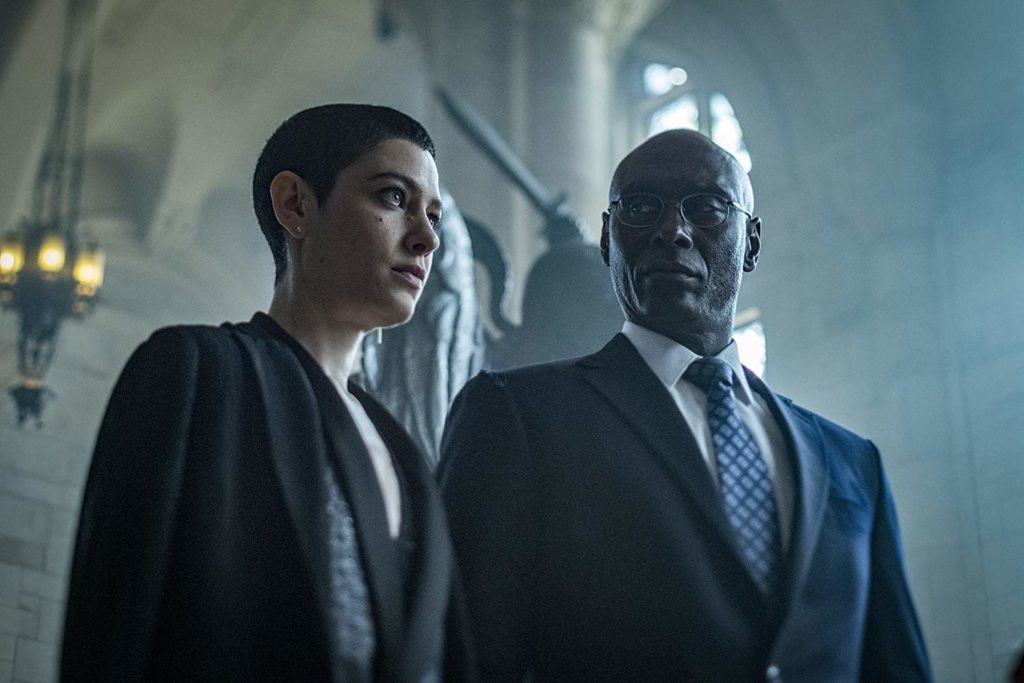 Only occasionally does Parabellum get carried away. A few of the characters could have benefited from more time spent with their stories, Berry's role being one example. The other victim is Mark Dacascos' assassin Zero, who feels more like plot device than a fleshed-out character… Not that you notice any of this in the wild flurry of gun battles and sword fights.

This is full-blooded cinema realising its full potential, with an entertaining internal logic, stunning setting and set pieces to die for. Reeves, Berry and Dillon are the sparks within this raging inferno of a movie, all combining to make sure that the John Wick franchise has hit its target. Parabellum will leave you a beleaguered, grinning wreck by the time it is finished leaving bad guys in a broken heap on the floor.
John Wick: Chapter 3 – Parabellum is out now, distributed by Lionsgate.