Ahead of the release of Benjamin Bond's romantic drama, The Drifters, Outtake sat down with emerging French actress Lucie Bourdeu to discuss her role in the upcoming film as the charming, Parisian waitress, Fanny.
"I was really attracted to my part, for sure," Bourdeu says, describing what drew her to Drifters and more specifically the role of Fanny. "The story and the relationship and the fact that we were two migrants during a post-Brexit period – all this stuff really spoke to me."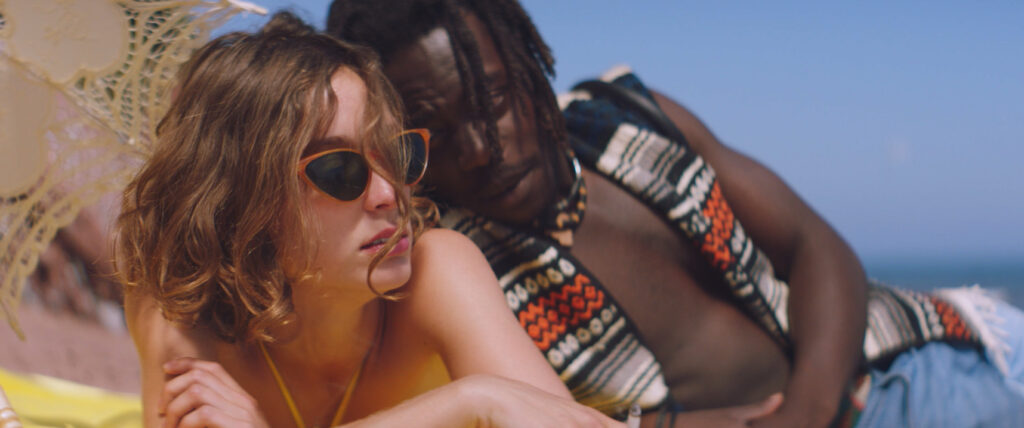 Drifters follows a whirlwind romance between Koffee (played by Jonathan Ajayi) and Fanny, two migrants in the UK who find love and connection on a weekend by the Devonshire coast. "I describe it like a love story," Bourdeu says, "but a weird love story, not a love story where everything goes well."
The film deals with complex issues relating to race, cultural identity and migration, but Bond contrasts these conversations with an idealised, nostalgic setting. Acknowledging the timeless aspect of the film, Bourdeu states, "I describe it a little bit like a fairy tale…you don't have a sense of what time is it, where we are – we are just going into our fantasy." Much of the film was shot in Teignmouth on the South West Coast. "I had never been to Devon or the South of England," admits the Parisian native. "It was really, really beautiful."
Taking on the character of Fanny was not without its challenges. Drifters is the first film Bourdeu has filmed outside her native France and was the first role she completed entirely in English. "I needed to work a lot with my English," she chuckles, "because I was not bilingual, like I said in the casting." She admits, "I was so nervous, so nervous. I think I used that for the part because she seems so confident and everything at the beginning… I was like, 'okay, I'm so confident! I speak English perfectly, I'm going to kill it' but yeah, I was nervous."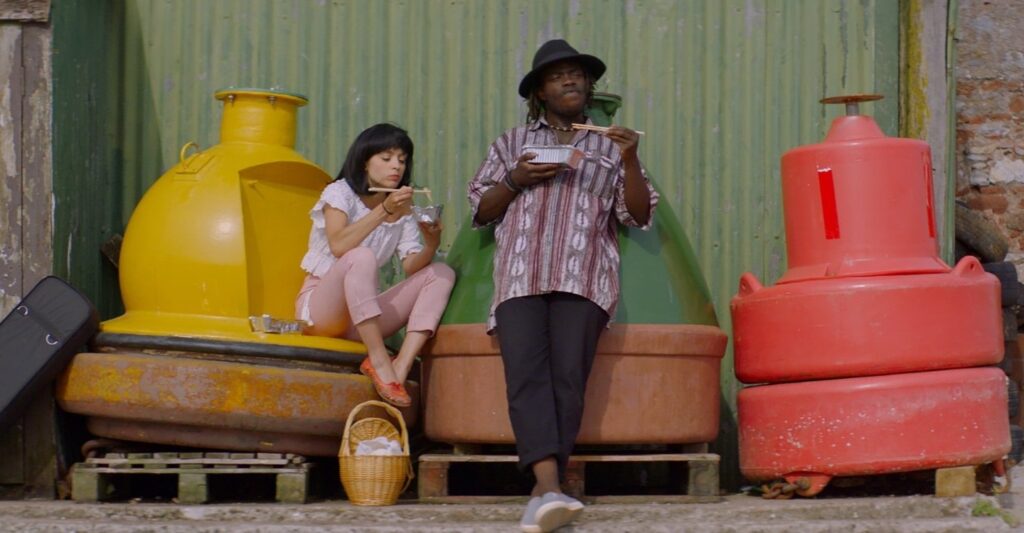 Working with co-star Jonathan Ajayi helped Bourdeu's nerves. "He was really a saviour for me," explains Bourdeu. "He was the only one who could understand me at first, I think." The two young actors lived in close proximity during the film's pre-production process in London. "We spent a lot of time without the work part," she says. "I remember like, running with him in the subway and doing some stupid stuff with phones and like really bonding." An authentic friendship seems to have blossomed between the co-stars, we suggest. "I think so. I hope so," Bourdeu agrees, "just waiting for him to come to France so I can show him round my part now!"
Their impressive chemistry is evident on screen. In fact, Bourdeu reveals that many of their characters' interactions were improvised. "Sometimes [Benjamin Bond] would catch something when I was speaking with Jonathan and he would say, 'you know what, keep the conversation in,'" she explains. "We were able to do a lot of improvisation, so it was really, really fun."
Ajayi also helped Bourdeu handle the more challenging scenes in the filming process. "I was really concerned by the sex scenes," she says, "at the end, I was so happy with the editing and everything… but when you are doing it, you're like, 'oh my god, everyone is looking at me' and stuff… I was really taken care of by Jonathan. I shared a lot with him," she reveals fondly.   
We discuss Bourdeu's journey into acting and whether this was a career she had always envisioned for herself, to which she responds: "Actually, no! When I was 12 or 13 years old, I was cast in the street… that was the first time I really asked myself if I wanted to do it." Despite not having considered a career as a performer, Bourdeu quickly found her place within the industry. "It was by chance at the beginning," she admits, "and when I got the part I was like, 'Okay, that's what I want to do.'"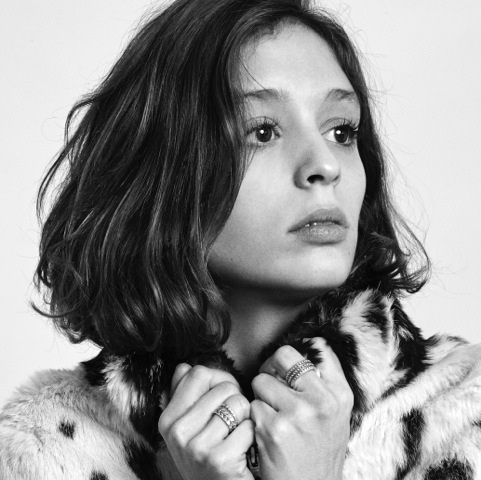 Her love of film also cemented her decision to enter the industry. "From when I was young, my mum used to make me watch so much stuff – in the original version too – so I learned English through films." Drifters pays homage to various Hollywood classics, ranging from Hitchcock's The Birds to Sunset Boulevard and Tarantino's Pulp Fiction, something that particularly excited Bourdeu. "I loved it," she reveals, "all the nods to the movies in the script, I loved it." Bourdeu identifies a scene where her character references Sunset Boulevard as one of her favourites in Drifters. "[Koffee's] filming me with his phone and I'm like, 'I'm ready for my close-up,' like the Sunset Boulevard reply. I love it. Like the fact I can say that in a movie, it's amazing."
In another scene, Fanny recreates the iconic dance performed by Uma Thurman in Pulp Fiction. "I knew the dance since I was, I don't know, 10?" Bourdeu laughs, "I loved it. We did it twice, once in an office…and then we did it in the town in Devon. That time, I asked if I could do it. It was not in the script but I was like, 'Okay, this is a great spot. Can I do it?' And [Bond] was like, 'Okay'… I couldn't even hear stuff, but I was like, 'Let's do it.'"
We discuss what it was like working with director Benjamin Bond, for whom The Drifters is also his first feature. "He was really, really nice and precise and concerned with the characters. He gave us a lot of freedom which made it so nice to work with him," says Bourdeu, who also expresses a keen interest in directing herself. "I'm really interested in behind the camera work, directing, editing. That's something I do in France a little bit too." Bourdeu reveals that over the course of the pandemic, she has found a way to explore this passion further: "Because of COVID, there are so many projects in standby," she explains, "so I work with a production house and I do a lot of editing."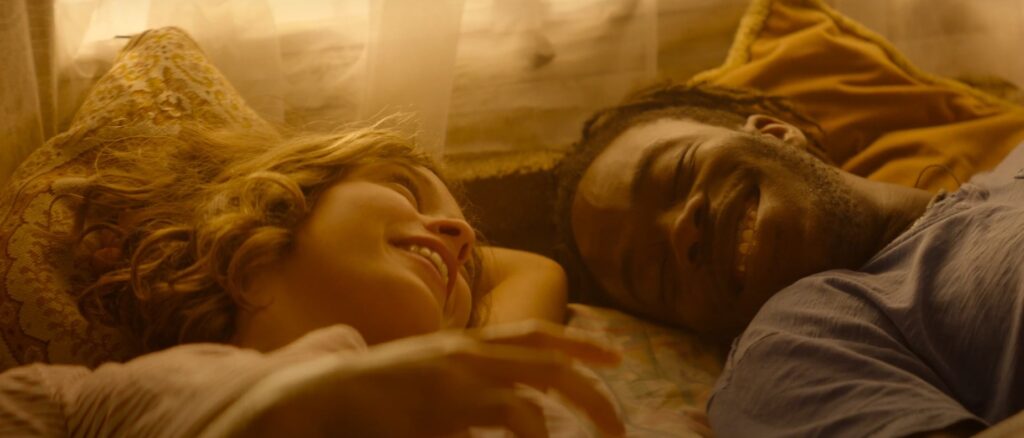 On becoming a director, Bourdeu admits that "I love the idea, and I think if I can do both [acting and directing], I'm going to be so happy. I'm just following what's going on and trying some new stuff. I think all of the jobs in cinema are so connected."
We discuss what films she might want to make as a director. "I'm writing something, a horror movie actually! I love fantasy and science fiction films… in France, there is not much of a place for it. I can't really think of a French science fiction movie," Bourdeu muses. The actress seems like a strong candidate to change that, if her passion for genre fiction is anything to go by. "Sci-fi, or horror, or even musical. I love it," she says, beaming.
As for Drifters, Bourdeu express her hope that people "will be moved by the love story" at the heart of the film, but also acknowledges its important socio-political context. Referring to the migrant experience that Drifters explores, Bourdeu explains: "Those kinds of relationships, the situation of the characters is still current… people live this situation and I think it's really important to speak about it." She continues, "I want people to discuss the background and be moved by the love story."
For now, Bourdeu is continuing work on the French sitcom, Our Crazy Family (En Famille), for which she has been a main cast member for the past nine years. Although her excitement to get back into film is evident. "I'm just waiting to be back in a movie. I want to play again. I love the sitcom, but this is something so different," she explains. "Especially when you have an English movie, I can't wait. I hope I will work in England again, oh, definitely."
The Drifters releases in virtual cinemas from 2nd April and on demand from 5th April 2021, via Apple TV and iTunes.