Ahead of The Drifters' release, up-and-coming British actor Jonathan Ajayi sat down with Outtake to discuss his career so far (including working on Wonder Woman 1984) and his hopes for the future.
Described as a post-Brexit love story, The Drifters is the sun-soaked directorial debut from Benjamin Bond. It follows a whirlwind romance between Koffee and Fanny, two migrants who navigate love and companionship during a weekend away to the Devonshire coast. Ajayi's immediate attraction to the project stemmed from "the sense of adventure," he found within the narrative. "There was a magical quality to the story," he admits, "reading it felt like such an adventure and that was really exciting."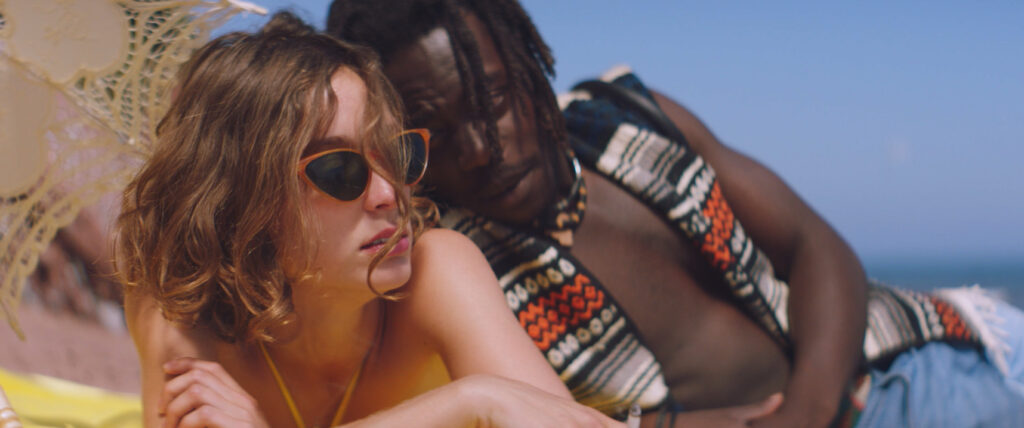 Ajayi plays Koffee, an African immigrant with a traumatic past who finds love with charismatic, Parisian waitress, Fanny (played by Lucie Bourdeu). Although the film is primarily a love story, it does not shy away from tackling more challenging issues relating to immigration and cultural isolation, doing so deftly and without the need for gratuitous violence and suffering. It was this aspect of the storytelling that appealed to Ajayi. "I loved the way that it portrayed the migrant experience beyond just trauma and suffering," he says, "a lot of [the film] was the pursuit of everyday things like love, education, home."
Ajayi detailed the intense groundwork he undertook to prepare for the role of Koffee. "I watched a lot of documentaries and I literally step-by-step imagined myself as Koffee, making the journey from his country of origin to the UK… finding out which route he would have taken from which country, how many days he would have spent in the desert, how he got his scars, really investing emotionally and psychologically into the traumas that he's experienced."
Ajayi takes a thoughtful and considered approach to his character. "I think Koffee's individual story is the road to restoration," he explains, "he still has things to fight for, he's trying to restore himself to that sense of family, a sense of home, a sense of worth, a sense of visibility – those are basic human rights. But the last however many years of his life have stripped him bare of those things and he literally wears the scars of those things on his back."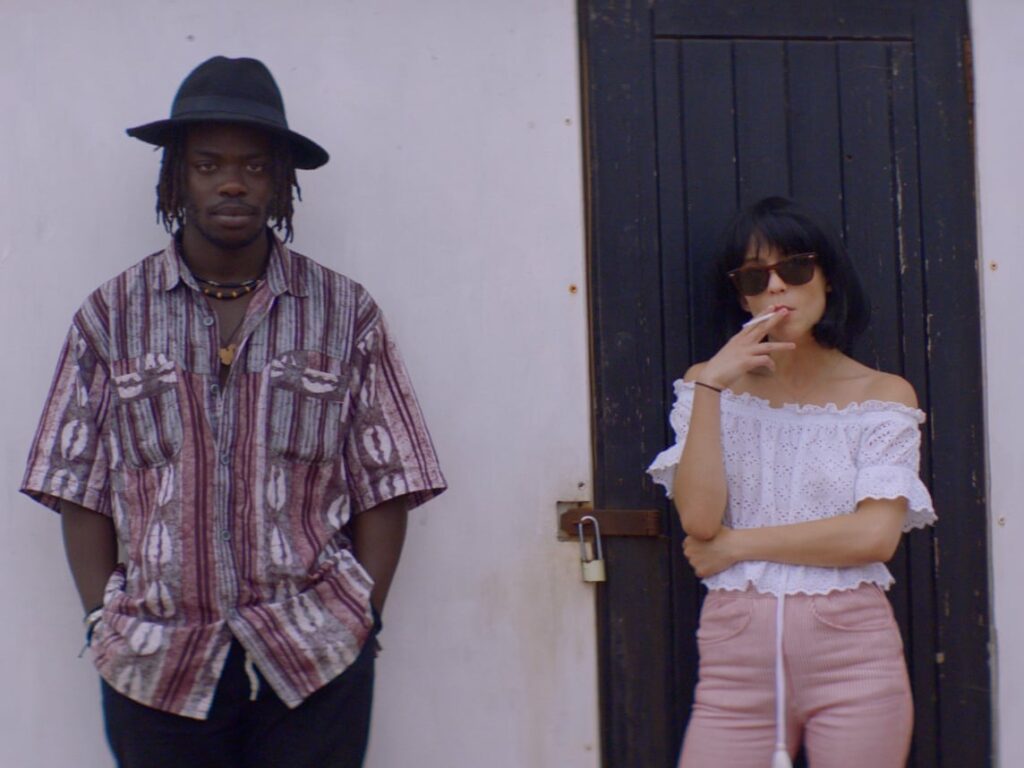 Taking on a role with such challenging material is uniquely demanding and Ajayi explains how he separated himself from the trauma of his character. "I write set journals every day," he says, "whenever I did have a trying day, in terms of character, I'd kind of just write the feelings out." This cathartic practice proved crucial in establishing distance between Ajayi and the intensity of the material. "Those things helped me to separate myself from the character – I'm not like a method actor or anything – I wasn't seeing different faces in the mirror or anything," he laughs, "but one of my drama teachers said that the body doesn't know it's make-believe. So sometimes when you go to those places, you have to know how to shake it off."
When it came to handling said material, Ajayi was greatly helped by his co-star Bourdeu. Ajayi speaks highly of the French actress: "there's just this sharp, intense intelligence to her, and she's so creative," he explains. "The way she sees and engages with the world, you know, not even as an actor, just as a person. For me, watching her kind of just be and exist is fascinating. She's so cool." Their on-screen chemistry is palpable, likely the result of living in close proximity during the film's pre-production process in London. "She was staying near where I was living," Ajayi explains. "I was a student. I was at drama school at the time, so she was hanging out with me and my housemates… we just built this chemistry that was so strong that by the time we got to the film, man, I just trusted her. We could be silly and just let go."
Much of The Drifters was filmed on the South West coast in Devon and it is this location that lends the film its warm, vibrant aesthetic. Native Londoner Ajayi is open about his admiration for the idyllic setting. "It was gorgeous. Oh my goodness, that Jurassic cliff face! It was beautiful. I'm a Londoner, born and raised – been here all my life – so it's so nice to get out and get away and be in a place where we can breathe at a slower pace… I've found new aspects of myself out in the landscape."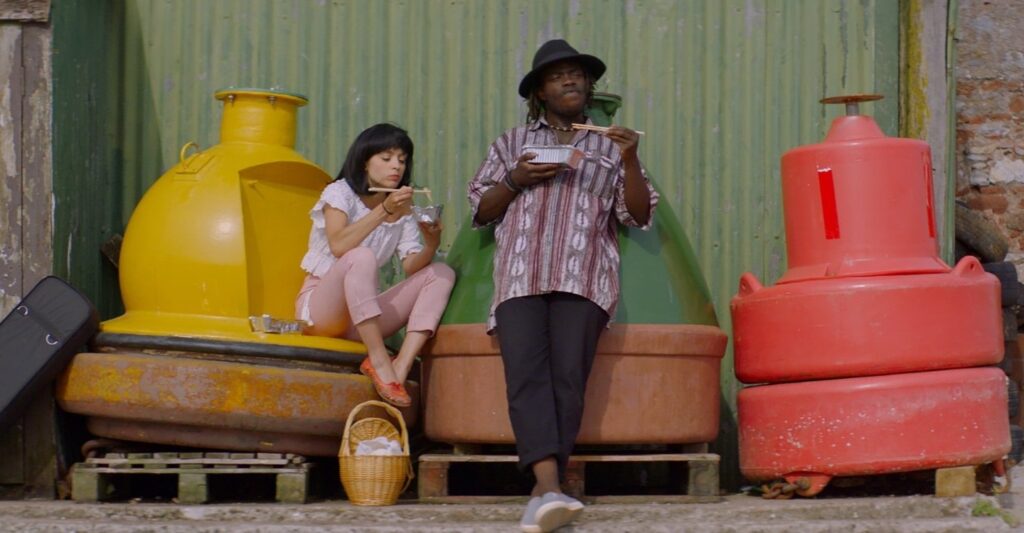 Despite being filmed back in 2018, Ajayi acknowledges the contemporary relevance The Drifters possesses in the wake of the pandemic and Brexit. "I think everyone in the world kind of feels displaced at the moment. There's an element of everyone being kind of stuck in something that they don't want to be stuck in, you know." Ajayi continues, "people now in this pandemic have experienced so much loss, but people still go for walks and have zoom quizzes, and I think in essence the film's kind of doing that. Koffee and Fanny are kind of doing that, they've got trauma but they're going for walks and they're trying to swim and they're trying to drink coffee. Joy in the middle of the storm."
When asked what he hopes people will take away from The Drifters, Ajayi says, "I want people to get an appreciation of the life that people have lived up to the point of meeting them. Everyone has a story, everyone has something that has been difficult for them in the past… you don't know what battle people are fighting, and we meet these two characters who are fighting their separate battles, but they're able to find a home in each other. I hope that this opens people's minds to not running away from others, and not try distancing themselves from good things like love and companionship."
Ajayi completed The Drifters while studying at LAMDA, during which time he was also cast in Wonder Woman 1984 – the highly anticipated sequel to the 2017 superhero blockbuster. "That was a dream come true," Ajayi states. "I got the offer for it towards the end of Drifters. It's kind of like a pinch-me moment where you go, 'Wait, me? What? Is this the right number?'" The transition from London drama school to Hollywood blockbuster was a daunting one. Ajayi admits that "the scale of it kind of crushed me a little bit and I was really, really scared. I'll be honest and say I was very, very frightened. But Pedro Pascal, Patty Jenkins, all those guys you know, they're so warm. They're warm people and they love what they do and they cared about the project. They nurtured me through it."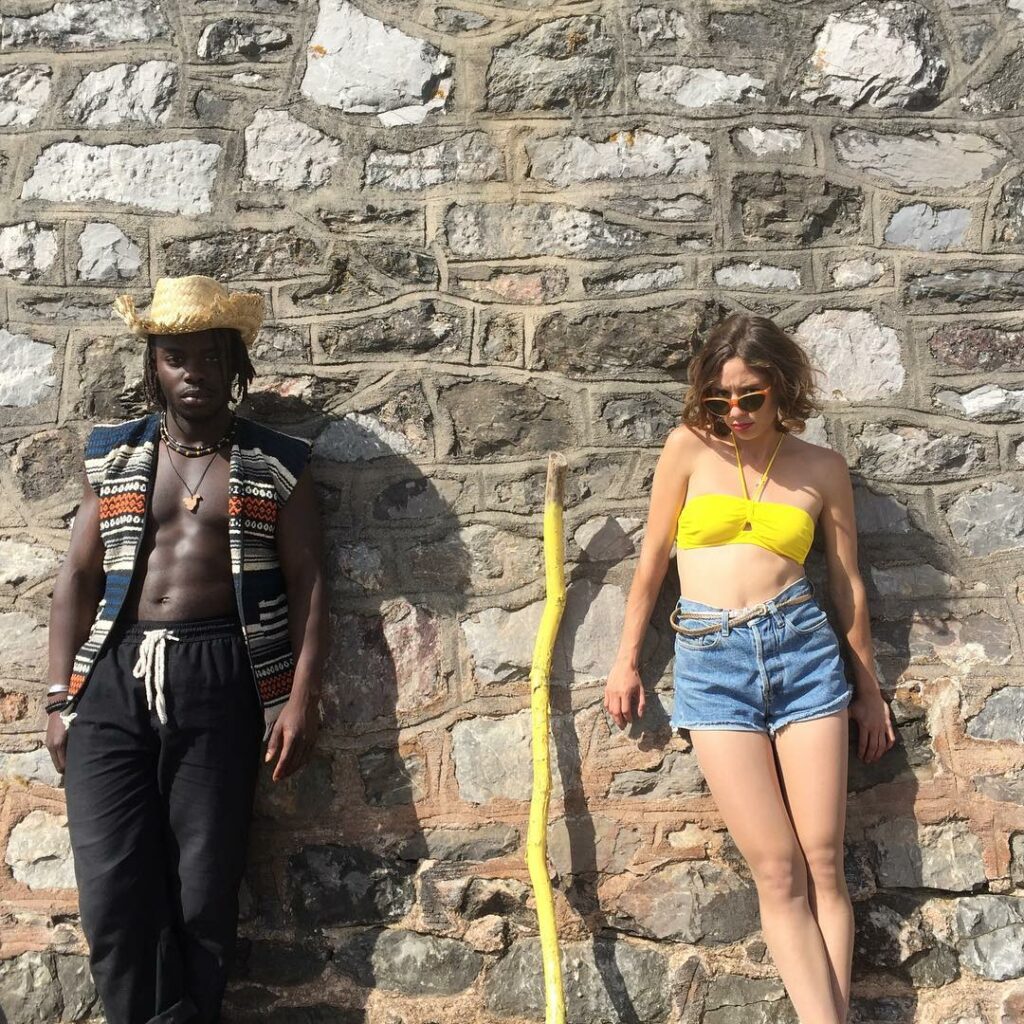 As for future projects, Ajayi reveals a love for action movies and names Static Shock as his dream role. "It's one of the only black superheroes I ever saw as a kid, so that'd be dope. I just want to do something with big explosions, fighting baddies, running away and then saving the day. You know, you don't want to do the deep, gritty, 'let's get into the inner workings of the human soul' stuff every day. Sometimes you just want to punch an alien in the face and win," he chuckles.
When asked what advice he might give to aspiring actors, Ajayi pauses for a moment. "Be kind to yourself. Don't be afraid of the changes that are happening to the industry, embrace the changes… and believe in yourself. That's the advice I would give to aspiring actors and I am also still, you know, aspiring myself," he acknowledges modestly.
Ajayi has a short film debuting at South by Southwest festival and also starred in last year's BBC series Noughts + Crosses but, for now, he is excited to see where The Drifters takes him. "Drifters has so many firsts and it will always have a place in my heart, so I'm just excited to see how people receive it. It's a light film and I think right now the world needs a light film. A bit of happiness, a bit of romance, a bit of playing around, a bit of 'Pulp Fiction' dancing without the heaviness."
The Drifters is released in virtual cinemas from 2nd April and on demand 5th April 2021 via Apple TV and iTunes.