Cinemas in the UK finally reopened in May, a long six months of lockdown later, following a brief respite between July and November 2020.
While cinemas are welcoming die-hard fans and film critics back for a slice of the big screen experience, with the promise of a strong summer of titles including Fast & Furious 9 and Black Widow, albeit with the expected safety and social distancing measures in place, including face masks and reduced theatre capacity.
However, there is no denying that the cinema exhibition industry has a tough road ahead. Whether it be the casual – or simply more apprehensive – cinemagoer, or film fans who have grown too accustomed to watching movies at home, the industry may need to offer something more in order to coax customers back to the multiplex. That "something" would not only need to provide assurances in terms of safety, but also offer an experience that is impossible to recreate in the comfort of one's own home.

That something might well be Oma Cinema.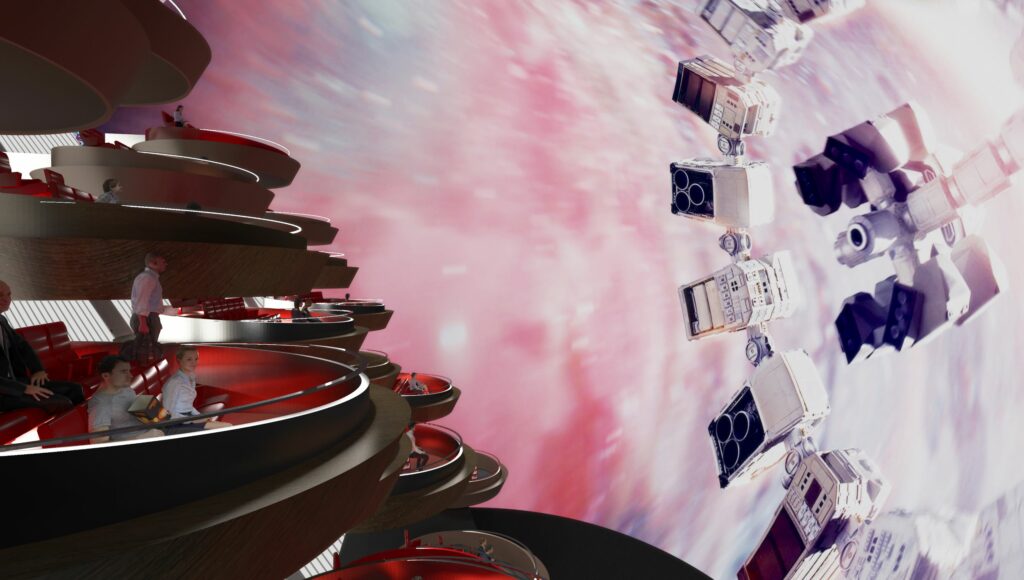 Oma is described as a uniquely vibrant cinema experience that revives the unmatched magic of movie theatres. Through its unique, vertical architecture, Oma intends to fully immerse its audiences, both emotionally and physically. Its pods concept aims to revolutionise the audience's position relative to the big screen, providing everyone with optimal viewing conditions and an increased connectivity with the film.

Film fans may notice that the concept art bares a striking resemblance to the Galactic Senate from the Star Wars prequels. However, the inspiration for the design comes from something much grander, explains co-founder Nicolas Chican:
"Pierre Chican, who was the founder of Oma cinema, is an architect with a specialist reputation for designing movie theatres, for now more than sixteen years. The inspiration came from his years of experience in realising movie theatres, but was also inspired by the traditional opera house and theatres with balconies, as well as the Italian style of traditional movie theatre."

While the concept was created and patented prior to the pandemic, as fate would have it, Oma's pod-based design could be the perfect solution to the post-pandemic world. The general layout of a multiplex screen has not changed much over the last 20-25 years, and Chican believes that now is the time for cinema to evolve… if it wishes to survive.
"If you compare Oma cinemas' design to a traditional movie theatre layout, the incline is around 20 to 25 degrees with the ranked seating." Chican explains that, "our incline is between 50 and 60 degrees; with each pod having a limited number of seats, it means that you will be able to have far greater visibility when compared to sitting in the middle of crowded movie theatre. Every seat is will be the best seat in the house."
Jean-Marie Dura, senior consultant to the project, sees it as a way to make the simple act of going to the movies special again.
"I think that even without the pandemic, all of us in the exhibition industry – and more broadly, in the movie industry – have long known that something in the way we do things has to change. As they say, something's got to give. Everybody is looking to innovate, or to come up with something that recaptures the magic of the cinema-going experience. With the Oma, we are repurposing the cinema experience to become an unforgettable event experience. We strongly believe that by changing the way the seats are placed in front of the screen, we can enhance the movie experience for the audience."
UK cinemas have in recent years seen technological advances that attempted to enhance the cinematic experience, such as IMAX and 4DX. Where Oma differs is that the evolution is an architectural one, not a technological advance.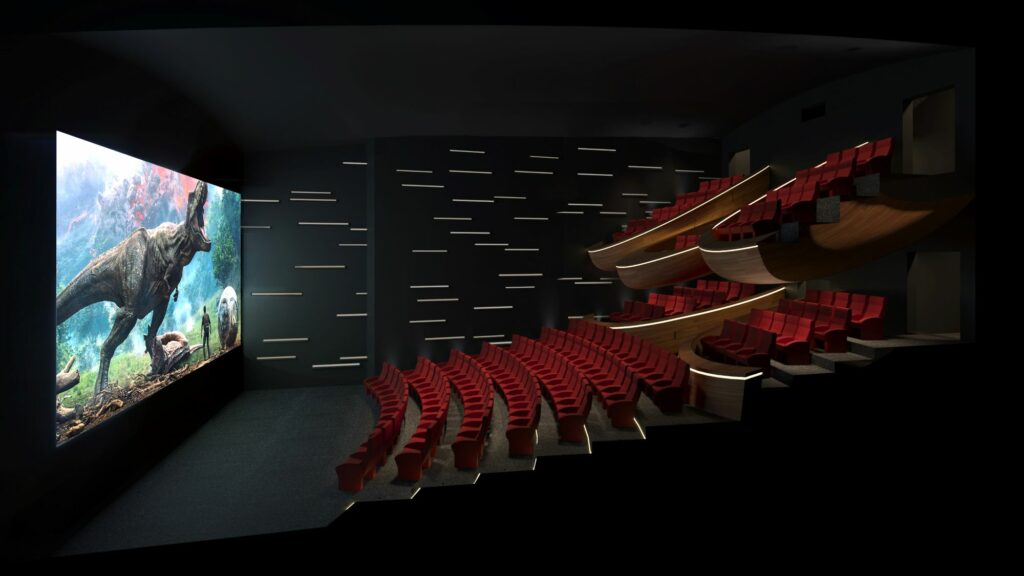 Audiences watching IMAX and 4DX films are normally limited to the bigger blockbuster films, those that have been formatted to fit the technology. With
Oma, the seating is designed to work with a cinema's existing projector. Therefore, any film can be shown in an Oma screen. Dura explains that they are intend to work with cinemas to deliver an unbeatable viewing experience, not to dictate what the cinema can exhibit.
"We don't interfere in the technical aspect, so there is no post-production work," says Dura. "That means that you can show every movie as it was meant to be seen. That's the beauty of it, because it also means that we won't interfere with price policy, nor will we interfere with the content of the programming. The exhibitor will be able to show whatever they want to show to their audience."

Chican and Dura are currently working hard in preparation of opening the very first Oma cinema screen in Paris later this summer, but already, they find themselves looking ahead to the future.
"While we invented the concept before the pandemic, back in July 2019, a lot of people have said it fits perfectly in our post-COVID world; not only because our cinema design is better suited to social distancing rules than a traditional movie theatre, but also because it can elevate the movie-watching experience. And that is particularly important due to the development of streaming services, which present a threat to the success of the movie theatre. And even more so post-pandemic, many exhibitors will need to innovate in order to keep attracting movie lovers. With Oma cinemas, you and your loved ones can share a pod and be safely distanced from others, but also be immersed in a shared experience with a crowd of strangers. That's the great beauty of it: Oma brings you the best of both worlds."
For more details on Oma cinemas, visit their website.