It's obvious that the world (both cinematic and literal) into which films are today released bears little resemblance to the long-ago Golden Age of Hollywood cinema. Seismic changes in filmmaking practices and our socio-political contexts have meant that the ways in which we value films, and what we seek and gain from the cinema experience, have changed dramatically.
An essential influence has been the spectacular advancement in various technologies, from digital cameras and CGI to social media and marketing practices. And while these tech changes have spurred evolutions in film forms, their impact is more dramatically felt when one looks at creative trends. Technology has transformed – and will continue to – the way that we present and consume content; as the escapism of a screen has become more easily accessible and commonplace, it's also decreased in value. The film industry has therefore had to refocus, to redefine what value viewers seek from movies. Filmmakers have pivoted to a model which prioritises narrative efficiency, and the telling of stories that are engrossing enough to keep audiences' generally shorter attention spans. With exceptions, of course.
"Meta" used to be a specific and sparingly employed term in film, reserved mainly for auteurs (such as Fellini), innovative cinematic movements (such as the French Nouvelle Vague), and absurdist comedy-satire (such as Monty Python). Whilst the extent to which a film emphasises or alludes to its own artificiality can be a prism through which to analyse any film, the increasing abundance of self-referential and overtly intertextual movie releases is characteristic of a new, more relaxed attitude to the escapism of movie-watching – particularly in the case of mainstream films and blockbusters.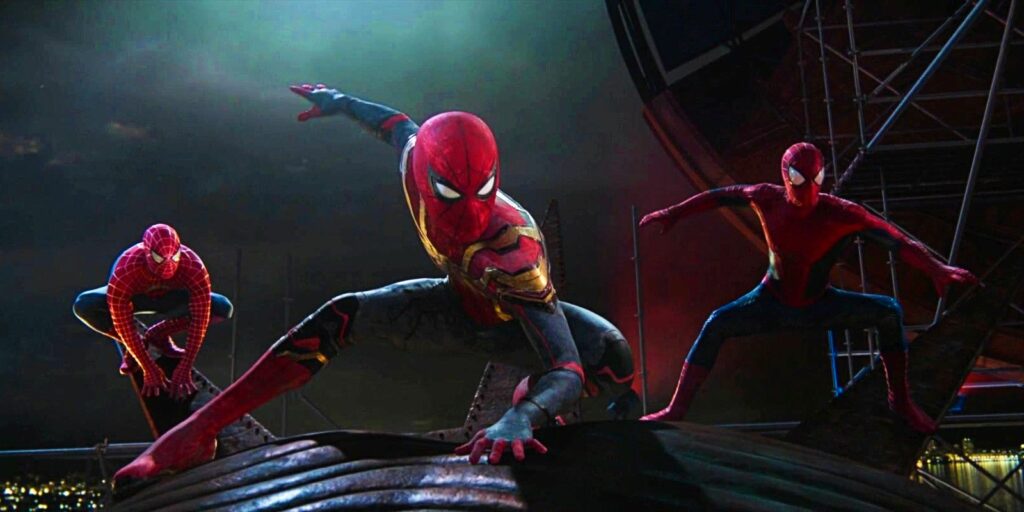 Taking a none-too-meticulous look back over the last couple of years, the uptick in Meta films is clear as day, the most obvious force in this respect being the Marvel franchise. Historically reliant on the audience's prior knowledge of the Marvel Cinematic Universe (MCU), the most recent releases are taking this self-reference to another level. Spider-Man: No Way Home brings back characters from previous iterations of the Spider-Man series to capitalise on fans' feverish nostalgia and insatiable desire for crossover events. It entertains as a viewing experience (especially on first viewing) but the film itself lacks the substance to stand on its own. Its individuality and value as a work of art are dissipated by its dependence on its predecessors.
Doctor Strange in the Multiverse of Madness has more in the way of character and tone, with Sam Raimi being given more creative freedom to imbue the entry with his trademark horror elements. Yet even beneath the facade of Raimi's singular vision, Multiverse of Madness turned out to be an ironically conventional MCU film. Blame for this can likely be placed on Raimi's need to abide by a coda of continuity: the director has stated that the details of the film's direction were pre-ordained by the MCU's overarching trajectory and destination. Once again, we see innovation and identity squandered in favour of serving the greater intertextual canon.
Marvel are not alone in this. Reboots, sequels and prequels are seemingly in constant emergence and are subservient to pre-existing content and audience expectations. The trend away from standalone films and original ideas is writ large on the UK box office statistics – in 2021, the 20 highest-grossing films included only two original films, Free Guy and Jungle Cruise. Around the rest of the Western world, it was a similar story – mainstream films have shrugged off the responsibility of taking the audiences to new worlds, and opted instead to take us back to familiar ones. In these, studio executives can therefore be sure of our entertainment and investment (monetary and intellectual), but at the cost of sacrificing the cinema (or sofa) as a place for enlightening, challenging experiences.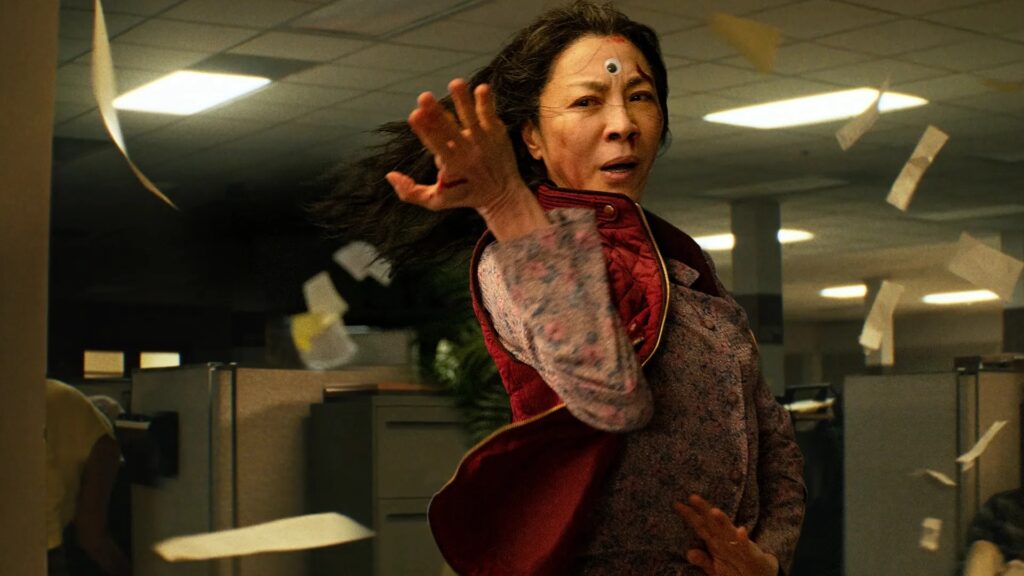 Whilst corporate cinema seemingly has no choice but to comply with metafiction, some notable releases by auteurs and independent producers have seen writers opt to envelop their films in meta mayhem to comedic and emotional effect. From the Daniels' Everything, Everywhere, All At Once and Tom Gormican's The Unbearable Weight of Massive Talent, to Joanna Hogg's cinematic self-portrait, The Souvenir Part II, all deploy metafiction for original means. Hogg, for instance, blends reality and fiction in her self-exploration, the introspective chaos of her two layers of consciousness providing a fascinating character study of the filmmaker. Meanwhile, a more traditionally playful spin on metafiction doesn't prevent Everything, Everywhere, All At Once from being an emotionally arresting experience, using the concept of the multiverse and its meta consequences to comment on youthful nihilism and chaotic self-doubt – not unlike The Souvenir Part II.
Where they diverge is that the Daniels' film embraces flashy visuals, kinetic narratives and action that appeal to mainstream audiences. By combining nihilism and countless realities, Everything confronts an issue facing all films: in a world in which we all have access to the multiverse via the Internet, eyes must be dragged from smaller screens to bigger ones by a) relying on prior emotional investment (i.e. franchises), b) raising the stakes (i.e. sequels) or c) jolting the viewer to attention with metafiction and multiverses in ways that mirror how we enter and exit worlds at will inside our gadgets.
So, has modern technology robbed us of the potential for total escapism? Have mainstream filmmakers abandoned hope that audiences might journey to new worlds? Has our constant consumption of content rendered us incapable of surrendering fully to a film? There is of course great intrigue, innovation and potential brilliance in self-awareness, as showcased by the fervent praise heaped on EEAAO. But keeping so many films rooted in metafiction and dependent on intercontextual information only makes viewers hyper-aware of the fact they are consuming a film; it forbids total immersion. With the way cinema is heading, do we therefore risk losing our ability to be transported and truly affected by great films?