What happens when a film is based on a female-authored story (TV writer Danielle Sanchez-Witzel), stars women, is marketed for women, is about female friendship, yet is directed and written by men? In the case of Like A Boss, nothing good.
That's not to say we should be putting "Men Need Not Apply" signs up on every female-driven comedy. Hell, two of the best feminist comedies to come out of Hollywood in the last decade – Bridesmaids (2011) and Girls Trip (2017) – were both directed by men and in the latter's case, co-written by one. Issues only arise when a film advertised as a feel-good, girls-night-out comedy instead leans into overdone plot devices and carboard cut-out characterisation, with a healthy serving of vagina/sex/fart jokes thrown in for good measure. How much effort went into writing this script? One would venture it was the absolute minimum.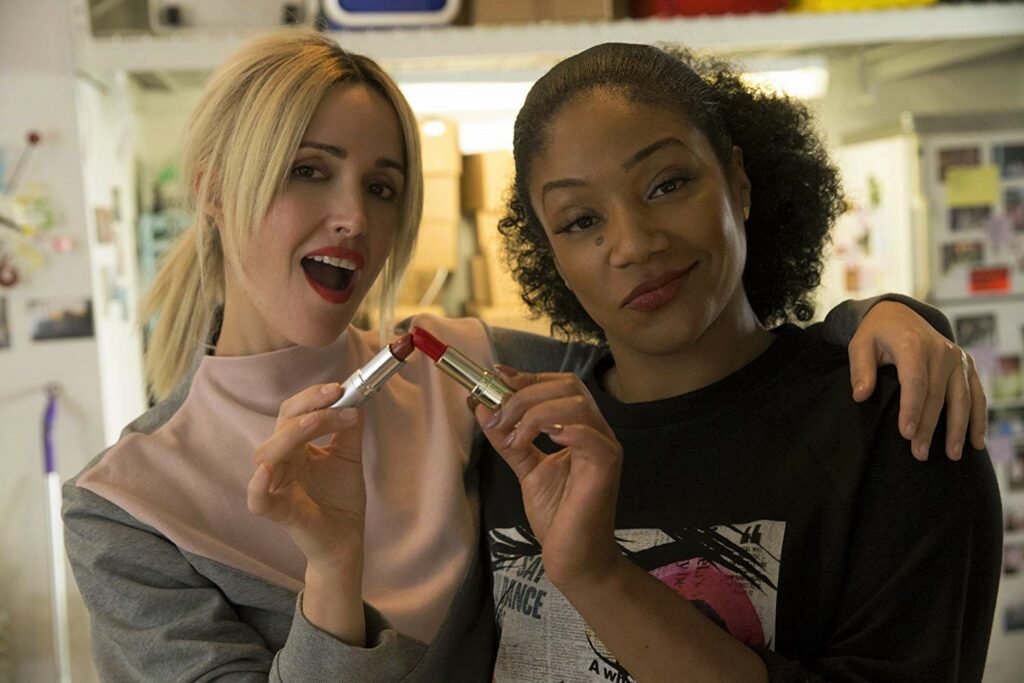 Mia (Tiffany Haddish) and Mel (Rose Byrne) are life-long best friends and business partners with a cosmetics line and small start-up shop in Atlanta. Sadly for the duo and despite their bestselling 'One-Night Stand Kit', it's soon revealed that the two of them are deeply, deeply in debt; queue beauty-mogul Claire Luna (Salma Hayek) as their queen in shining armour, wallet at the ready to buy them out in exchange for 49% ownership of their company. There is one stipulation: if either BFFs quit, she will gain full control of their business.
And thus Hayek, decked out in eerily light contacts, a bright orange wig and a prominent set of teeth (think if Ross Geller post-teeth whitening and Rami Malek in Bohemian Rhapsody­ had a love child), makes it her mission to tear Mia and Mel apart and absorb their company into hers. Teetering around on stilettos and swinging a golf club around (just because), Claire Luna is a cartoonishly power-hungry villain who, unlike her Disney counterparts, is afforded neither depth nor growth. And as every character to share a scene with her is quick to point out, she's a B-I-T-C-H! Worry not, the lazy writing doesn't stop here!
Mia is the fun one, unreliable and loud and without filter; Mel is the sensible one, the people-pleaser afraid of confrontation with a covert mean-streak. The sad thing is, both these roles have been done well before, but only when they were facets to better-rounded characters – it's as though the filmmakers had lifted Haddish from Girls Trip and Byrne from Bad Neighbours and rolling pin-ed them into the wafer-thin characters of Like A Boss.
The script also makes it difficult to buy into the quieter, more vulnerable moments between the two women. The speed with which they turn on each other, resorting to insults and sabotage (though far less creative than tactics employed in Bride Wars) makes believing their supposedly rock-solid friendship that much harder.
Yet amidst this mess, the three stars really do try to win the audience over. Haddish's energetic delivery and infectious enthusiasm go some way towards compensating for the repetitive half-jokes that make up a large section of her lines. Likewise, Byrne's terrible karaoke and awkward dancing provide an endearing counterbalance to her co-star's buoyancy. Hayek is utterly committed to her Boss Bitch™ role, along with supporting actors Billy Porter (granted one great scene involving a dramatic café exit) and a criminally underutilised Jennifer Coolidge. The cast are clearly having a ball, so much so that they might convince you you're having fun too.
Like A Boss might be lazily written and utterly forgettable, but its sheer star power is enough to at least make it watchable; you might even find yourself laughing along.
Like A Boss releases February 21st.