Ryan Maxey's debut feature documentary, One Road to Quartzsite unravels a uniquely American phenomenon: an annual winter pilgrimage towards an unassuming freeway exit in Arizona. Over the course of a few weeks, thousands of transients of every age and background descend on the sleepy desert town; it's there that gun-toting evangelists, strung-out campers, semi-feral children, veterans, retirees, and gender nonconforming outcasts become unlikely neighbours, living side by side in (at times) precarious harmony.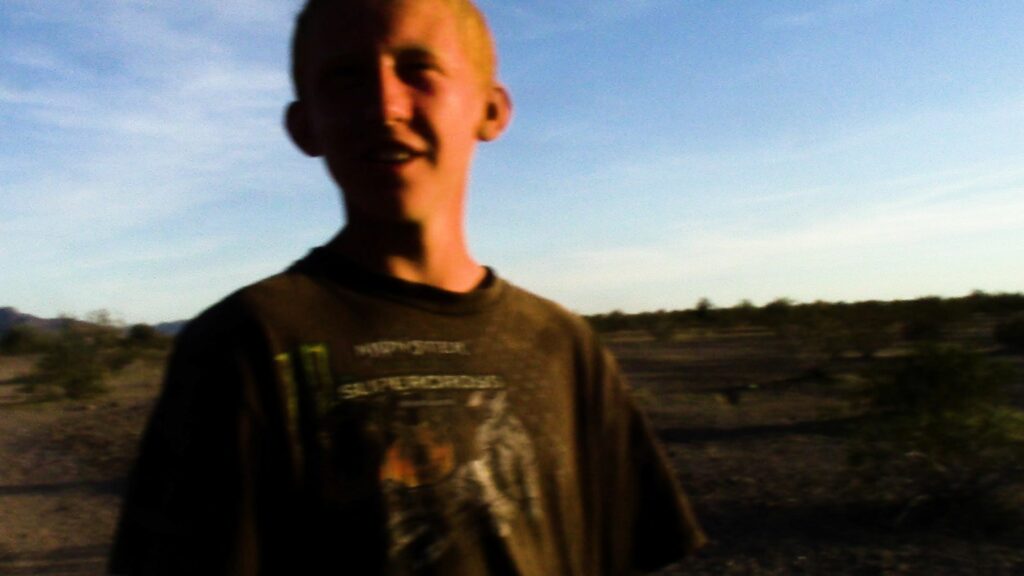 For them, the little stretch of dust between Los Angeles and Phoenix is a haven from mainstream society. We observe kids play, climb trees, and invent their own religion; retirees engage in activities at the community centre; a naked bookseller battles cancer; addicts find support around a shared pack of shortbread biscuits; middle-aged men wax lyrical about Trump's America.
Shot entirely in cinema verité style, Maxey's camera drops the viewer into the middle of Quartzsite and withholds any and all commentary, formal interviews, judgement, or narrative signposting. Though at times disorientating – many practical questions go unanswered, and it isn't often clear how the focal characters fit together – there's something pleasantly intimate about the documentary's fuss-free approach to filmmaking. Not everything needs to be explained, resolved, or tidied up, and One Road to Quartzsite is happy to simply bear witness to the proceedings.
Situated somewhere "between the death and pinnacle of the American Dream" and within explorations of joy and grief, community and loneliness, hope and despair, One Road to Quartzsite turns out to be about something far simpler than the sum of its parts. Amidst it all, Maxey uncovers the common humanity shared by those on the edges of society.
One Road To Quartzsite premiered at Big Sky Documentary Film Festival. A release date is TBA.