Chloé Zhao's Nomadland is a compassionate, gorgeous hybrid between documentary and fiction, partly inspired by Jessica Bruder's 2017 nonfiction book 'Nomadland: Surviving America in the Twenty-First Century'. This new phenomenon emerged out of the 2008 financial crash: a generation of 60- and 70-year-olds whose pensions and savings were wiped out. Now unable to afford retirement or to keep a home, they are pushed to live life on the road, roaming in search of seasonal work throughout middle America.
Frances McDormand gives a pensive, self-effacing performance as Fern, a widow and former teacher in the old company town of Empire, Nevada. Devastated by a factory closure as a result of the economic crisis, Empire was wiped off the map – literally, as its ZIP code was discontinued – and Fern, along with many others, was forced to pack her possessions and hit the open road.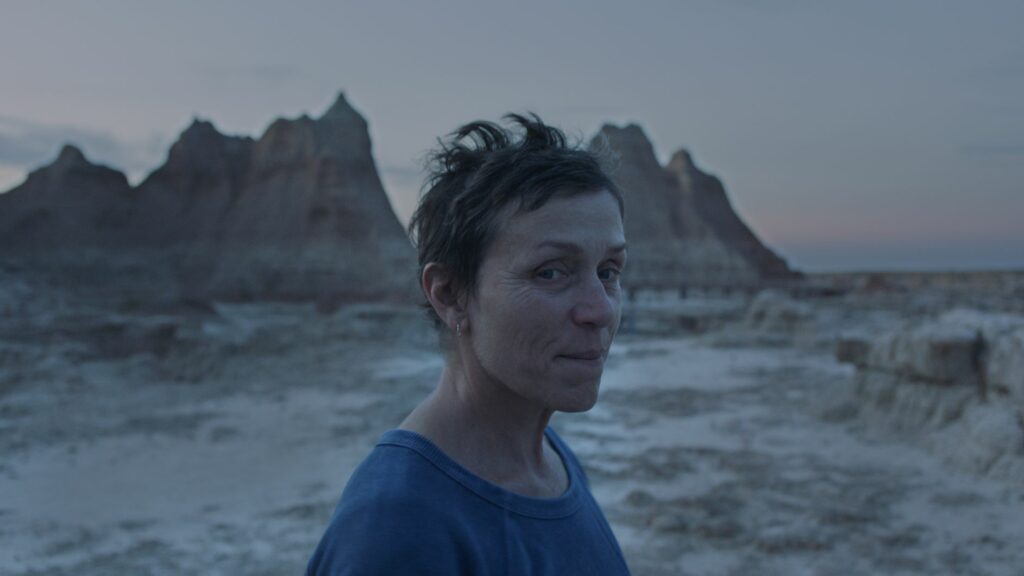 Much like with Zhao's previous features, Songs My Brother Taught Me and The Rider, Nomadland explores modern Americana through its fringe communities, following them as they move through the American West's endless, empty landscapes. Zhao seamlessly folds McDormand into a supporting cast of real-life nomads, weaving fiction and reality with wonderful ease to create an eye-opening tableau of the American economy's dark underbelly.
At the same time, however, it celebrates the heart and resilience of its subjects. Fern's complete lack of self-pity about her situation allows Nomadland to speak both to the melancholia of those the crash left behind, and the sense of freedom and escape many find on the road – though the film thankfully resists romanticising the lifestyle, opting instead for candid realism when it comes to the unglamorous details of a transient lifestyle.
Under Zhao's empathetic gaze, Nomadland blooms into a haunting testimony to the forgotten communities of the industrial Midwest, their dignity, their estrangement from society, and the precarious freedom to be found out on the wide-open landscapes of America.
Nomadland releases January 1st, 2021.