There's something invigorating about seeing actors like Liam Neeson, Mel Gibson, Keanu Reeves find a new lease of life as action stars in the niche "avenging their family" wheelhouse. With Riders of Justice, it's Mads Mikkelsen's turn to gun people down in the name of vengeance.
When a fatal commuter train accident leaves many dead, including Emma (Anne Birgitte Lind), who had boarded the train with her daughter Mathilde (Andrea Heick Gadeberg). Mathilde survives, but statistician Otto (Nikolaj Lie Kaas) – who was also on the train and feels guilt over giving up his seat to Mathilde's mother – begins looking into a string of 'coincidences' leading up to the crash, that he believes may be of significance in catalysing the tragedy. Soon, he turns to Mathilde's taciturn father Markus (Mads Mikkelsen), a war veteran who grieves through beer and violence, and the two men embark on a quest for revenge against the local biker gang that seem to be behind the whole accident: the so-called Riders of Justice.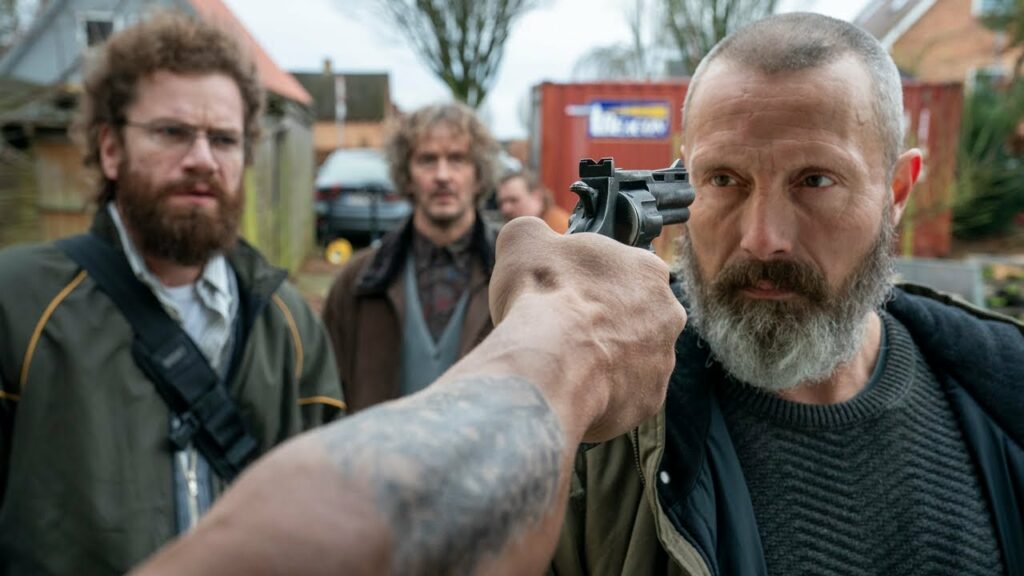 What makes Anders Thomas Jensen's script here so fascinating is just how unexpected it all is. Not only is the conceit of bringing together a mismatched, out-of-place group of characters into the fold of a revenge story so inherently amusing, but the skilful tonal juggling is what makes Riders of Justice so distinct. The jet-black humour won't be to everyone's liking, but there's something unabashedly hilarious about a biker gang being tracked down by a group of nerdy scientists and a brooding sociopath.
All the while, Jensen offers some fascinating arguments on how fate and coincidence control our every movement, and what the dangers of putting too much stock into small, everyday incidents can be; maybe there is some cycle of repercussion, a sort of domino or butterfly effect, but it can also just be a morally-skewed path of malefaction – as Riders of Justice demonstrates.
Jensen recruits his usual cohort of actors here – the likes of Lars Brygmann, Nicolas Bro, Kaas and Mikkelsen – and the chemistry amongst this ensemble is, at this point, a given. They work seamlessly in Jensen's absurd cocktails of characters and situations; as a result, the idiosyncratic family dynamic at the core of Riders of Justice feels genuinely realised, as the various figures find solace in one another's company. It's a dynamic that's anchored by Gadeberg's confident performance as Mathilde, who becomes the group's moral compass. Together, they invest the film with a great emotional core – so much so, in fact, that you almost wish Jensen had done more with those dramatic beats. By the end, the actual train crash feels like an afterthought to everything else going on.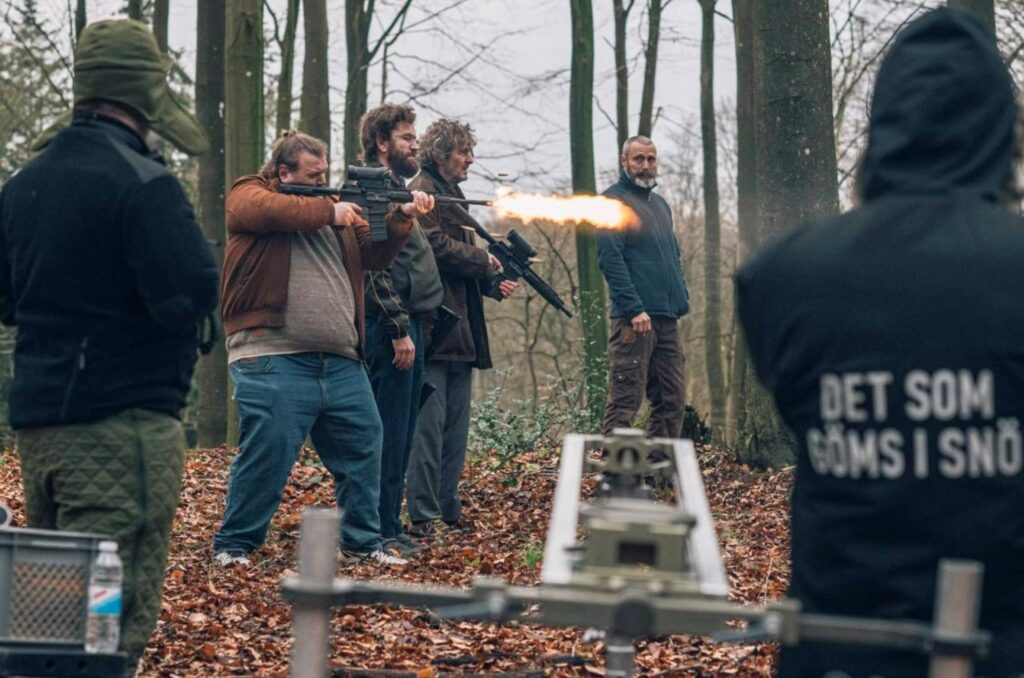 Riders of Justice is undeniably a busy film. It's juggling a lot and unfortunately, it doesn't quite stick the landing; because of the smorgasbord of different tones, ideas, and themes simultaneously at play, the film tends to undercut its own jokes and emotion punch. Nonetheless, this is an unhinged, screwball comedy with a violent streak and quirky family dynamic – there are great gags, and the action is delightfully helmed. Jensen proves once again to be a master at finding levity in moments of darkness. The result is something wonderful: a film that, by all accounts. shouldn't work as well as it does. Riders of Justice is deliciously fun, and kind of beautiful too.
Riders of Justice releases in UK cinemas from July 23rd.