It's obviously too early to tell, but it looks like Midsommar is set to be one of the year's most surprising hits. Taking home a suspiciously large sum on opening weekend, gaining a CinemaScore far above its art-horror paygrade, and causing an actual queue outside my beloved, oft-deserted Camden Odeon, it's the bizarre day-glo neo-Wicker Man everyone wanted, but thought nobody else did. Hell, maybe it'll be big enough to allow A24 to line their coffers against the titanic (ahem) loss The Lighthouse is about to cause them.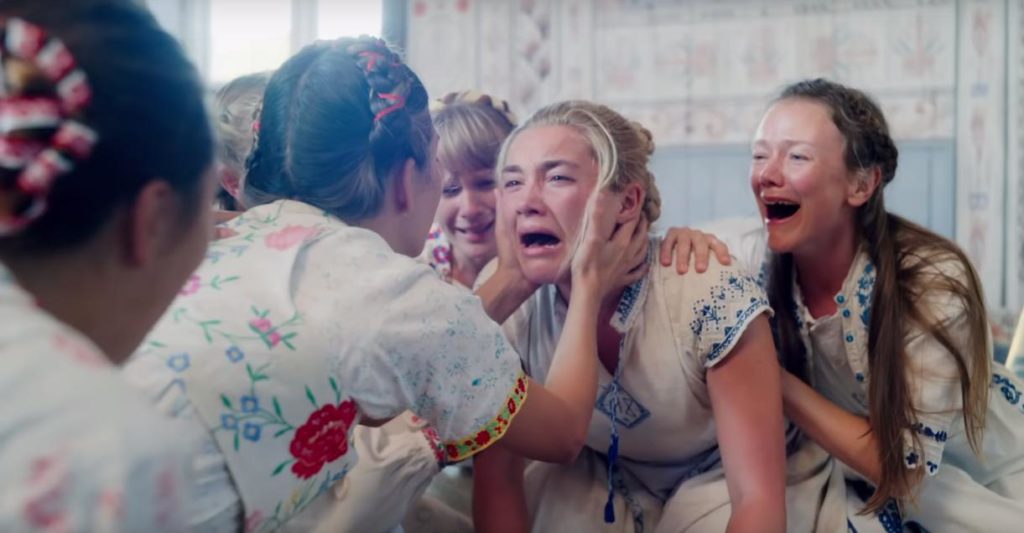 Florence Pugh is superlatively good as Dani in a supercharged performance that's not quite as operatic as Toni Colette in Hereditary but comes pretty damn close. She's just lost her family in a horrific event, and finds she can only cling to condescending boyfriend Christian (Jack Reynor) for emotional support. As it turns out, Christian and his friends Josh (William Jackson) and Mark (Will Poulter) are heading off to Sweden for a Midsommar festival hosted by their mutual acquaintance Pelle (Vilhelm Blomgren), and feel obligated to invite Dani on account of her current fragility. It's best not to reveal any more, but suffice to say that said festivities are not quite as innocent as they may first seem.
Just as Hereditary approached family breakdown and predestination from a horror angle, Midsommar is clearly supposed to explore grief and the process of moving on from traumatic events. Unfortunately, Aster's sophomore feature starts to lose itself in an incoherent metaphor that doesn't actually seem to track the grieving process – the catharsis he projects onto his final frames isn't actually reflected in the experience of watching it. Nevertheless, the sheer audacity of this 2hr20min technicolour daylight trip is reason enough to sing high praises. There are enough what the fuck moments here to fill several risky pieces of work, and when slammed together at such whiplash velocity, the effect is nothing short of intoxicating.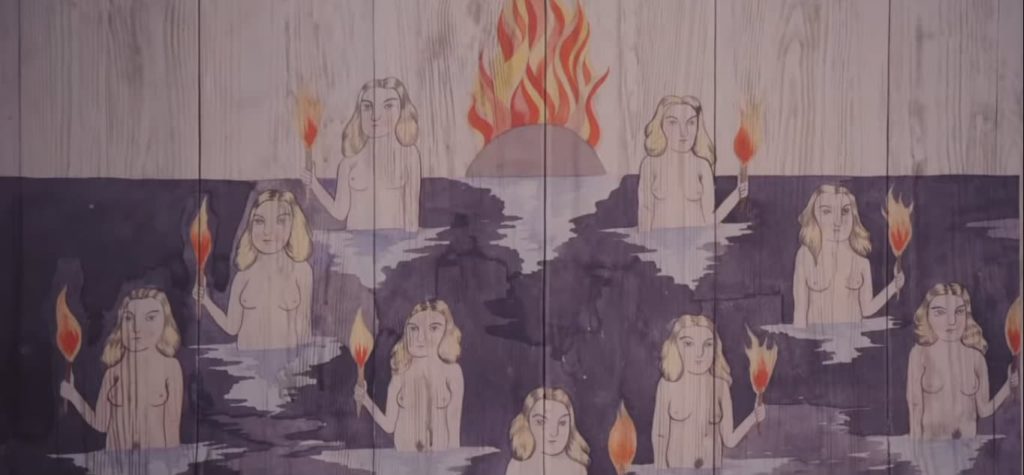 A common complaint from public screenings of Hereditary was that the film was self-serious to the point of self-parody – eruptions of unintentional laughter providing the scaffolding for that infamous F CinemaScore. Although it means skimping on the scariness, Aster appears to have heard that complaint loud and clear – Midsommar would be the funniest thing I've seen all year if it weren't for Korine's magnificent The Beach Bum. The humour escalates along with the absurdity and explicit-ness too, culminating in a… erm… 'sex scene' that just has to be seen to be believed.
Aster garnishes this lethal cocktail of hardcore 18-rated gore (warning: there's a LOT of splatter) and sex with astounding, awe-inspiring visual flair that sends Pawel Pogorzwlski's camera soaring through the air, performing acrobatics that feel physically impossible whilst the lush colour-scheme pops with extreme saturation. Most astounding however, was the decision to film the entirety of the film's third act in a nauseating, lysergic haze that sees all background surfaces and textures moving and breathing as if we're on an acid trip. By this point, I was questioning whether Midsommar was even real – it's the most unlikely horror blockbuster since Ken Russell's The Devils.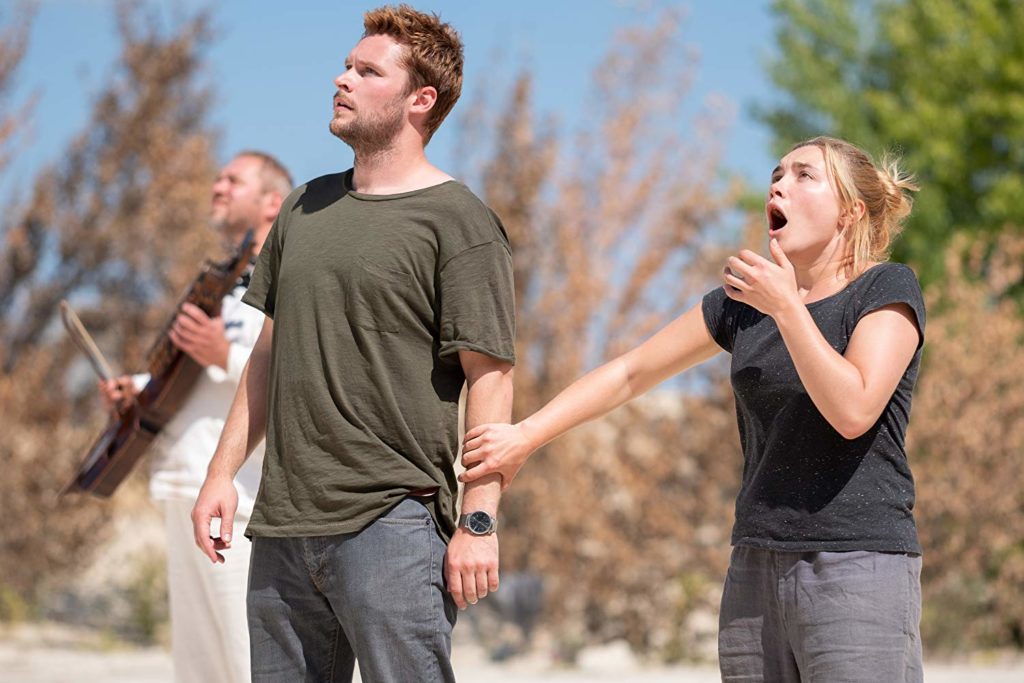 On the subject of camera magic, Midsommar is a work of such cold, blinding formalism that it can, unfortunately, be hard to peek behind its sleight-of-hand cinematographic tricks. Aster clearly owes a huge debt to Bergman and Tarkovsky, amongst others – the latter's The Sacrifice a crystalline reference point here – but unlike his forebearers, he's unable to link his formal strength to a coherent thematic or stylistic narrative. Rather than forming a cohesive visual style, these elements can read a bit as though the director flicked through a filmmaking manual and decided to shoot the techniques he thought would look the coolest. Nevertheless, it's easy to look past this when the final product is so deliriously unhinged.
We've now had a chance to see sophomore features from the three most promising new voices in horror. Out of those – Peele's disappointing, commercial Us and Eggers' completely mental The Lighthouse being the other two– Midsommar certainly scans the most like a Southland Tales moment. Absurdly long for its genre (the damn thing feels about a week long), ridiculously expensive, and overindulgent to the point of indigestion, Ari Aster's follow-up to Hereditary is certainly easy to hate. But, remarkably, it's much easier to love. Completely off-the-rails, malevolently psychedelic, uproarious, and sickeningly splattery, it's a feelgood slice of candy-coated depravity. Perfect refreshment for this over-cooked summer.
Midsommar is out in cinemas now, distributed by A24.