After 2017's genre bending, psychological marvel Get Out, expectations for Jordan Peele's sophomore effort, Us, were high. Sadly, I suspect many will compare the film unfavourably to its predecessor. But it seems unfair to demerit what is at its core, a strong work of horror simply because it doesn't live up to the impossibly high standards set by Get Out.
Us, although perhaps not as acutely shocking as Get Out, maintains the same level of atmospheric creepiness and satirical relevance. The film shows once again that Jordan Peele is a filmmaking force to be reckoned with.
The film begins with a flashback to 1986, showing the young Adelaide Thomas at a carnival with her parents in Santa Cruz. Peele's sublime direction and Mike Gioulakis' cinematography, which is nothing short of phenomenal, immediately turn this family setting into something deeply unsettling.
We follow the young Adelaide through cripplingly low camera angles as she wanders off from her bickering parents, and heads towards the beach only to stumble into a funhouse hall of mirrors. Inside, she comes across a sinister young girl, revealing herself to be Adelaide's doppelganger. Cue an especially unnerving opening credits sequence accompanied by Michael Abels' show stopping score and the film is off to a great start.
Years later Adelaide, now played by Lupita Nyong'o, returns to the Santa Cruz lake house where she grew up, but this time with her husband (Winston Duke) and their two children Zora and Jason in tow. After an intense first act, Peele eases off here and allows the family dynamics to shine through, as in a heart-warming scene of them singing "I Got 5 on It" by Luniz in the car. The chemistry between the four family members, especially Winston Duke and Lupita Nyong'o, is wonderful and, unlike other horror films, feels genuine and sincere.
Slowly, as you would expect, things begin to unravel. The family vacation takes a dark turn as the main characters are targeted by their malevolent doppelgangers who have arrived to wreak havoc on their human counterparts, fully dressed in red boiler suits and all carrying large pairs of scissors. Peele does remarkably well to take the tired old trope of a lake house horror film and turn it into a refreshing and innovative piece of cinema.
The acting in this film is something to behold and the doppelgangers, who are all played by the same actors, are genuinely terrifying. In one of the most disturbing scenes of the film, Adelaide is forced to sit and listen to her doppelganger Red, as she expresses her deep jealousy and resentment at having to live her life in the shadows, watching Adelaide enjoy the luxuries of her life as an original human.
Nyong'o's performance is simply outstanding in the dual role as the desperate Adelaide trying to protect her family and the vengeful Red trying to destroy it. If the Academy is willing to drop its pretentiousness and nominate a horror movie in an acting category, Nyong'o without a doubt deserves a nomination.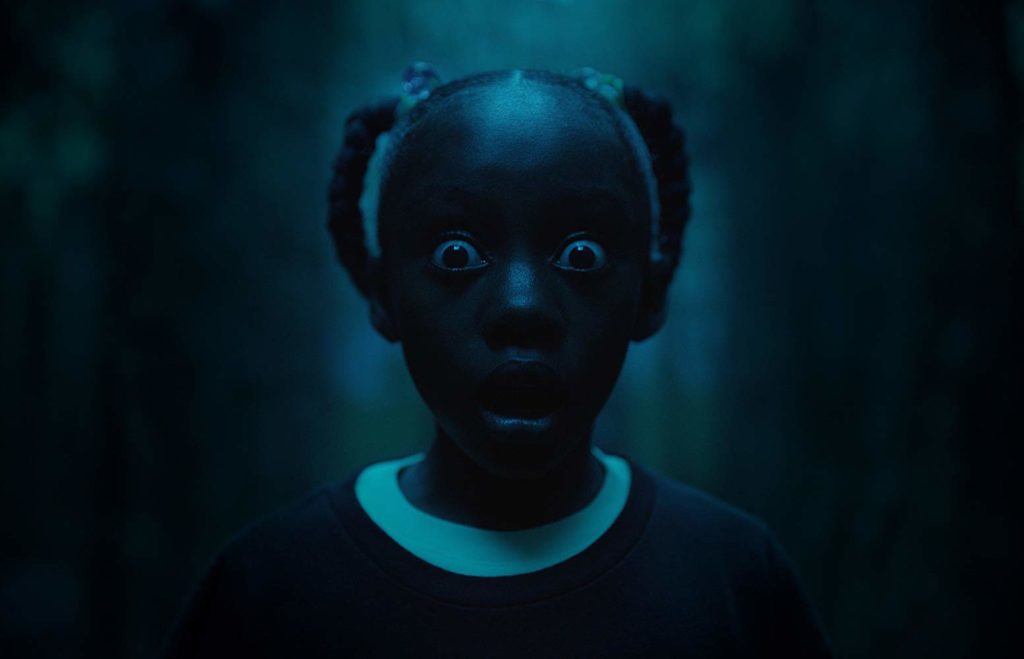 Elisabeth Moss of The Handmaid's Tale and Tim Heidecker of Bridesmaids both feature in supporting roles as family friends of the Wilson family and bring a fresh dose of comic relief to the otherwise disturbing film. Peele demonstrates an uncanny ability to combine comedy and horror throughout the film and it works to great effect. Scenes of grisly murders are carried out to the rhythm of "Good Vibrations" by the Beach Boys and moments of tension are broken abruptly with witty one-liners. In a 2017 interview Peele stated that his extensive work in comedy gave him "something of a training" for his foray into horror and it certainly comes to use here.
Us is a rich, dramatic and frightening exploration of identity and the human condition in today's culture. There are multiple theories as to what the doppelgangers represent and Peele allows them to work on various levels within the film. Do they represent our inherent fear of the Other? Or do they represent the marginalised population of a classist contemporary America? Peele leaves it up to his viewer to ascertain which it is.
Us is an expertly directed, brilliantly acted, work of film that allows Peele to explode the boundaries and conventions of the horror genre whilst unquestionably asserting that he is not a one-hit wonder. Peele wraps his razor sharp satire within an expertly crafted piece of cinema. It's atmospheric, intense, disturbing and downright freaky.
Us is out in cinemas, distributed by Universal Pictures.