Prestigious filmmaker Steven Spielberg's adored sci-fi spectacle E.T. the Extra-Terrestrial, the record-breaking, uniting, and out-of-this-world story about loss, family, and friendship, has just turned 40! Despite being released four decades ago, the beloved film has maintained a remarkable legacy as one of Spielberg's most notable works, continuing to uphold itself as a must-see film for all generations and playing a pivotal part in pop culture today.
You don't have to look very far to see the influence and impact the sci-fi spectacle has had and continues to have on films, TV, and general media. Whether it's character names, actions, or even just capturing that same sense of sci-fi nostalgia, references to E.T. can be found throughout media since its release in 1982 – the most recent, arguably most notable, being the fan-favourite Netflix original series Stranger Things. Created by self-proclaimed Spielberg fans Matt and Ross Duffer, hints and homages to the proclaimed filmmaker's work, whether intentionally or not, can be found throughout the first two series of the adored show – the most memorable being the classic bike chase scene in season one. With similar references and spots on shows like Family Guy, South Park, and even Buffy The Vampire Slayer, ET's impact is undeniable. But why exactly does it continue to resonate with audiences to this extent?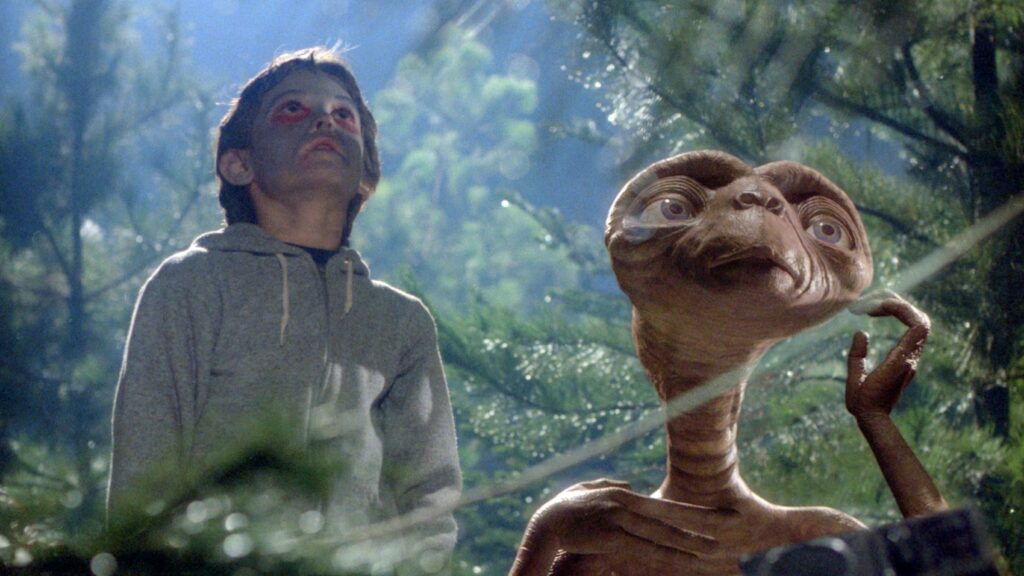 Released in June of 1982, E.T. was immediately met with adoration and acclaim from audiences and critics alike, opening at number one at the box office and surpassing the previous highest-grossing weekend records set by Superman II and Rocky III. Then, it remained at number one for an astonishing total of sixteen weeks, a record that would only be beaten by Spielberg himself with 1993's Jurassic Park.
Coming just one year after the legendary Raiders of the Lost Ark, it's safe to presume that audiences were already familiar with Spielberg's trademark style and tone. They'd already witnessed the wondrous magic, spectacle, and intensity of his earlier films, Jaws and Close Encounters of the Third Kind – the latter also combined heavier themes with a science-fiction narrative. On the surface, E.T. appears to be your classic adventure-filled family blockbuster (it certainly is that), but there's more to the film that has allowed it to endure for so long.
The story centres around a young boy named Elliott (Henry Thomas) who, along with his sister Gertie (Drew Barrymore) and older brother Mike (Robert MacNaughton), befriend a lost alien and later try to help him return home. Much like Spielberg's previous work, the film is full of wonder, exciting suspense and childlike delight whilst still exploring heavier – and in this case, personal to the filmmaker – themes of loss, separation, loneliness, and growing up. While Elliott, Gertie, and Mike are dealing with the awe-inspiring but slightly unnerving experience of encountering E.T., they are all also trying to cope with their father's recent departure from their lives. It's a line drawn from Spielberg's personal experience of his parents' divorce – a situation and feeling that undoubtedly resonates with and connects many viewers to the film, story, and characters.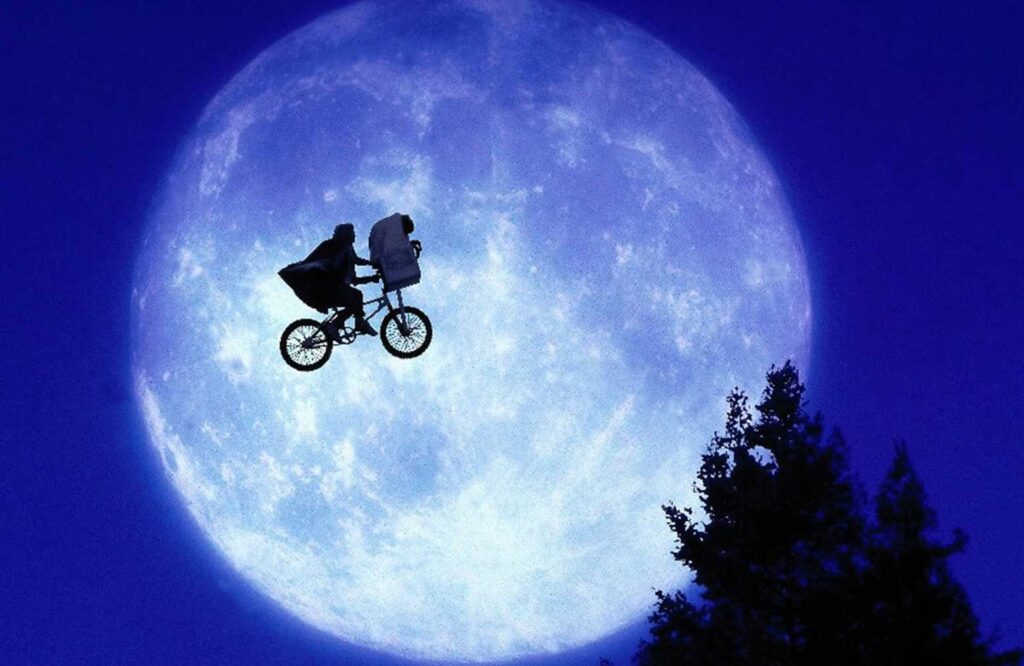 Similarly to Close Encounters of the Third Kind, Spielberg's only other science-fiction picture at this time, the bond of family is the beating heart of the film, a theme that can since be found throughout the acclaimed director's filmography – whether in a sci-fi spectacle like E.T., Close Encounters or AI: Artificial Intelligence, a spellbinding thriller like War of the Worlds, or an epic coming-of-age drama like Empire of the Sun.
The final – and in this writer's opinion, most poignant – scene of the film sees E.T. reuniting with his family, but not before thanking and wishing goodbye to the children in a stunning conclusion that is – once you can finally see through the tears – both unforgettable and unforgivingly emotive. "I'll be right here": the famous line delivered by E.T. to Elliott may be a simple message but, for many people, they are the exact words that they needed to hear, especially in the case of a child struggling with the loss of a parental figure by divorce. For those who identify with the aforementioned ideas and see a part of themselves in the characters, the heartfelt and uplifting exchange shared by Elliott and E.T. serves as a beacon and reminder of hope, a promise that everything will be okay, no matter the obstacles. And that's a message that still carries weight decades later.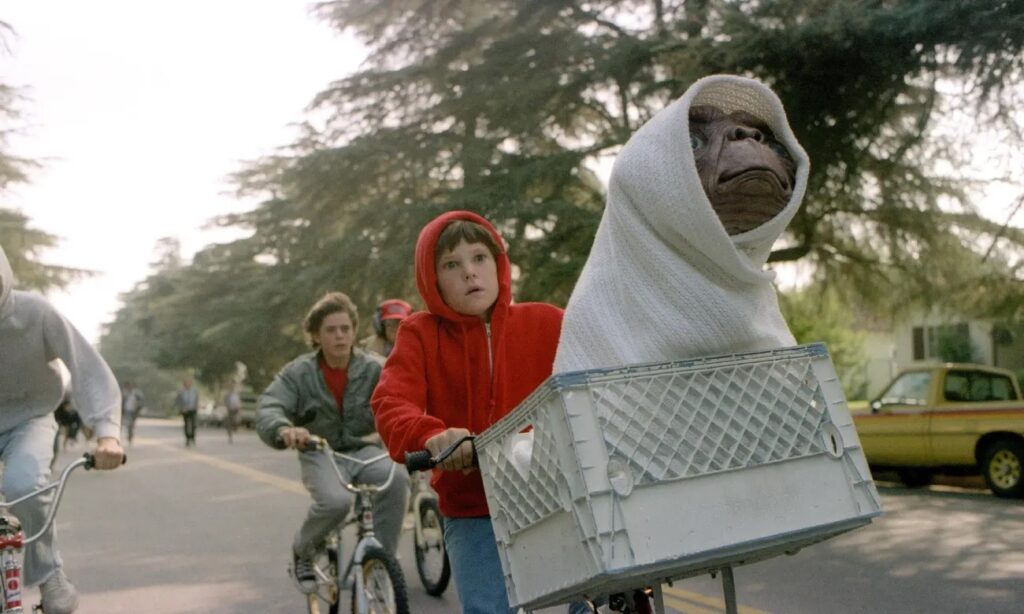 No matter your age, it's almost impossible not to fall in love with Spielberg's film. From Allen Daviau's warm, transfixing cinematography on 35mm film, John Williams' spellbinding score, to the cast's captivating performances and Spielberg's masterful direction, every aspect of E.T. is crafted with care, precision, and genuine love for the story. It's a beauty and magic that has refused to fade.
It's not difficult to understand why Spielberg fans (and film fans in general) continue to return to this magical tale. For many fans who were children when the film was first released, it's a time capsule of their childhood, an instantly accessible time machine of nostalgia and wonder, and perhaps even, for some, of their most cherished years. For those who were introduced to the film later, it's a window into an unfamiliar place that we long to experience for the wonder, adventure, magic, and unwavering comfort. And for those of us who sometimes feel scared, alienated, or just lost in a world that can be relentless and unfamiliar, Spielberg wants us to know that we are not alone.
E.T. the Extra-Terrestrial is back in select cinemas.