The filmmaker behind the likes of Carol (2015), Far From Heaven (2002), and Wonderstruck (2017) may not be the most obvious pick for a wordy legal drama, yet that's exactly the considerate stroke that makes Dark Waters – based on Rob Bilott's infamous case against DuPont – the riveting triumph that it is.
Mark Ruffalo stars as Bilott, a corporate lawyer who took on chemical giant DuPont after uncovering their illicit web of deceit and corruption. When a farmer from his hometown, Wilbur Tennant (Bill Camp), asks him to investigate his cattle's cause of death, Bilott reluctantly agrees; as he gets deeper into the case however, he discovers that DuPont have knowingly been putting the county's population at risk for decades – and silencing anyone who tried speaking out.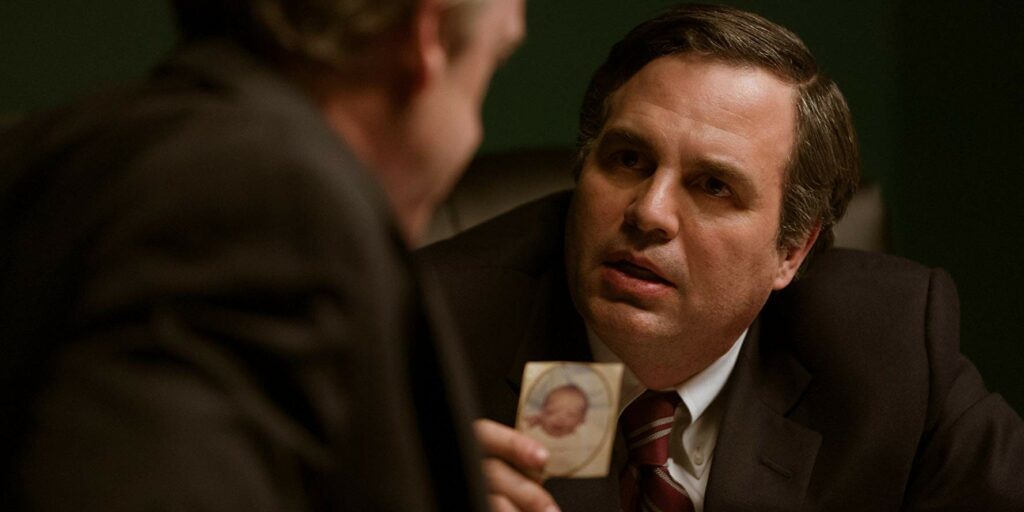 Part of what makes Haynes such an astute filmmaker is his attention to detail when it comes to giving his characters and narrative texture; Mario Correa and Matthew Michael Carnahan's loquacious screenplay offers a great deal of depth already, which Haynes elevates with atmosphere and purpose – observing it all with great scrutiny. From the subtle building of tension to the clinical aesthetic and the meticulous mise-en-scene, every decision is calculated and adds to the conviction of this film. It may not the flashiest or most innovative storytelling, preferring to stick closely to genre convention, but it's Haynes' consideration and commitment to the material that makes it far more involving than similar genre fare.
Ruffalo gives a superb turn as Bilott in an increasingly desperate performance that nails the vulnerability, perseverance and toll of his efforts; Ruffalo's work is minimalist, yet the character's anger and pain permeates every scene. He's also supported by a talented cast: Victor Garber does a good job as DuPont's human face, embodying their most toxic traits. There's also solid work from Tim Robbins, Bill Pullman, and Camp as the farmer whose case started it all – though the latter's motor-mouth sometimes feels out of place amidst the more subdued, talkative tone. Anne Hathaway also has a small role as Bilott's wife, though she's completely wasted in the role – especially considering her real-life counterpart was formerly a lawyer who worked with her husband.
Dark Waters takes a slow and pensive route to revealing its hand. The first act does fall victim to tedium, taking too long to fall into its rhythm. However, once it gets the ball rolling, it becomes an utterly enthralling endeavour; the nature of the story is so inherently fascinating and ghastly, and the manner in which Haynes observes the narrative makes for a film that becomes as enraging as it does involving. It's a bleak, biting look at paranoia, obsession and the harrowing power of massive corporations to make your stomach turn. Anchored by a compelling, pithy script and an assured handle on the material, it's one of the most absorbing, essential pieces of cinema you're likely to see this year.
Dark Waters releases February 28th.