Shepherd is a supernatural isolation horror which follows Eric Black (Tom Hughes), a man taken with grief after the tragic death of his pregnant wife. In a desperate attempt to escape from the nightmares that plague him, Eric accepts a job as a shepherd on an island where he would be the only resident – but something else is there with him, and it knows the secret he is keeping.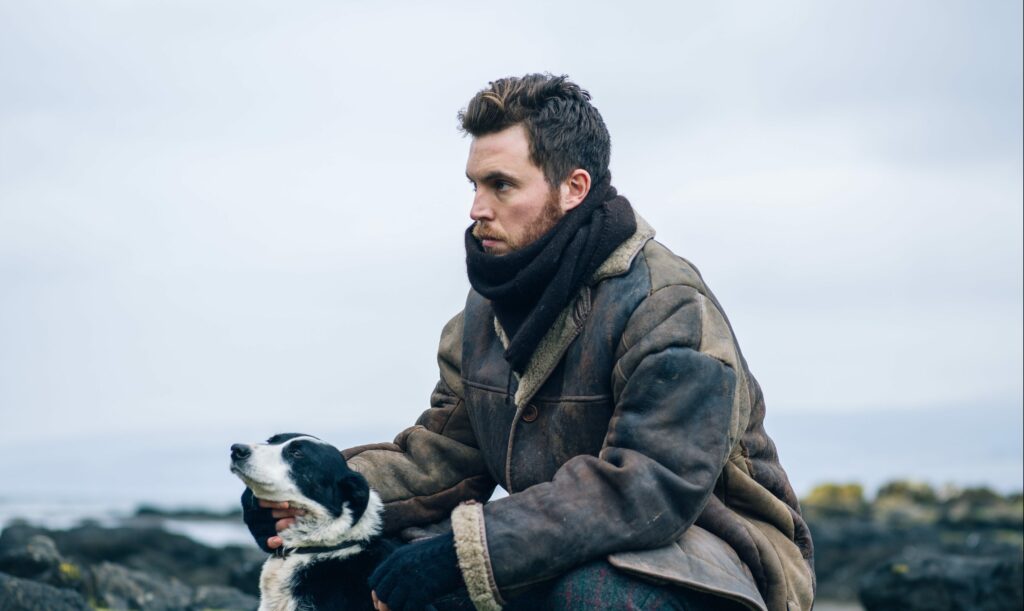 Shepherd is gorgeously atmospheric, with the cold and isolated island serving as an oppressive backdrop to the story. Director Russell Owen uses the empty expanses to the fullest extent to completely immerse the audience in the terror that Eric feels. Wide shots have you searching the landscape for something, growing on edge as tension and suspense mount over time. These frames are juxtaposed against close ups of Eric, focusing on twitching eyes or the repetition of fingers clicking a lighter on and off, amounting to a gripping and paranoid character-driven piece.
Owen deploys a very limited cast, adding to the overwhelming feeling of isolation. As our lead, Hughes is a strong presence, developing the character of Eric Black as someone broken, distressed, steeped in mystery and cagey about his true motives. The show stealer, however, has to be Kate Dickie as Fisher, the creepy sea captain that fares the shepherds over the sea to their new home – and usually, their demise. Her character is creepy, horrific and ultimately, the one that pieces everything together.
The story itself however is a tad cliched, falling into all the isolation horror tropes that fans of the genre have come to expect. It's no bad thing, as these devices have proven successful for a reason and are used brilliantly here, but is nonetheless worth mentioning.

Shepherd is a beautifully directed film that makes phenomenal use of its filming locations and builds on tension throughout. The characterisation too is brilliant and, although the screenplay uses a comprehensive set of genre tropes, it all proves well-executed and engaging. An unmissable British horror to enjoy as the weather gets colder and the clouds roll in.
Shepherd releases November 26th. This film screened as part of the BFI London Film Festival 2021.