After taking on yachts, cargo planes, oil tankers, submarines, and the Dubai skyline, what's there left to conquer for Vin Diesel & co.? Answer: Space travel via Pontiac Fiero. And given there's two more movies already lined up, this likely won't be the Fast Saga's final frontier.
Fast & Furious 9 opens to something a little more low-key, however: a racetrack in 1989, moments before a young Dom (Vinnie Bennett) loses his father in a fiery crash. Also there is Dom's never-before-mentioned younger brother, Jakob (Finn Cole). It turns out there's good reason for why no one knew of Dom's kin: Dom believes Jakob was to blame for their father's death, and had banished him from Los Angeles years ago.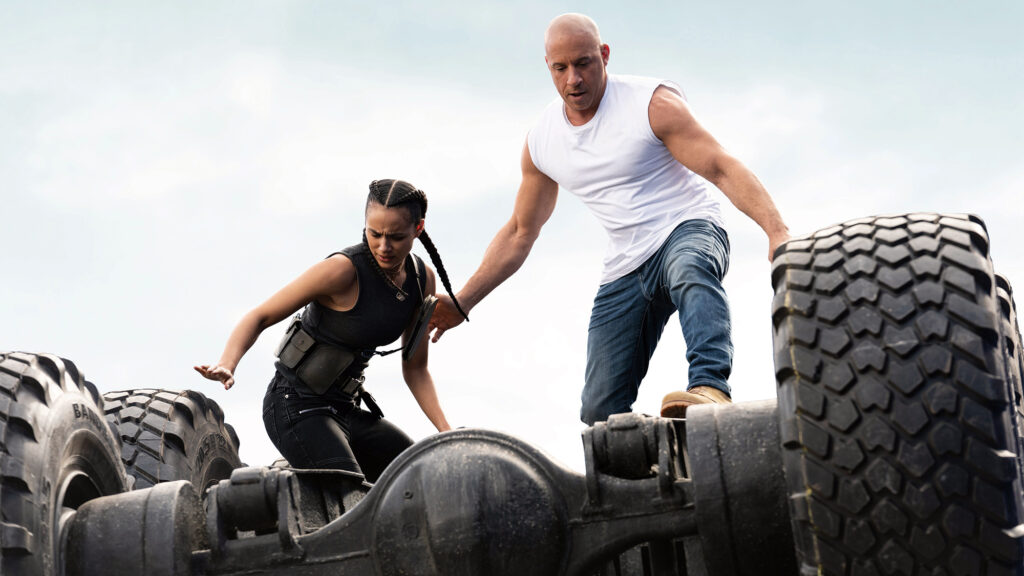 Now all grown up and a lot beefier, Jakob (John Cena) is a globe-trotting 'spy' employed by diplomatic brat Otto (Thue Ersted Rasmussen) to retrieve a technological MacGuffin that would facilitate world domination. Part of the plan involves the crew's old nemesis, cyberterrorist Cipher (a wasted Charlize Theron), who spends most of the film in a glass box, doing and saying nothing of consequence. Seems the filmmakers were happy enough just to have Theron look sexy-evil in a strict bowl cut. Meanwhile, Dom and Letty (Michelle Rodriguez) are forced to leave the comforts of domestic life and get the band back together in order to stop Jakob from destroying the world.
Though the plot likely isn't a top priority to viewers, it still feels like returning director Justin Lin and co-writer Daniel Casey could have developed their idea a touch beyond their initial pitch. The story serves more as a perfunctory outline than it does a real driver for the action. Sure, there's a race through a minefield, a stealth bomber catching a jet-powered Dodge Charger off a cliff, and even a superpowered magnet that smashes trucks through buildings – but for all its unabashed momentum, F9 struggles to keep sight of its direction. More often than not, it's easy to forget what the team are escaping from, or driving towards. It's a shame that for all the imagination and ambition of F9's stunts, the storyline couldn't have a little more meat to back up the action.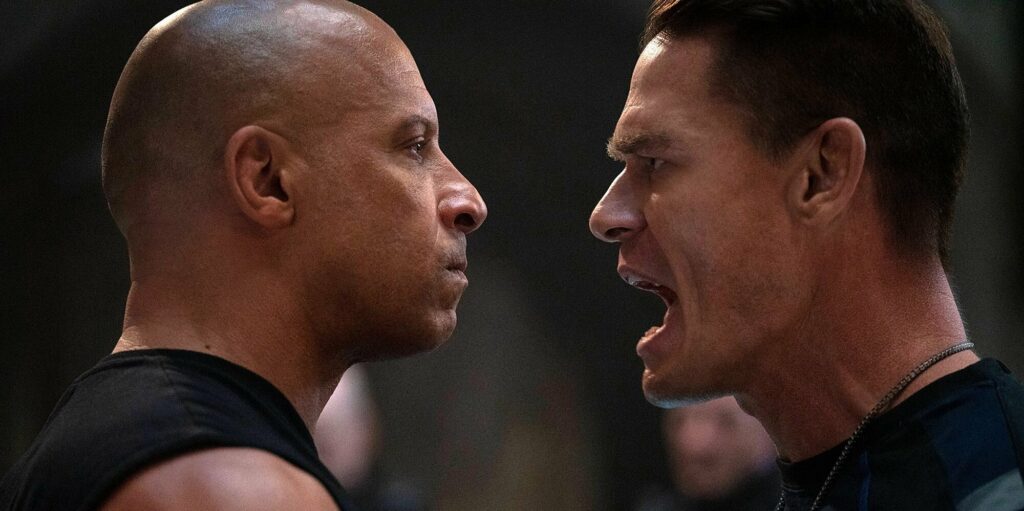 What this latest instalment does well however, is lend even the most ridiculous action pieces some emotional substance. Lin gives more insight into Dom's history the saga has before, finding further depth behind the character's lasting and fervent belief in chosen family. And while it may not drill deep into its heroes' cores, as a franchise, Fast & Furious' commitment to emotional continuity means that even the most senseless storylines remain grounded in its sincerity of feeling. No matter how many fast cars and furious driving may be involved, The Fast Saga is first and foremost about family – and it's all the better for it.
As for this film specifically, it's everything fans of the franchise could possibly desire. Old friends return, relationships are developed, we get plenty of shots of Vin Diesel staring stonily out his car window and, even by the saga's own inflated parameters, F9 takes the action to wilder, greater, logic-defying heights. It unashamedly basks in its own, absurd glory; you laugh at the daring of it all, and F9 makes it clear it is very much in on the joke. Dumb, riotous fun is on the menu with this latest offering and man, blessed be the big screen's return for this particular adventure.
Fast & Furious 9 releases in cinemas June 24th.