The Mitchells vs The Machines enjoys the same producer talent as Spiderman: Into The Spider-Verse in the form of Phil Lord and Christopher Miller. Unlike Spider-Verse however, there is no obvious basis for The Mitchells: no existing material to poach from and no recognisable brand. This is something original plucked from the minds of a self-confessed group of weirdos. And it is glorious.
Katie Mitchell (Abbi Jacobson) has just been accepted to film school and can't wait to leave her family behind – a group of people she just never really clicked with. However, her father Rick (Danny McBride) cancels her plane ticket at the last minute and decides to instead have the whole family drive her to college. It is then that the robots attack (yep), in a cyber-apocalypse led by the evil, bitter mobile app known as PAL (an incredible Olivia Colman). Proving themselves to be the unlikeliest of heroes, the Mitchells have to somehow come together as a family to prevent the rise of the machines.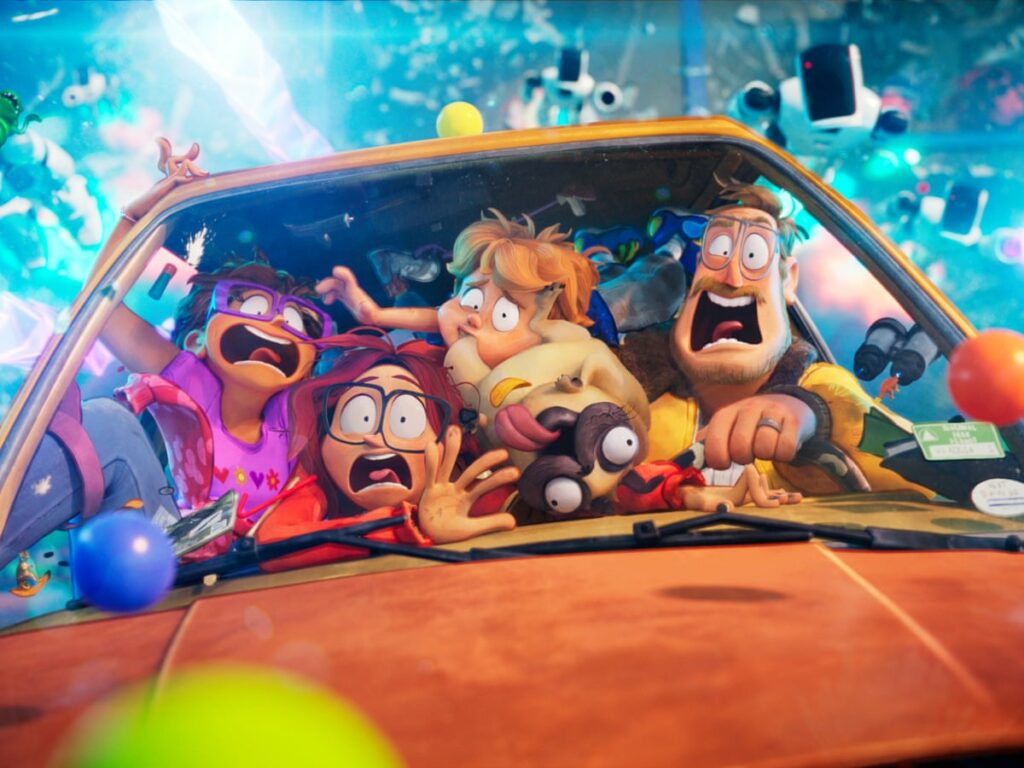 Not settling for a traditionally animated storyline, The Mitchells vs The Machines bursts with texture and variety as 3D is blended with splashes of live action and hand-drawn flourishes. It is an electric way to tell a story, a pioneering step forward for what animation is capable of. The dizzying plot keeps pace perfectly with the lucid style, rapidly shifting gears without ever feeling like it's simply going through the motions. The story itself is littered with memorable scenes and a phenomenal sense of humour, light years ahead of other mainstream studios in terms of its sophistication and hit rate. Directors Mike Rianda and Jeff Rowe know exactly how long to stretch out each gag, with a recurring joke about the family's pet pug Monchi proving to be an especially entertaining plot point.

Yet the film's biggest achievement is how it anchors down all this wacky action with resonant and heartfelt characters that rise above any appeal to cliché. Asides a robot armageddon and a surprisingly sophisticated look at the role of technology in everyday life, the film revolves around something very ordinary the relationship Katie has with her father. The film is less interested in proving that either of them is right than it is focused on showing how they are different, making the eventual resolution all the more satisfying. Amidst the chaos, time is always made for the pair to learn more about each other and how their differences can be exactly what brings them closer. It is done in a way that at times stings, and at others fills you with indescribable happiness. This is a movie overflowing with love and sincerity.
The Mitchells vs The Machines is an eclectic and endearingly weird ode to the expressive potential of animation, born out of an obsession with internet culture and an awareness of what a great story really needs. It looks at technology with a refreshingly balanced perspective, and celebrates everything that marks people out as unique and different (a shame therefore that Katie's LGBT+ identity, hinted at throughout the film, is only confirmed in the dying seconds). Completely off the chain, with eye-popping visuals and genuine heart, it is proof that Sony are now at least level pegging Pixar when it comes to quality animation.
The Mitchells Vs The Machines is out now.