The Trial of the Chicago 7 sees renowned screenwriter Aaron Sorkin come into his own as a director with an energetic, at times even intoxicating dramatisation of the notorious 1968 trial. However, a razor-sharp script and committed performances from its ensemble cast cannot distract from the unearned sense of self-congratulations that permeates it. Trial of the Chicago 7 thinks that it's treading progressive ground, when in fact it wilfully misinterprets the point of the case.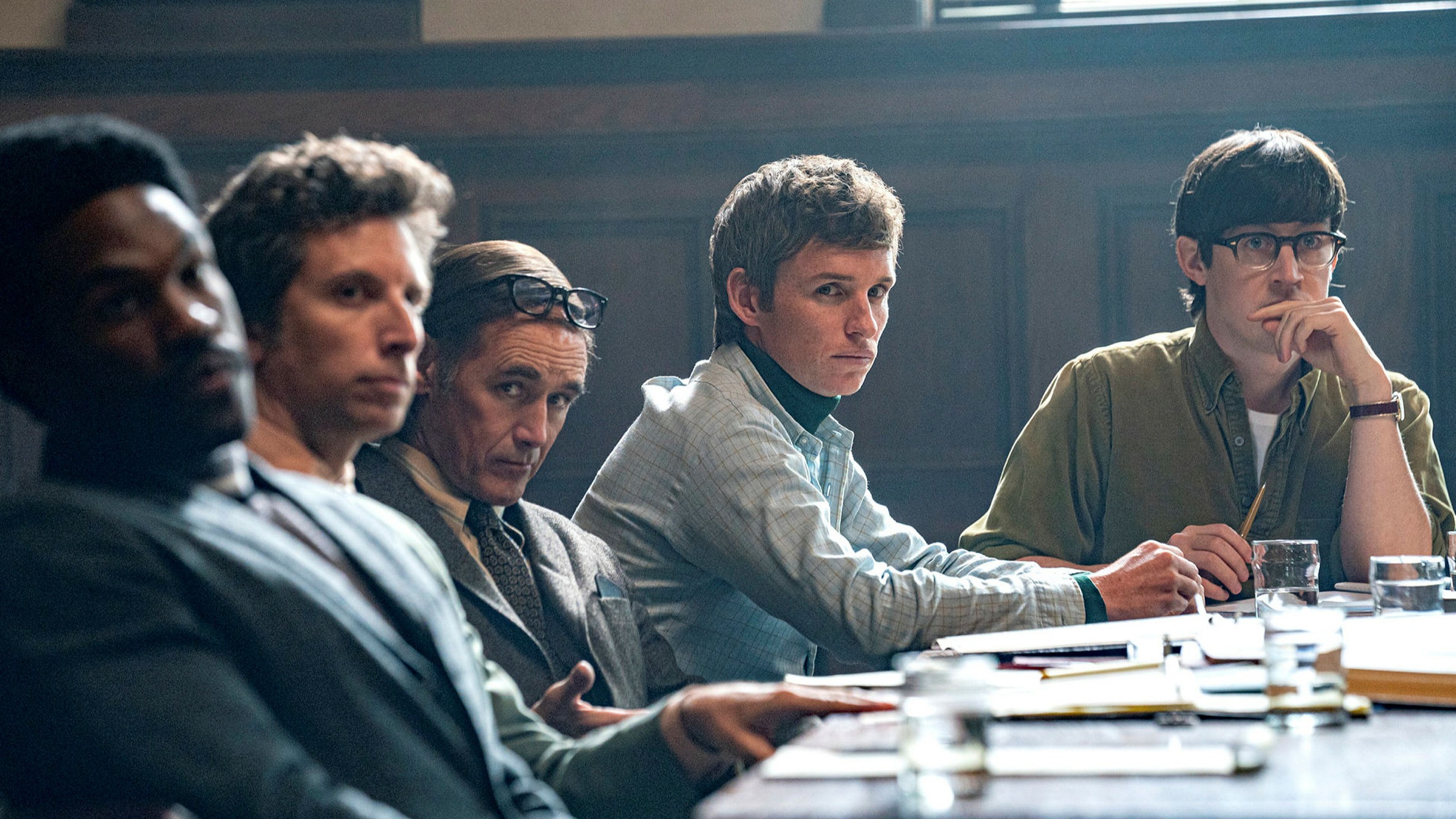 The Chicago 7 were a collection of leftist organisers arrested at the anti-war protests outside the 1968 Democratic National Convention in Chicago. Soon after, the incoming Nixon administration sought to prosecute them on charges of conspiracy and incitement to riot – when Ramsay Clark, the attorney general at the time, had previously ruled that the Chicago police force were the ones who initiated the violence that day.
Eddie Redmayne and Sacha Baron Cohen lead the cast as Tom Hayden, the uptight and by-the-book academic and Abbie Hoffman, the irreverent, anarchist comic, respectively. It might be expected, but the two are nonetheless pitch-perfect in their roles, ploughing through the material with great appetite. There are no issues to be had with the technical aspects of Chicago 7: the dialogue is tight (of course), the cast are on top form, the cinematography is sleek, and the editing keeps things moving smoothly along.
Issues arise from the treatment of the material. Sorkin is so in love with his own script and its tussles over turns-of-phrase that he fails to get to the meat of the case. The infamous moment when Black Panther leader Bobby Seale (a fantastic Yahya Abdul-Mateen II) was brutally bound and gagged in the courtroom to keep him silent is quickly brushed aside, used mostly to illustrate that, look, these white liberals are shocked and appalled by what's happening. Issues of racism or the Black Panther cause are downgraded to a side plot because they do not fit within Sorkin's narrative that the ruling on the Chicago Seven was some great progressive victory.
Sorkin's liberal patriotism is made yet more tangible with the casting of Hollywood nice-guy Joseph Gordon-Levitt as prosecutor Richard Schultz. Despite all historical evidence pointing to the contrary, Chicago 7 chooses to make Schultz a moral and sympathetic establishment figure because it suits its director's stubborn centrism and belief in the judicial system.
The case of the Chicago 7 was evidence that the American judicial system is inherently corrupt. Sorkin was happier to make it look like a great triumph for the progressive cause, one which proved that justice was something to be found in the courtroom. The result? A film that is stylish but infuriatingly and unforgivably obtuse.
The Trial of the Chicago 7 releases on Netflix October 15th.