'18 Presents' (or '18 Regali') is an Italian inspired-by-a-true-story drama on Netflix. Glancing at IMDb or the trailer will tell you that it's about a pregnant mother with an incurable disease who plans 18 presents for the first 18 years of her unborn daughter's life. You may be thinking that plot would struggle to fill a feature-length runtime. You are correct.
For some reason none of the promotional material refers to it, but it would be impossible to discuss the film without "revealing" that the real meat of the plot, maybe two thirds of the film, concerns a dream that Anna has while in a coma caused by a car accident on the night of her eighteenth birthday (i.e. the night she should have received the last of her 18 gifts). In the dream, Anna travels back in time to live with her mother Elisa, an Elisa currently pregnant with Anna and recently diagnosed, as she grapples with her mortality, finds support and friendship in a counselling group, and comes up with the ideas and reasons for the eponymous 18 presents.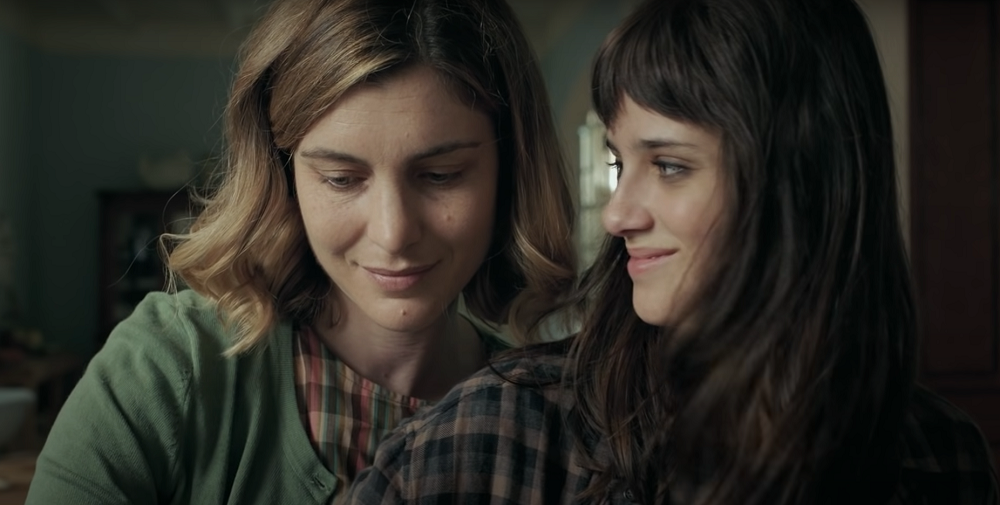 These dream interactions between an adolescent Anna and something akin to her mother's ghost are truly brilliant. The time-travel plot leads to some bootstrap/causal loop paradoxes (yes, reader, your author watches Doctor Who) in which something that Anna learns in the future inspires Elisa's gift idea in the past or vice versa. But these paradoxes aren't a logical concern for continuity-nit-pickers; they're handled poetically to deliberately defy logic, and are full of pathos, sentimentality and emotion.
The film also experiments with some uncanny breaks from naturalism as the dream frays at points, which are both well achieved and well received in our cinematic culture's boring obsession with realism.
What lets the film down is the first twenty minutes, where the film abides by the trailer: Anna being a rebellious, nihilistic maternal orphan with a fairly testy relationship with her widower father. Perhaps it was difficult to get the tone of this right given the fact that "Anna" is a real person who is presumably now turning 19 and watching this film, a fact the director would have had to be sensitive of, but the tone here is incredibly touch-and-go.
This strange opening could also be partly explained by the involvement of Rai Cinema, the state broadcaster, in the production – so somewhat analogous to BBC Films. One can see the similarity to BBC Films in its approach and presentation: stories affecting real Italians, with a smattering of English-language pop songs (che moda!) on the soundtrack to earmark its intended tween or YA audience. The "off"ness of the tone in the opening section is best exemplified by the soundtrack, which sounds like the corporate Feel-Good music in Youtube adverts for faster internet or drones, the kind of manufactured strings ostinato that makes you feel something – that something being the confusion when you know the media is telling you how to feel but you… don't.
However, it should be noted that the soundtrack for the sentimental meat of the film, the relationship between Elisa and Anna, is a beautiful piano score that perfectly compliments and augments the action, so all is not lost on the music front.
The film should be considered in reference to the cultural phenomenon of "Sick Lit", as most iconically represented (for better or for worse) by, for example, The Fault in our Stars, 5 Feet Apart and perhaps 13 Reasons Why (though this offensive bungling of mental health isn't exactly Sick Lit, it certainly operates in a similar way). In the case of 18 Presents, Elisa's death is a foregone conclusion, something that happened in the past of the movie's present-day plot, rather than sickeningly subsumed into the will-they-won't-they of a teen romance. It's a bit knotty, but the film is never as morally troubling to watch as the previous examples.
18 Presents is an odd film in that it may not receive a particularly high star rating, but it's nonetheless a recommended watch. Though it's not polished, it is heartfelt and uplifting, and where sometimes things don't gel together particularly well, the stand-out moments are just that: stand-out, memorable, and excellent.
18 Presents is available to stream on Netflix.