The Main Event arrives on Netflix this Easter Weekend. Is it a Stone Cold Stunner or does this film hit Rock Bottom?
Similar to a certain egg-distributing bunny, the legitimacy of World Wrestling Entertainment (WWE) has often been called into question. Piece of advice, it's best to never use the word "fake" around these guys. That label does not apply. The damage and punishment they take is very real, it's the matches and storylines that are predetermined and scripted…. in a way not dissimilar to any Hollywood movie.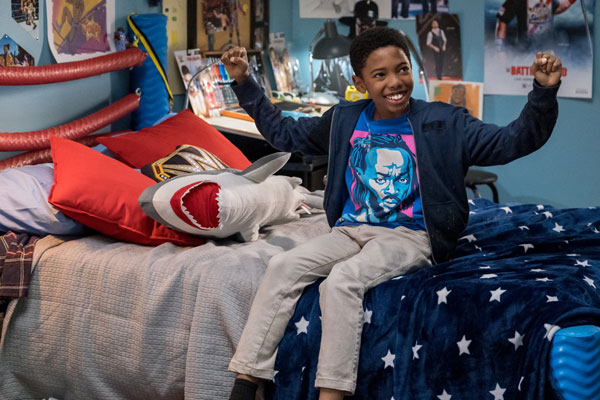 Where 2019's excellent Fighting With My Family gave us a quick glimpse at what it takes to actually become a WWE Superstar, The Main Event opts for the fantastical wish fulfilment story aimed squarely at younger fans. When a Twist Of Fate leads to 11-year-old wrestling super fan Leo (Seth Carr) discovering a magical wrestling mask that grants him superpowers, he uses it to enter a WWE competition. Can one kid win it all, in the face of epic challenges both inside and outside the squared circle?
It draws clear inspiration from family friendly comedies like Big and The Mask. When fame goes to his head, there is Trouble In Paradise and the young superstar finds himself in need of an Attitude Adjustment. He must learn that with great power comes great responsibility… no wait, wrong hero.
That said, The Main Event does feel akin to Miles Morales stepping into the tights of Tobey Maguire's Spider-Man,fighting Bonesaw McGraw inside the steel cage. This is a parallel universe where Uncle Ben did not die and Spider-Man became a professional wrestler instead! The plot is as predictable as a classic heel vs face match-up at Wrestlemania. It hits every cliched beat as clinically as John Cena hitting the Five Moves Of Doom. However, very much like a WWE match when you know exactly how it will end, it can still be entertaining if the athletes deliver a compelling story between the ropes.
Seth Carr makes for an engaging and empathetic lead. He has support from real WWE superstars such as Keith Lee and Otis as his sparring partners. Albeit no more than extended cameos, they make clear why they are currently breaking into the big time with their compelling wrestling personas. Unfortunately, but understandably given the nature of the product, the villains of the piece are far too cartoonish and over-the-top to present a real threat.
There are also too many unnecessary subplots. It's more crowded than a 30-man battle royale; a dance competition, needing $20,000 to save the house, the mysterious origins of the Luchador mask. Any or all of these could have been cut quicker than an RKO to reduce the runtime. In the end though, by the time the Sweet Chin Music kicks in at the film's climax, it accomplishes its job of sending the crowd home happy.
It has been said that "To be The Man, you have to beat The Man"; despite its charms, when compared to other wrestling films, The Main Event won't be dethroning the champions anytime soon. It is no Fighting With My Family but for hardcore wrestling fans, it makes for mildly entertaining viewing with your family.
The Main Event is available now on Netflix.