Adapting a Jane Austen novel to the screen has never been an easy task. Done again and again, it's difficult for each reincarnation to stand out amongst its (often many) predecessors. In recent years, this has been done through parody (who remembers Pride and Prejudice and Zombies?) or drastic modernisation ('Sense and Sensibility' gave us From Prada to Nada), so for Autumn de Wilde's Emma. to stay faithful to the setting and narrative was an ambitious move – and thankfully, one which paid off.
Anya Taylor-Joy is Emma Woodhouse, the "handsome, clever and rich" protagonist unbound by gendered conventions, who passes her time by matchmaking. Having successfully set up her former governess (Gemma Whelan) with Mr Weston (Rupert Graves), Emma sets her sights on marrying off her low-status friend Harriet Smith (Mia Goth in a surprisingly endearing and awkward turn) to clergyman Mr Elton (Josh O'Connor). As for herself, Emma is curious about the elusive Frank Churchill (Callum Turner), much to the chagrin of her hypochondriac father Mr Woodhouse (Bill Nighy) and of her attractive neighbour George Knightley (Johnny Flynn).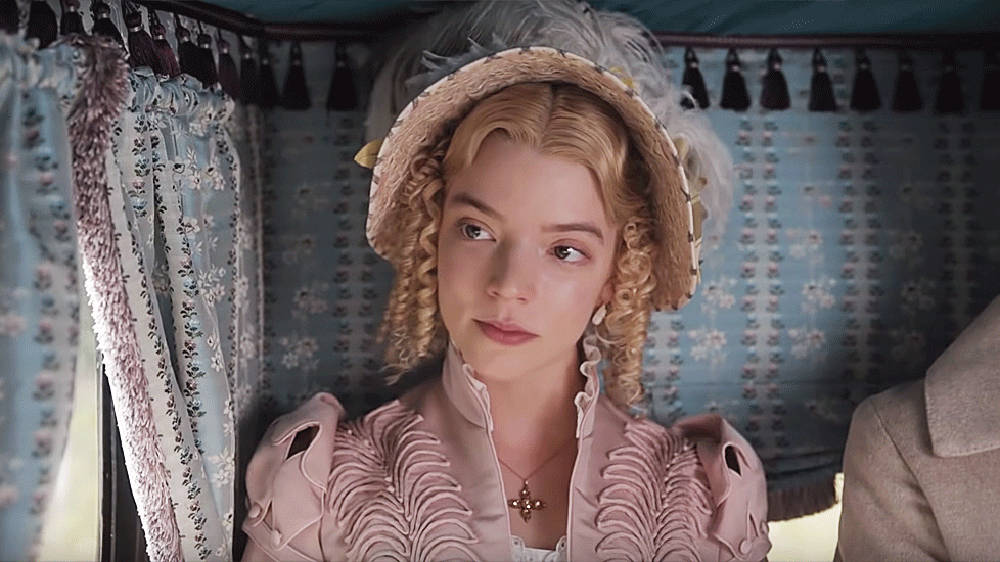 First-time feature film director de Wilde and screenwriter Eleanor Catton create a witty, candy-coloured and charmingly unassuming big-screen adaptation of Austen's novel while still bringing forth their modern sensibilities. Much like the source material, the film embraces the meandering sub-plots that lead nowhere, the conflicts that are never fully resolved, the witty and fast-paced dialogue that is oftentimes lifted straight from the 200-year-old pages, and then ties it all up with a straightforward, happy ending.
It's because of this loyalty to the text that de Wilde finally offers Austen fans an Emma that is every bit the spoilt, stubborn, scheming, smart and ultimately sensitive heroine her author intended her to be. Previous adaptations skirt around Emma's initial unlikability, seemingly afraid of presenting a female lead which an audience might turn against; in the hands of Catton and Taylor-Joy (who is no stranger to complex, self-interested characters – The Witch, Thoroughbreds), Emma is the decidedly feminist anti-heroine whose arc allows her to mature and grow.
And though Emma., because of its well-known story and its often-passive storytelling, does not always land its deeper emotional themes, it nonetheless adds up to a delightful and refreshing romantic comedy, with gorgeous set designs, compositions and colour palettes, and of course some Instagram-worthy costumes.
Emma. is out in cinemas now.