After the hubbub surrounding the visually horrifying trailer and its subsequent rerelease with updated CGI, you might expect Sonic to land with some fanfare… but you'd be wrong. The new and improved visuals are certainly nothing to write home about – they're only just about watchable, which speaks to how awful they truly were in the first place.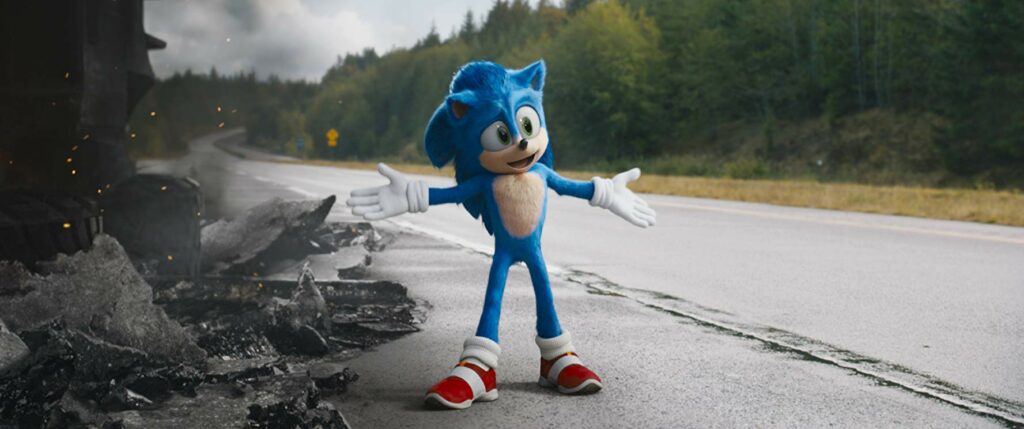 Ben Schwartz of Parks and Rec fame voices the speedy hedgehog, who, it's quickly established, is a planet-hopping alien on the run from the miscellaneous bad guys after his powers. Forced to keep himself hidden until an unfortunate electrical incident causes his cover to be blown, Sonic teams up with James Marsden's small-town police chief Tom Wachowski to escape the kooky Dr Robotnik (Jim Carrey).
The pair road-trip to San Francisco and supposedly develop a heartwarming bond, but it's difficult to figure out exactly what their dynamic is. Sonic is essentially a child, but they tend to veer wildly between buddies, father-son, and owner-pet vibes, with bar brawls alternating casually with paternal advice and Sonic's weird rivalry with Tom's dog.
Dr Robotnik is a truly hammy Carey villain complete with intense facial and bodily distortions for comic effect, which might work on kids, but casual racism and prolonged exposure make him a tough watch for the grown-ups.
Tika Sumpter is sweet but forgettable as Tom's supportive vet wife Maddie, while Natasha Rothwell overplays the comedy somewhat as her long-suffering sister whose running joke ("Divorce him.") is only funny — we say this with great generosity — twice out of the many, many times it's delivered.
Unlike Detective Pikachu, the combination of live action and CGI doesn't work well at all, and even Marsden seems to be phoning it in when playing opposite Sonic. Overall, Sonic doesn't exactly race to exceed expectations.
Sonic The Hedgehog is in cinemas from February 14th.