As radical as the life of Harriet Tubman was, this biopic seems a little on the safe side. Cynthia Erivo (Bad Times at the El Royale, Widows) more than proves herself as a captivating screen presence, but by-the-book storytelling leaves this film somewhat in limbo: an important history lesson for audiences less familiar with this extraordinary figure, but not offering much more than that.
We see Harriet's daring escape from the plantation in Maryland where she was born into slavery to Philadelphia, where she is able to live free, but instead devotes herself to making the perilous journey back and forth to rescue more enslaved people.
Hamilton's Leslie Odom Jr. and Moonlight's Janelle Monae feature as real Underground Railroad conductor and active abolitionist William Still and a fictional born-free noblewoman Marie Buchanan who help Harriet to settle in Philadelphia and eventually on her mission. Both are underused, or perhaps fade into the background in contrast to Erivo's all-encompassing performance. With a pitch-perfect accent, incredibly strong physicality and a powerful determination, Erivo's Harriet is every inch the American hero.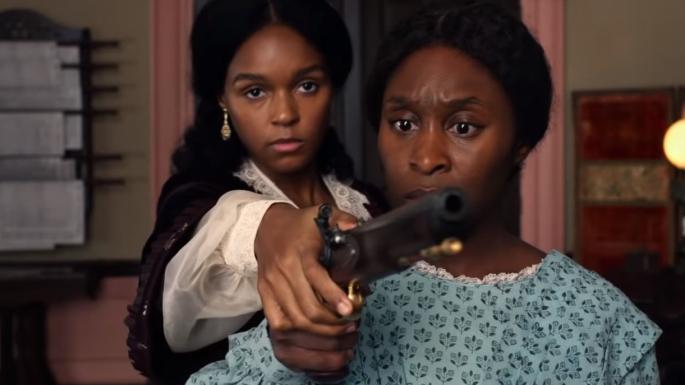 The film is interspersed with visions that afflict Harriet as a result of a traumatic head wound and/or sent from God, literally warning both Harriet and the audience of approaching danger. Unfortunately this early warning system serves to remove both the element of surprise and a lot of the tension that otherwise might have been more effective.
The Favourite's Joe Alwyn is only just convincing as the plantation owner's son who has a particular obsession with Harriet, and is anticlimactically let off the hook by the narrative in what's supposed to be a noble way, but ends up being supremely dissatisfying.
Despite its odd pacing, with time-jumps and montages rivalling each other, Erivo's dedication to the role will still keep you engaged til the end.
Harriet is in UK cinemas today.