Considering the raging success Lee Byeong-heon's Extreme Job experienced in South Korea, becoming the highest grossing film in the country's history, it should come as no surprise that its UK premiere would see the auditorium filled. Extreme Job is a film that makes you forget about anyone else in the room, keeping you too busy laughing at the slapstick humour and well-timed lines to care.
We follow the humorous antics of a failing narcotics division, headed by Captain Ko (Ryu Seung-yong) who are desperately working to save themselves from disbandment. Try as they might, they just can't do anything right; losing their target, causing a sixteen car pile up and making national news within the first ten minutes alone. For all their failings, it's clear their hearts are in the right place, making it impossible not to root for them.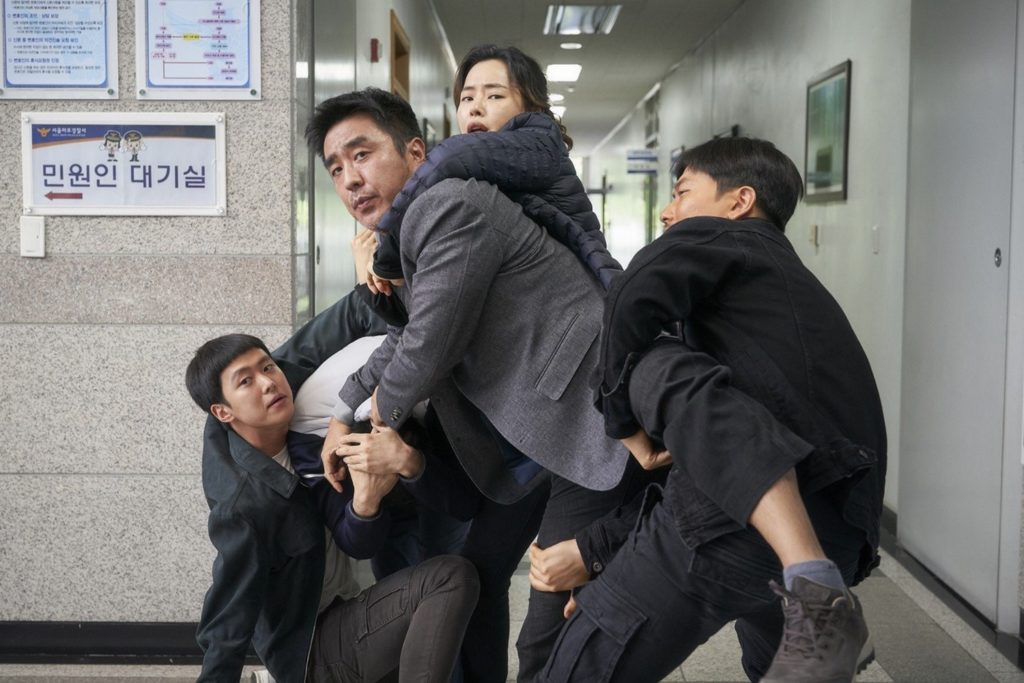 Offered one last chance at redemption, they put everything on the line –even buying a failing chicken shop — in the hopes of catching the biggest fish in town, Lee Moon Bae (Shin Ha-Kyun). The problem is, Moon Bae's men are lying low and the chicken shop is becoming increasingly popular, becoming a destination for foreign tour groups. Before long, Captain Ko and his team are spending all their time running the restaurant, fighting off local news stations and trying to keep up with demand. With a thriving business and a silent target, the audience can't help but wonder how they'll find the time to do both jobs, and whether police work will seem as appealing when the money starts rolling in.
Despite the temptations and hardships, Captain Ko and his team work hard to remain true to their values and continue in a career that seems incredibly difficult and under-appreciated. This adds a surprisingly touching element to this action-comedy.
The writing in this film is excellent, with witty lines, great timing and a clear plot that holds together throughout. Even as the plot expands and more characters are developed, the story holds strong, allowing the core story to benefit from a greater understanding of the film's context and the intentions of both main and supporting characters.
We are treated to fully dimensional bad guys, who at once are hard and soft, scary and hilarious. They are not entirely what you might expect. Utterly different from the Bond villains of the past, they are a modern take on the familiar character. Ingeniously, these bad guys are far more frightening because of their normality, holding everyday conversations one moment and torturing people the next.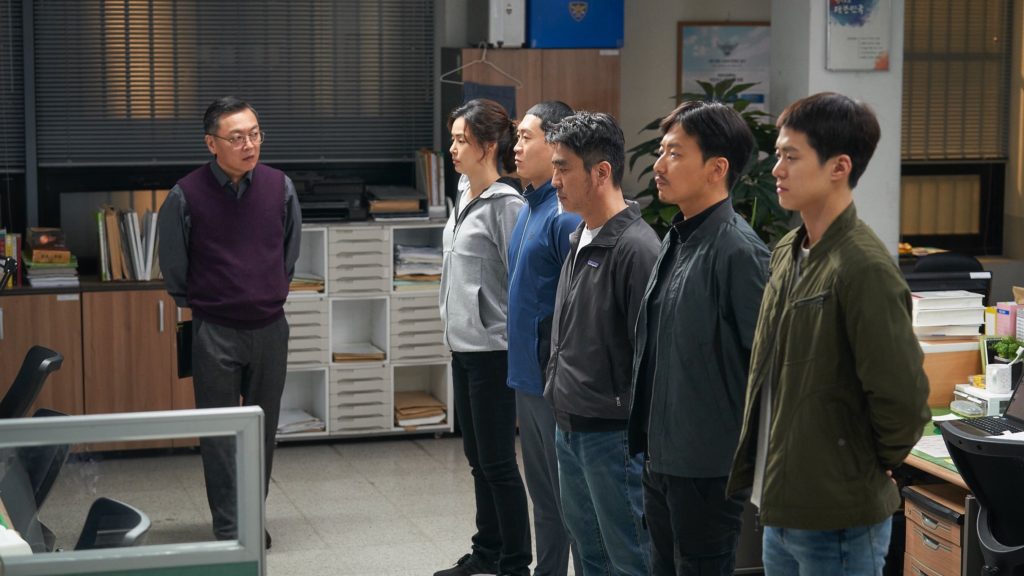 Every character feels lived in and realistic in this comedy, each actor inhabiting their space in such a convincing way that you may feel as though, should you travel to South Korea, you would meet these people on a quite street in Seoul.
Shin Ha-Kyun and Oh Jung-Se (playing Lee Moon Bae and Ted Chang respectively) are very good as villains, with a surprising amount of chemistry. Despite this, it is Ryu Seung-yong (Captain Ko), Lee Hanee (Detective Jang), Jin Sun-Kyu (Detective Ma), Lee Dong-hwi (Detective Young-ho) and Gong-myoung (Detective Jae-hoon) who stand out in Extreme Job. Their chemistry is undeniable and their characters do feel like a family. Their performances are humorous and delightful, while still feeling natural, and their group scenes are always the most entertaining.
If you get the chance, I would strongly suggest seeing Extreme Job when the London Korean Festival tours the UK later this month. It is a hilarious, feel-good film with plenty of action and violence, meaning it appeals to almost any cinema goer. Well-acted, well-edited and well-scripted, this is a rare opportunity to see a truly great film at the cinema. Don't miss it.