It's been a decade since Zombieland, a comedy horror starring a relatively unknown cast, graced the big screen for the first time. Fast forward to 2019, and the long-awaited sequel Zombieland: Double Tap is finally out, to the widespread excitement of cult fans.
Double Tap, at just 99-minutes long, has brought together the original core cast and writing team. With writers Rhett Reese and Paul Wernick having moved onto work on Deadpool and director Ruben Fleischer landing Venom, not to mention Emma Stone's Oscar win and the two extra nominations Woody Harrelson has since received, it's safe to say that the film has a killer line-up. Sadly though, it isn't entirely possible to say that they made the best use of it.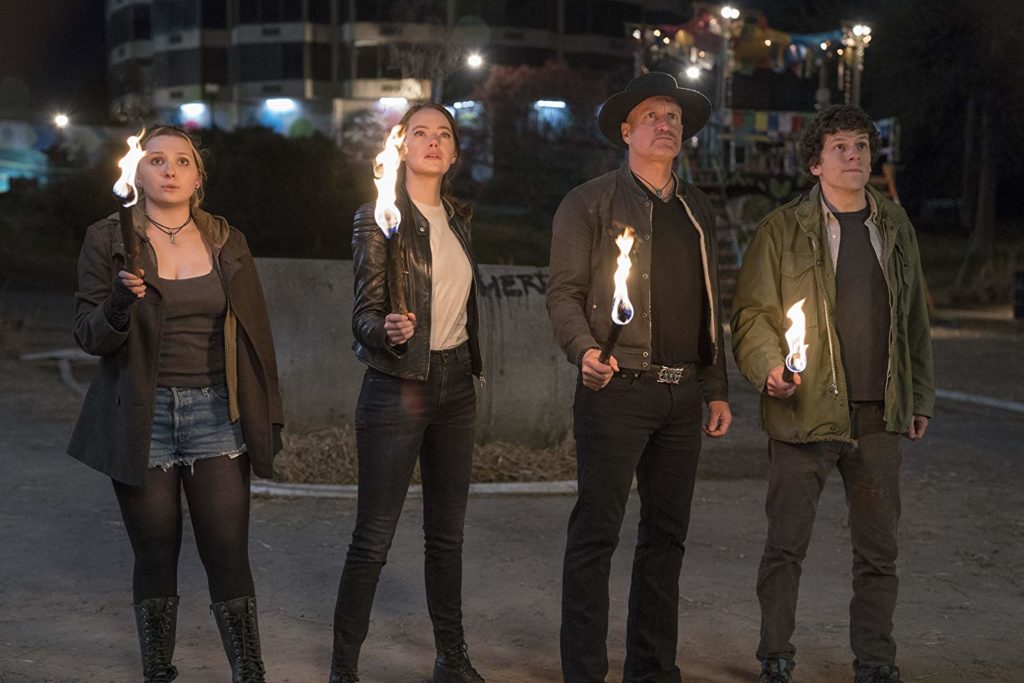 The sequel picks up a decade after the original. Much has happened to the original four in that time, leading to the team splitting up at the very start of the film. Little Rock (Abigail Breslin) is eager to live her 22-year-old life and Tallahassee (Harrelson) craves more respect from the group. Little Rock, grabbing a ride with a dreamy musician (Avan Jogia) to a seek a hippie commune, unknowingly becomes the damsel in distress – turns out there's a new breed of 'super-zombies' on her tail.
From here, the plot and script prove disappointing at best. With the other three protagonists all trying to individually save Little Rock from their separate locations, we're introduced to new characters that could not be more painful to watch. Specifically, Zoey Deutch as a blonde bimbo, who for some unknown reason becomes a love interest for Columbus (Jesse Eisenberg), and Rosario Dawson as an Elvis superfan, the movie trundles along slowly and without much direction.
For a film which – despite a relatively short run-time – spends most of its time on filler content, it has a severely abrupt conclusion. Double Tap, which could not be complete without a horde of CGI zombies, adds very little to its predecessor, especially when one considers it has had a decade to make its mark. Sure, there are some lovely moments between Columbus and Wichita (Stone) and yes, there is a handful of very niche jokes which die-hard fans will pick up on but altogether, this film seems like no more than fan service. What's worse, it's fan service no one asked for.
It's a perfectly lovely way to waste a couple of hours during these cold months, but you won't help but wonder how an Academy-worthy ensemble managed to create such an uninteresting sequel.
Zombieland: Double Tap is out now.