Have you ever thought you were trash? Believed it so blindly that you don't let anyone tell you different, discarding yourself and retreating to the inviting warmth of a bin? If so, you might be Forky. Voiced by Arrested Development's Tony Hale, Forky is one of several new characters introduced to audiences in Toy Story 4, as Pixar sets itself the impossible task of topping the benchmark of perfection laid down by the series so far. It does not quite manage it, but Josh Cooley's feature debut is yet another showcase of heartfelt entertainment, alive with energy and delivering yet another tear-jerking roundhouse of a finale.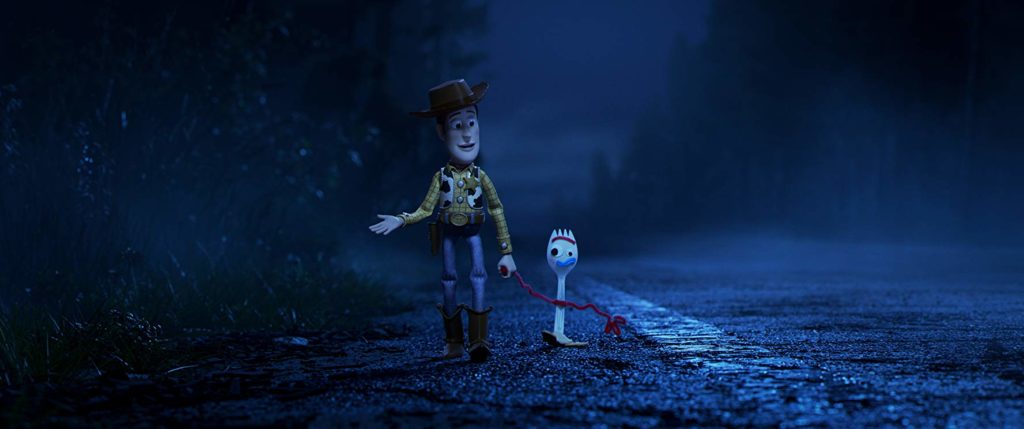 Woody, Buzz and co. join their kid Bonnie on a road trip along with newcomer Forky, who Bonnie made from junk at her kindergarten orientation. Plagued by existential doubt and refusing to believe he is a toy, he drives Woody (Tom Hanks) to the ragged edge. The lengths Woody goes to to protect his disposable chum bring him back in touch with Bo Beep (Annie Potts). Meanwhile, Buzz is left to try and get Woody and Forky back before Bonnie and her parents continue their road trip without the loyal sheriff.

Chipped away at by two decades of consumerism-fuelled sexism, Bo Peep is finished letting someone else watch the sheep tonight. Bo Peep didn't really do much in the first two movies asides making passes at Woody, and was absent from Toy Story 3 altogether (for reasons explained in 4's opening sequence). Her character has been refreshed and redesigned into an all-action hero who refuses to be tied down, sporting a Tomb Raider-esque bandage on her arm and whacking people on the head with her crook. Its a change that feels relevant without feeling preachy, and has not completely erased her feelings for Woody. Their relationship is far more interesting than in previous films, acting as Toy Story 4's beating heart right until the end.

Several new characters join in too. Much has been made of Duke Caboom, Canada's greatest stuntman, and he does indeed have that special magnificence that only Keanu Reeves can pull off. Even better though are Keegan-Michael Key and Jordan Peele as Ducky and Bunny, two plush toys with violent tendencies and quick wit. Everything they say and do is infectiously delightful, the pair bouncing off each other with such electricity that the film feels twice as fast whenever they are centre stage. Less convincing is antagonist Gabby Gabby and her minions. While suitably creepy, they just don't get the kind of time they need to make them the kind of engaging bad toy of the last two films.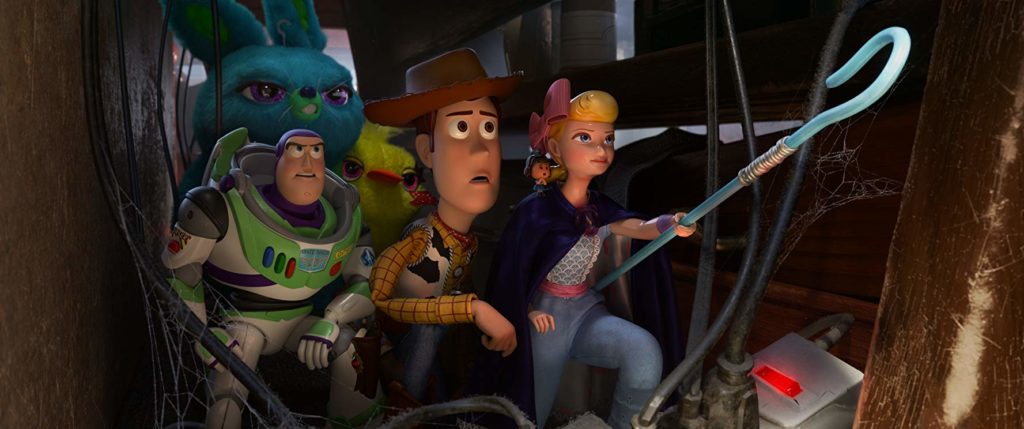 The same must be said for most of the old gang. Rex, Slinky, Jessie and even Buzz struggle to get a line in, the space ranger's own personal arc feeling somewhat superficial compared to Woody's. They all still shine when it matters though, and it remains such a joy to see them on the big screen in more detail than ever. Pixar has come a long way since the first Toy Story 24 years ago, and the animation is of a higher quality than ever. Moves and shots are pulled off that would have been impossible a few years ago, and the whole film feels so alive with colour and sound. You will not leave the cinema without a smile on your face as you absorb the magnificent detail on offer.

Packed with more fascinating character work and humour to make everyone laugh, Toy Story 4 is yet another triumph of bringing back the old and making it feel new. It doesn't hit the incredulous heights of what has come before it, but it is still up there with the best films of the year so far. People were asking whether Pixar could really string this franchise out for one more movie. As one character would likely put it, yes they Canada!
Toy Story 4 is out now, distributed by The Walt Disney Studios.