Dumbo is a film that brings back the past. Released exactly 100 years after the end of World War One, it also comes some 78 years after the original animated Dumbo was released in 1941. Finally, and perhaps most joyously, this latest Disney live adaptation reunites Michael Keaton and Danny DeVito for the first time since Batman Returns (1992).
The new Dumbo wears history on its sleeve as it begins pretty much by the numbers, but manages to soar high above the clouds as the film consistently manages to thwart expectations and overcome the ordinary.

Set in 1919, the giant-eared baby elephant Dumbo is the latest addition to a struggling circus run by Max Medici (DeVito, having the time of his life). Shocked by the elephant's 'disfigurement,' Medici instructs Holt Farrier (Colin Farrell) to do something about it. Farrier's children, Milly and Joe (Nico Parker & Finley Hobbins) manage to teach Dumbo how to fly using his ears, and he becomes the circus' main star. It attracts the attention of the ruthless fairground entrepreneur V. A. Vandevere (a brilliantly preposterous Keaton) who is intent on using Dumbo for his own personal gain.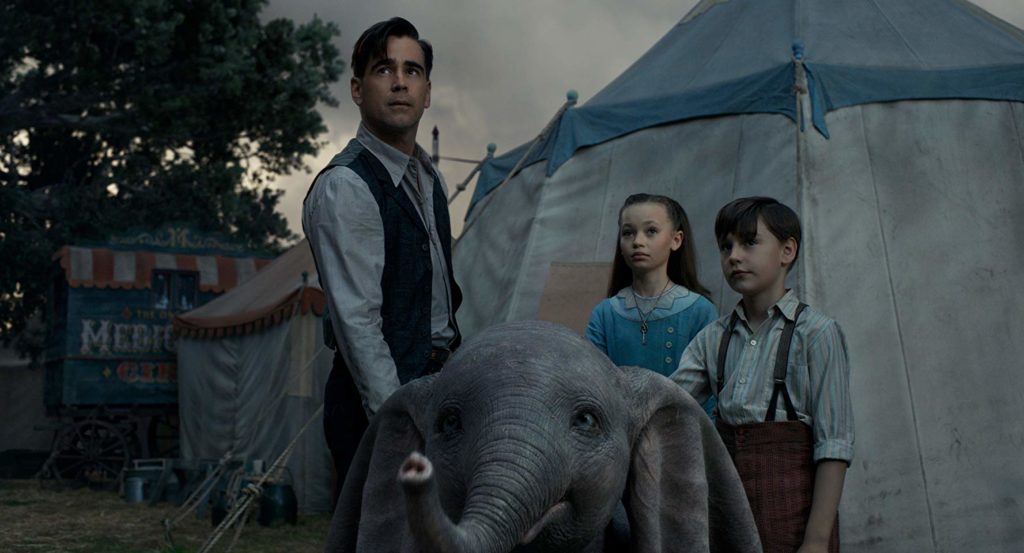 Dumbo is, predictably, about family – this is a Disney movie after all – but it is also about going beyond what people expect of you and fulfilling your potential. Dumbo is not the only character who has to prove himself. Milly in particular has her own dreams and ambitions, portrayed with believable grit and emotion by the fantastic Parker.
Farrier also has his own obstacles to overcome in the aftermath of war, while Vandevere's companion Colette (Eva Green) manages to become much more than a showpiece. Much of the cast have to beat the odds and achieve something remarkable, charging the film with a satisfying optimism that lets you share in their anticipation for the future.

Dumbo may not be the whole show, but he is the star, and another testimony to the technical talent Disney has at its disposal. The baby elephant is a magnificent creation, able to communicate emotion through the subtlest of looks or the grandest of gestures in equal measure.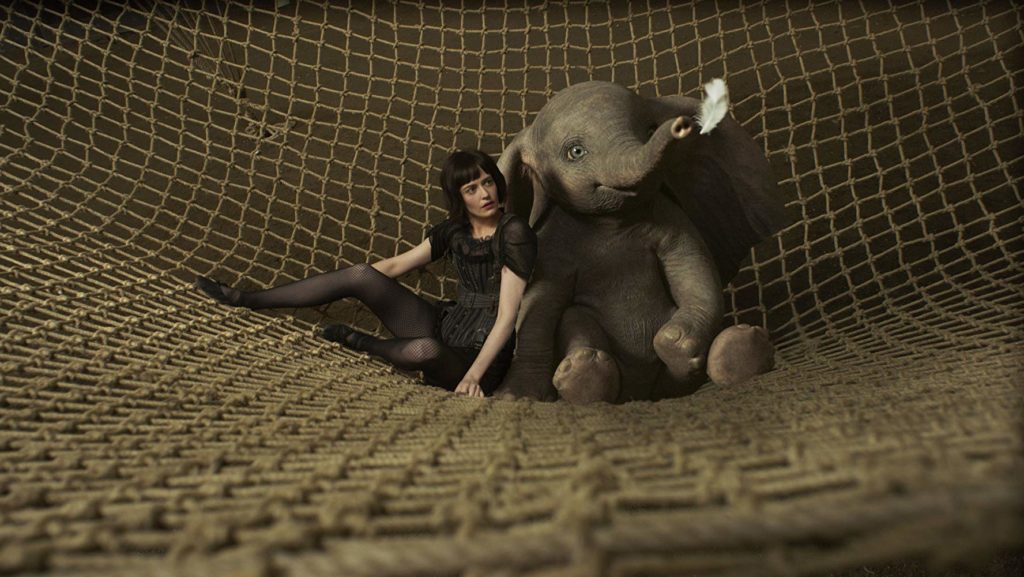 Everything from his teary eyes to the quietest of sounds twangs at your heart. When Dumbo flies for the first time in the big top, it is an awe-inspiring sight; a rousing set piece that leaves you on cloud nine and doesn't let up from there. It's yet another astonishing feat of visual effects that will leave you welling up and skipping heartbeats.

Dedicated fans of Tim Burton may be disappointed that Dumbo does not have more darkness interwoven amongst the joy, but this has his hallmark all over it (not least his empathy for a crowd of outsiders and "freaks"). Magic and anticipation emanates beneath every frame. Burton has been allowed to bring his out sensational flair for aesthetics and fantasy in a more accessible way than usual, fuelling the story in a way that he did not manage with the likes of Alice in Wonderland (2010). It's a magnificent and imaginative return to form.
Dumbo is anything but ordinary. From its portrayal of disability to steering clear of a seemingly inevitable romance thread, it manages to be more than what you would expect. It perhaps tries to do too much, and some notable characters do get a bit short changed, but this is still possibly the best Disney live adaptation we have seen so far. It is reflexive, visually stunning and heartfelt. A cocktail of Burton's delirious vision and the joy-filled ride that is a Disney movie. Dumbo is a truly rare beast indeed.
Dumbo is out in cinemas now, distributed by Walt Disney Studios Motion Pictures.