Antonio Campos tackles generational trauma, religious fanaticism and institutional corruption in his faithful adaptation of Donald Ray Pollack's 2011 novel.
The Devil of All Time is a rich and ambitious homage to the Southern Gothic genre. The film is set across two small towns in the post-war American Bible Belt, Knockemstiff in Ohio and Coal River in West Virginia. It begins in the 1940s, in the aftermath of World War 2, before shifting to the 50s and 60s amidst the beginnings of the Vietnam War.
It opens with Willard (Bill Skarsgård, famous as Pennywise the Clown in It), a soldier returning to his small out-of-the-way town, carrying with him the trauma of his time in the South Pacific. He meets his future wife, Charlotte (Haley Bennett) at a local café. A few years later, they marry and have a son, Arwin (played as a young man by Tom Holland). For the young Arwin, trauma seems inescapable. Indeed, he seems to spend the rest of the film enduring one tragic experience after another.
It must be said, this film is not particularly uplifting. A religious fanatic murders his wife in an attempt to resurrect her with his non-existent powers. Elsewhere, a desperate husband sacrifices the family dog in a futile attempt to save his dying wife. Meanwhile, a lecherous preacher sexually assaults the teenage girls in his congregation. The recurrent theme throughout is trauma.
The sheer bleakness of the film aside, it remains a rich and visceral exploration of the collective desperation of a small town. It is a dark and uncomfortable melodrama that does not shy away from tackling deeply troubling themes. Campos is aided in tackling these themes with a highly impressive cast. Robert Pattinson is on fantastic form as the lustful preacher, Rev. Teagardin. Pattinson's reverend is insidiously chilling and his performance here is one of his best to date. Meanwhile, Tom Holland does an impressive job as the young protagonist attempting to protect his loved ones as best he can. Riley Keough and Jason Clarke make memorable turns as Sandy and Carl, a serial killing couple with a twisted penchant for hitchhikers.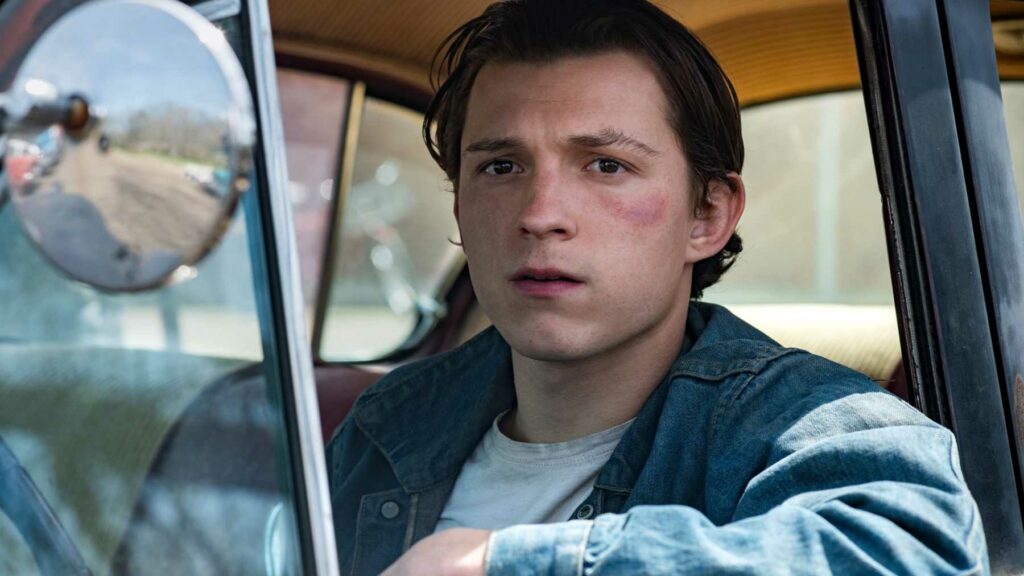 The sprawling nature of Campos' film, with multiple locations, varying timeframes and a large ensemble cast has the potential to feel disjointed. However, Campos' tightly controlled direction prevents Pollack's ambitious story from running away with itself. As a result, Campos is able to move deftly between individual characters and their intersecting journeys. The Devil All the Time thus becomes a rich narrative tapestry in which each character is irrevocably connected to the next. Campos' film is a dark and twisted ode to the Southern Gothic genre. Don't expect to come away feeling particularly cheery, but it is an impressive film nonetheless.
The Devil All The Time is streaming now.