Breaking – formerly titled 892 – recounts the events of a hot summer day in 2017, when Marine veteran Brian Brown-Easley walked into an Atlanta bank and handed one of the clerks a note informing them: "I have a bomb." But he wasn't here to rob the bank, he explained. Instead, in a last act of desperation, Brian Brown-Easley was pleading to know why the Department of Veteran Affairs had withheld his monthly disability check.
This true-life event would end tragically for the 33-year-old veteran, husband, and father. In Breaking, first-time feature director Abi Damaris Corbin and her co-writer Kwame Kwei-Armah build a complex, empathetic character study while retracing the events of that fateful day with impressive attention to detail.
Breaking also assembles an impressive team in front of the camera, with John Boyega taking the lead as Brian, surrounded by the likes Nicole Beharie, Selenis Leyva, Connie Britton, and the late Michael K. Williams in his final performance.
Outtake had the pleasure of speaking with Breaking director Abi Damaris Corbin about her first-hand experience seeing the state of veteran affairs in the United States, the necessity of emotional truth, and getting to the heart of Brian's story.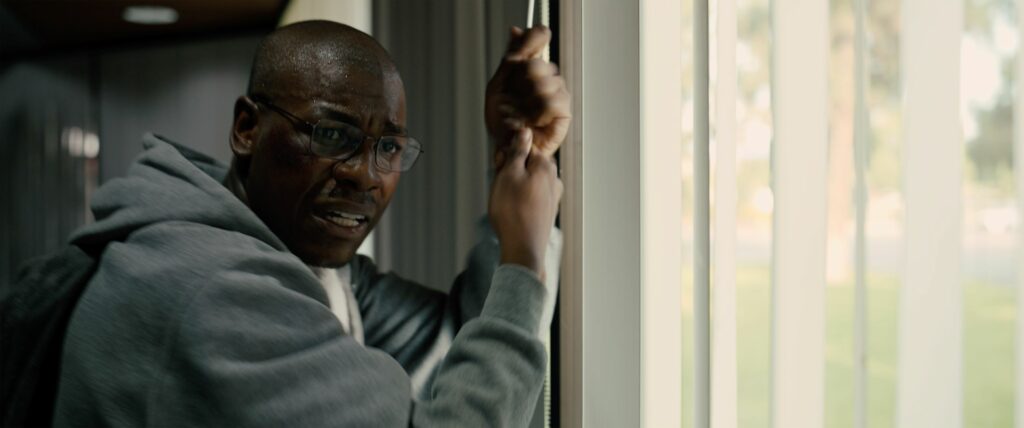 What was it about Brian Brown-Easley's story that most struck you when you first heard it, and made you want to adapt it to film?
Abi Damaris Corbin: For me, I first came across Brian's story in an article by Aaron Gell written for Task & Purpose. The thing that struck me about Brian's story is that he just wanted to be heard. And that very pure desire to be heard, to be seen – particularly from someone who had served and sacrificed so much already –, was shared by so many veterans that I knew growing up. My dad's a Navy guy who served in the Vietnam war, and he was affected by Agent Orange. I saw the effects that not being helped or heard by the Veterans Affairs Department had on him throughout our lives. That righteous rage just percolates and builds and builds.
And that desire to be heard isn't just felt by veterans; it's experienced by so many people who feel like they're trapped in a system that isn't helping them. When I saw that righteous rage [in response to Brian's death], I just couldn't turn away.
How do you think your experience with your dad equipped you to handle this story?
Abi Damaris Corbin: Certainly, there was a personal knowledge and understanding gained from going to VA appointments with my dad, to have seen the packed hallways of the VA hospitals, where the walls are literally lined with chairs of people waiting to be helped. My dad for years and years appealed his benefits, and he still hasn't received all of it. So that experience helped, but only in part; this story wasn't told in a silo. I'm not the only person whose voice is heard on this, though. So most certainly, but only in part because the story wasn't told in a silo. I'm not the only person whose voice is heard in this film.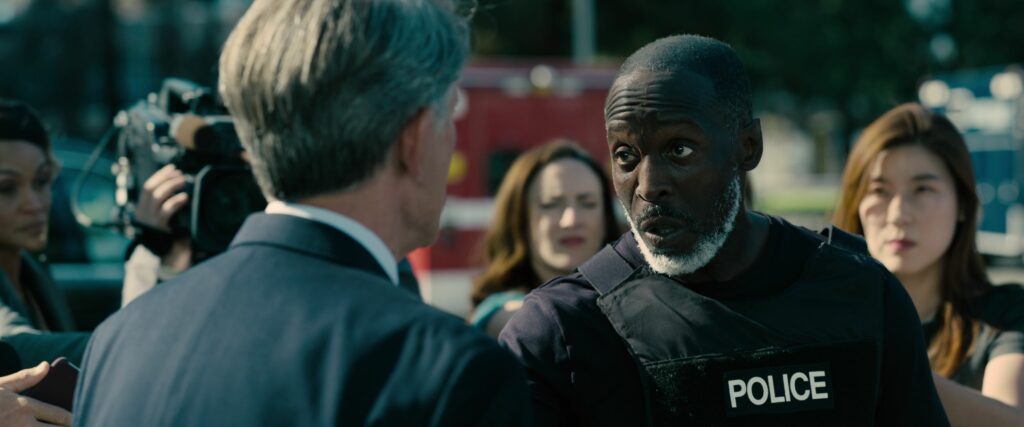 Breaking is such an incredibly detailed look at the events of that day, which speaks to the amount of research you would have done. Part of that research involved you speaking with Brian's family – what sort of input did they have?
Abi Damaris Corbin: Jessica, Brian's wife, was really helpful to this process. First off, we would never tell the story without her blessing, or without her desire to have Brian's story told, and us knowing that that would have been what Brian wanted. But she really just infused a lot of life details: she gave us some truths about his personality, about how he was like a bird. She spoke about how he had a lightness about him, and he would tell jokes, and he had this geeky joy about Lord of the Rings… So for John [Boyega] and I, some of those details were really key to being able to communicate who this man is beyond the trauma that he's facing on the day when he walked into that bank. We're meeting him at the hottest point in the fire that he's in, where he's come to a point where he cannot take any more. But you want to understand the man, and speaking with Jessica was key to that.
And was there a reason, storytelling-wise, that you decided to set Breaking primarily in that bank, rather than having a more drawn-out backstory?
Abi Damaris Corbin: When my co-writer Kwame Kwei-Arma and I first encountered the story, it was really through the tapes of what happened on that day. We could understand so much of what happened to Brian just through his conversations that day. We wanted to communicate Brian's experience through the course of that day because that's how we came to know him. That's how he was introducing himself.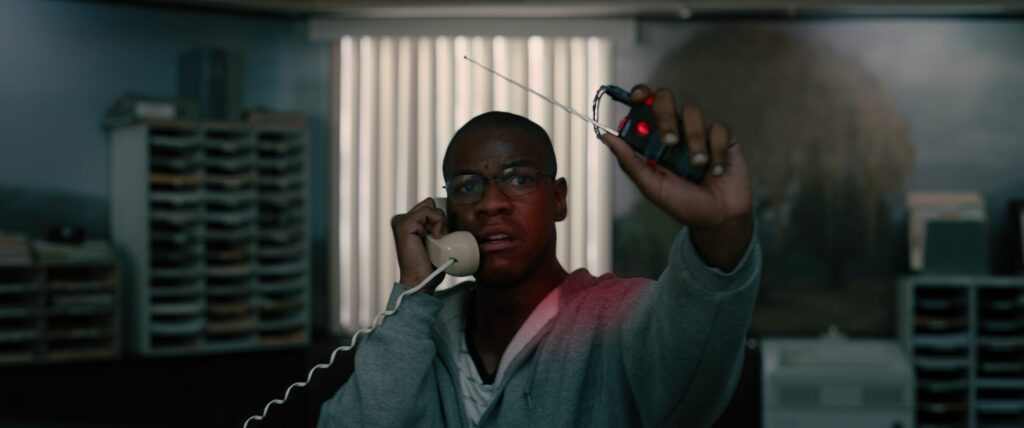 So many of the microaggressions, so many of the walls that were placed in front of him that he lived out throughout his life were again lived out on that day. That's why we felt like it was the best snapshot that we could provide of what he had gone through. And then beyond that, there are so many people who watch this film who will have experienced their own traumas, their own walls, and we wanted to use the power of memory to open the audience's hearts to Brian. We just said, "you have your own stories. We're going to leave a little bit of space here so that your heart can fill in the rest," which is a big risk. But we also knew that that approach would sink powerfully into the soul.
You mentioned involving John Boyega in the conversations with Brian's wife. In your eyes, what made him the right fit for this role?
Abi Damaris Corbin: There are a lot of reasons why John was the right fit. First off, John's an executive producer on this story, and he was an incredible collaborator. He works out of a place of freedom, and he has an enormous amount of talent that he has harnessed, cultivated, and worked to make even stronger. And because of that, in such a physically demanding role, he was still able to work from that place of freedom, and we were able to have easy, fluid communication on set. Beyond that, he also has an enormous amount of empathy, and it comes through in the role.
Beyond John Boyega, you also gathered an incredible supporting cast. You have the late Michael K. Williams, Connie Britton, Nicole Behari, and more. What were you looking for when casting those roles around Brian?
Abi Damaris Corbin: It was about building out the story around the lead. This film hangs on John's ability to invite you into his soul. And for me as a director, in determining what we needed from these other actors, I had this sentence on the wall: There cannot be a moment of falsehood. Or else the audience will fall out of empathy. So, I had to find actors that really had that skill set and who could allow you to look at their humanity. We needed to see the pimples, if you will, the raw and bleeding pustules [laughs]. It had to be actors who are willing to pull off the layers and just keep going and say, "this is the rawness of it" with very little dialogue.
So much of this film is played in the subtext. To have actors that are able to do that, and not just play the top notes, was really demanding on them. And each actor was there for the other, which is enormous.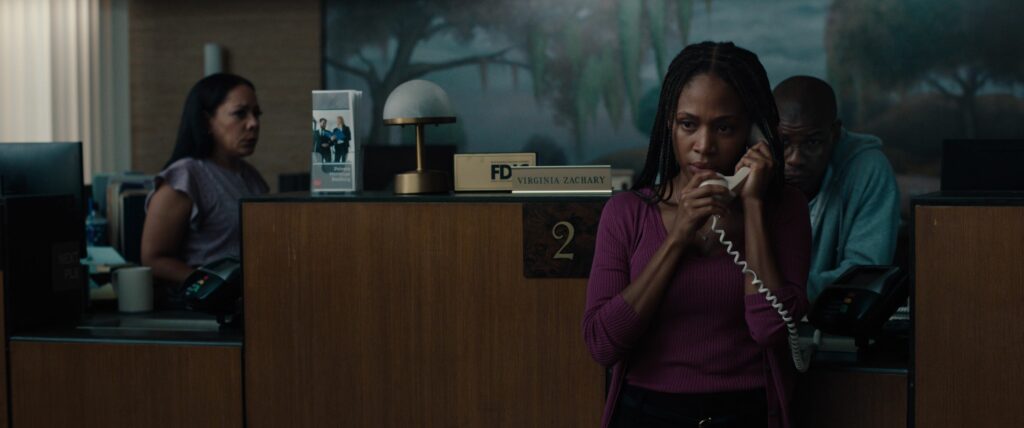 This was filmed over just five weeks, but a long time before production was spent writing the script to Breaking with your co-writer Kwame. It can't always be easy to write with someone, so how did the two of you align your visions for this film?
Abi Damaris Corbin: I've heard that, but that was not my experience. Kwame and I – and actually, I just saw him because he's here for the NAACP Awards, which we're nominated for – he's like family at this point. We are so deeply aligned in our worldviews, in the sense that we both believe, very optimistically and surely, that by small, incremental actions, you can actually create change through art as a catalyst. There are generations and generations of people beautifully using art as a powerful tool to communicate with the world and to express ideas to further humanity. So we aligned there, and very simply, it was also about us just being friends and working over Zoom for many, many hours.
He does a really good Estelle [laughs], and I'd play Brian, then we'd switch them all around until we felt we'd found the truth of it. And we're hard on each other. We don't let each other get away with dialogue that doesn't feel right or scenes that don't feel pure and true to the characters' hearts.
I have such an enormous amount of respect for him, with how he comports himself and who he's chosen to be in the world, despite how hard that is. Acting with such integrity goes a really long way.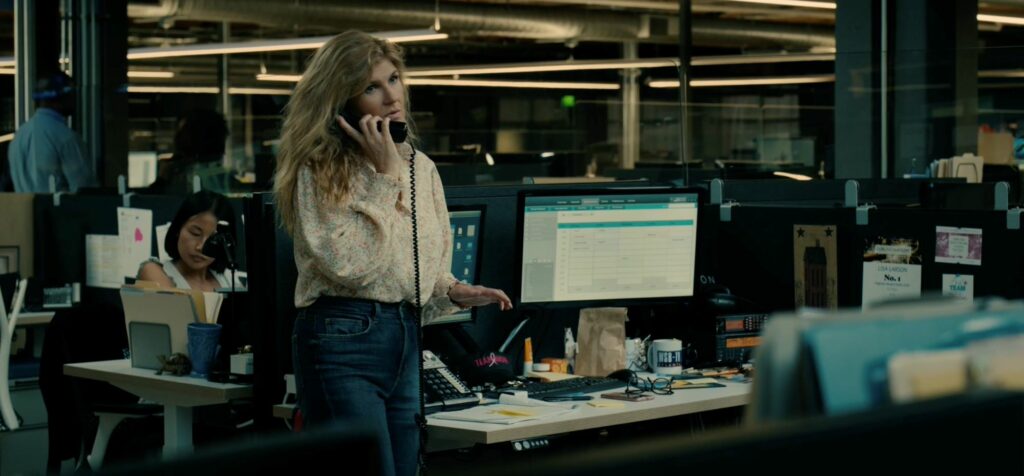 You've made shorts before, but Breaking is your first time directing a feature film. What challenges did you face and what changes did you have to make to your directing style when tackling a feature?
Abi Damaris Corbin: Many years ago, right after I was shortlisted for a BAFTA – which is how Kwame and I met – I went to this event that James Cameron was at. It sounds so flashy, but I was so starry-eyed over him because to me, he's done some of the most cinematically impactful work in history. And I asked him that very same question. I said, when you flip to a feature, what's the difference? And he's like, "there's not a real difference, other than you're doing it 11 times over. You're making 11 short films, or however long your film is." And he was right, it really is the same thing except you're doing it many times over. So you're sequencing, and it's more like a marathon. You get to do a lot more dreaming.
We had the added conflict of filming during COVID, so we had to separate everybody. That, to me, was the hardest part. We tried to use it to our advantage for the actors, since in the situation between Nicki [Beharie], Selenis [Levya], and John, their character dynamics are separated. But it's hard not to be able to have that on-set camaraderie in the same way, especially since we all got on so beautifully.
Lastly, both as a filmmaker and as the relative of a veteran, what impact do you hope Breaking will have on audiences?
Abi Damaris Corbin: It really comes down to a simple thing: Brian says to his daughter, "do right by people." And sometimes, that simple statement can be the hardest thing to enact, especially if it means going out of your way to look at another person and get invested in their lives, and their heartbreak, especially when our own lives are so complex. But I hope that if we do look through the lens of empathy, instead of sympathy or sorrow or shame or fear, then we'll actually be able to do right by people. That leads to change.
Breaking releases in UK cinemas from March 27th.