King Richard follows the life of Richard Williams, the father and coach of world-famous tennis players Venus and Serena Williams, in the early years of the girls' careers. The sisters serve as executive producers, with Reinaldo Marcus Green (Monsters and Men, Joe Bell) in the director's chair.
Starring Will Smith in the title role (in a performance that has already garnered Best Actor Oscar buzz), King Richard brings together a fantastic supporting cast that includes Aunjanue Ellis, Sanniyya Sidney, Demi Singleton, Tony Goldwyn, and Jon Bernthal.
Ahead of the biopic's release, Outtake had the pleasure of speaking with writer Zach Baylin about creating the screenplay, working with Smith, Venus and Serena, and the complicated figure that is Richard Williams.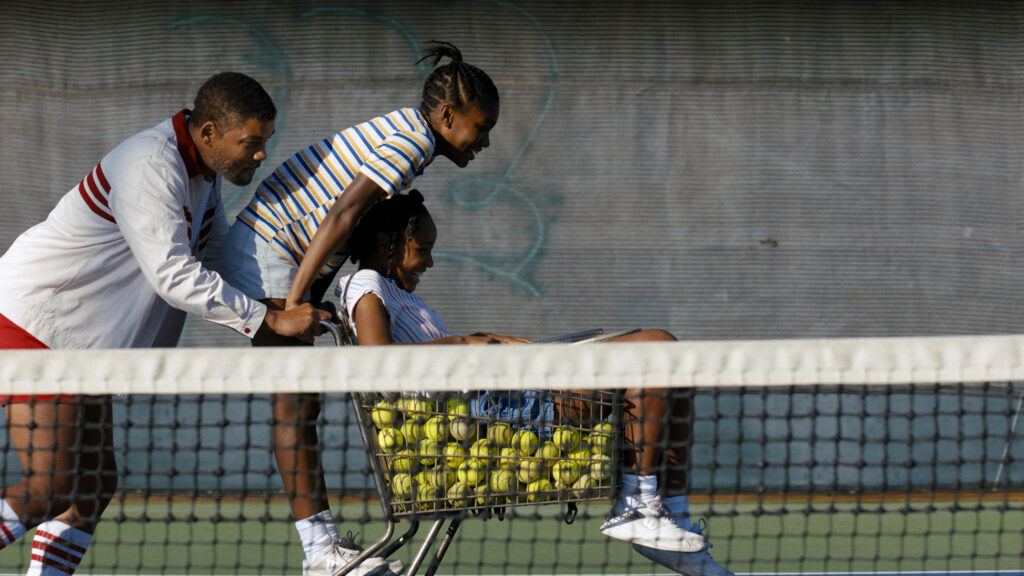 This all started with a general meeting with Tim and Trevor White (producers on Ingrid Goes West, The Post, Wind River) – what shape did that initial conversation take, that led you all to collaborate on King Richard?
Zach Baylin: I had met with Tim in New York about another project and, on the way out of the meeting, I happened to mention I was going to the US Open. And he said, "would you sit down for five more minutes, because I have a story that I want to tell you." He had been trying to make a movie about Richard and the Williams family for a number of years, and I told him that I would kill for the opportunity to write it. I'm a big tennis fan, I have two kids, and I was really interested in writing about being a parent.
I went home that weekend and already knew the general parameters of Richard, Venus and Serena's stories just from being a fan, and had memories of Richard on TV being projected as a pretty contentious figure. I spent a quick weekend where I just read everything that I could get my hands on about him and the family, and then wrote to Tim and Trevor the next day with an outline of the movie: here's where it should start, where it should end, and why it should be about Richard's journey specifically.
He was someone who had experienced terrible racism and trauma in his youth, and it felt like he had spent his entire life trying to fin a way to stand up to the world and say, "I belong here". Reading about that really changed the way I saw him and I thought, if that was communicated on film, then it would change others' perspectives on him too.
So you came up with the whole outline to King Richard over the course of a single weekend?
Zach Baylin: It never works like that, honestly, but I have the email that I sent Tim that weekend that we often go back to. It just said, here's what Richard's character goes through; it starts in Compton when the girls are nine or ten years old and are looking for a coach, they find a way to make this dream come together, it feels like it's all going to fall apart, and it ends with Venus' first pro tournament. That outline remained steady throughout the filmmaking process.
There was just a real sense of clarity around what the heart of the film was. And the one caveat Tim and Trevor had was that we didn't have the rights to the story, and that the best chance we had of making it was not to approach the family again with just a pitch or an idea – they had tried that previously – but to bring them a script. And after a long journey, we were eventually able to sit down with them and I got to interview them first-hand.
How did interviewing the family influence the script?
Zach Baylin: Isha Price [portrayed in the film by Daniele Lawson] became our conduit to the whole family. We met her at the US Open a year after my initial meeting with Tim, and we sat down with her and interviewed her and their mother, Oracene [played in King Richard by Ellis] over the course of about two weeks. Their involvement was never about trying to sand off the edges of what happened in their story, or the things about Richard that were complicated. They were completely additive, which was incredibly beneficial.
And once Reinaldo Marcus Green was on board, did the script change with his involvement?
Zach Baylin: Yeah, it did. I love Rei. We became close during the process because we were both living in New York at the time and had kids about the same age, then both moved to LA at the same time to continue working on the film. Rei is extremely collaborative. I think the first thing he brought to me was that the early iterations of the script focused on Venus and Serena's experience with tennis and Richard – and Rei reminded me that there was a whole family involved in this project, and we really need to feel that.
So when in the morning they would go to practice, it wasn't just Venus and Serena on the court with Richard. There was also Lyndrea, Isha and Tunde, and all of them made sacrifices to support this collective dream. They all had lives and personalities, and it should feel like a family on screen; we worked hard to build that together. I think that was huge because the film now really feels like a family drama and not just the story of a single character.
King Richard is intrinsically an African American story about discrimination and overcoming adversity. Did that thematic angle present issues for you as a white writer?
Zach Baylin: It certainly was something that I knew I had to get absolutely right. And I knew that there was a huge responsibility around what this film might mean for an African American audience and for Black families. I felt very confident that I knew how to tell the story correctly, but I knew also that my job and responsibility at a certain point was going to be to just listen to all the collaborators, and to really understand what was going to be important for them and what they wanted to get across. So talking to Rei, to Will Smith, and with Aunjanue, and really making sure that all their experiences and hopes were captured in the movie. It took it very seriously and felt that my job, by that point, was to be a collaborator and make sure we got everything right.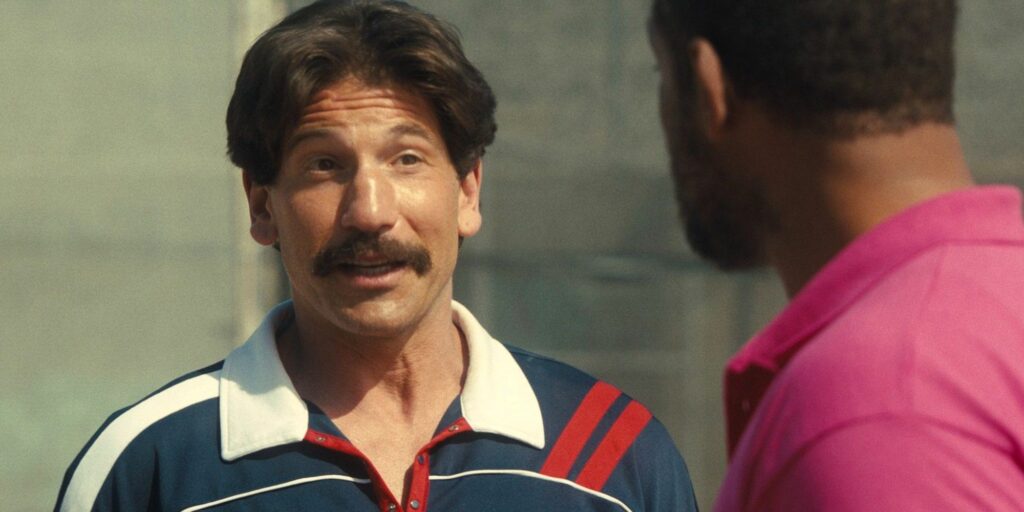 You've mentioned how Richard Williams was a complicated, almost controversial figure, particularly in how he was portrayed in media at the time. And though the film touches lightly on his overbearing tendencies, the script never expresses any sort of judgement towards him; did you feel the need to abstain from passing judgement, or are you endorsing his American Dream ideal?
Zach Baylin: What I hoped we were conveying was that he was a very complicated guy, and that there were behaviours that he had that weren't terrific. But ultimately, that didn't take away from what he and his family accomplished. In that initial email I wrote to Tim and Trevor, I said that this is a man who sways very quickly from being likeable to being outrageous, and that it would be a disservice to try and make him too likeable or too happy. We wanted to capture his nuances and grey areas, while at the same time allowing the story to be as inspirational as it was.
And as the American Dream aspect of it was inherent in who he was. I think Richard was the kind of person who was going to find a way to succeed no matter what. He had tried his hand in many different industries to get the success and respect he was looking for. And whenever that didn't work out, he kept reinventing himself – which to me seems like a true American character.
One of the more incredible parts of King Richard is the 78-page document which he wrote for his daughters as a grand plan to success. Were you able to read it first-hand?
Zach Baylin: I didn't personally see it, but it was a real thing that he wrote. That's the most improbable and incredible part of the story, isn't it? He saw the French Open in 1978, and saw Virginia Ruzici win this cheque for $40,000. And he thought that if he had two more kids, he could make them into tennis champions. He had never played tennis. He didn't have any association with the sport. He didn't have the resources to put any of that into effect. Yet he sat down and wrote this huge plan for how he was going to do it and essentially, everything he wrote came true. I knew that if we could capture the insanity of that idea and that it actually happened, that King Richard could be a really special movie.
But another thing we really tried to do with King Richard is that the dream starts off as Richard's dream. It's his personal goal. Then through the course of the movie, he does have an awakening in realising he has to hand that off to his family, to Venus and Serena; he had to allow them to have agency and to take that dream from him.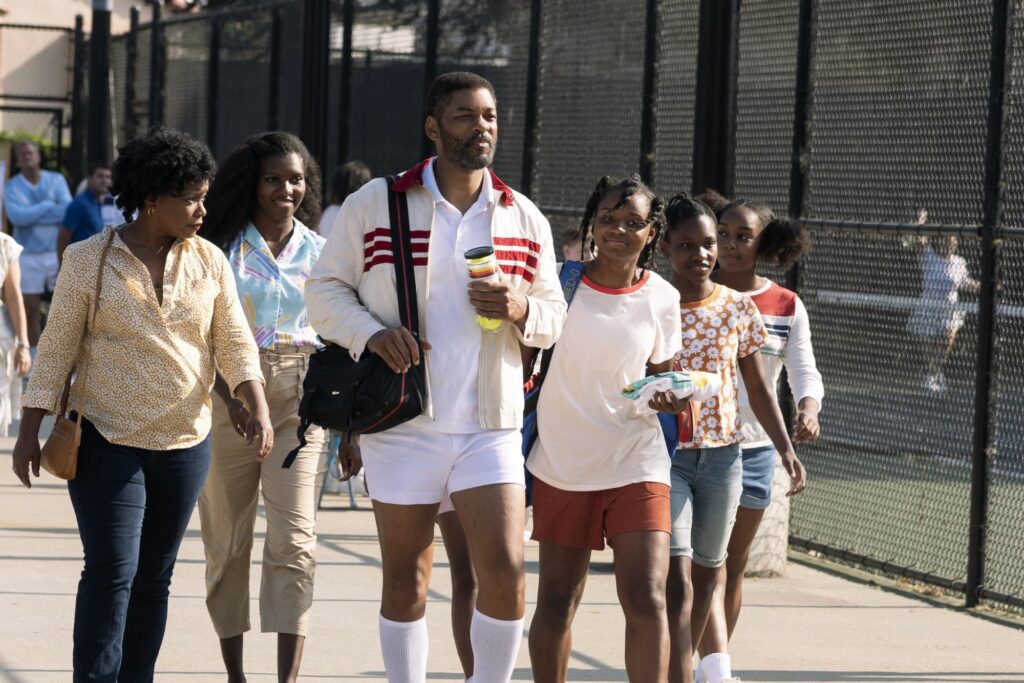 With this being your first big writing project to get made, what was the learning curve like?
Zach Baylin: Just realising that it really benefits me to listen to people and steal from them when I could [laughs]. Will is a story genius. He did so much research on the movie himself that he would come in with anecdotes of Richard that he thought would be good scenes in the film, and we'd talk and add them in. He was very collaborative. It was great.
And now I'm writing the next Creed movie for Michael B. Jordan, so it's great to have these experiences to learn and draw from.
Another family drama within a sports movie, so you'll know what to expect.
Zach Baylin: The thing that excited me about Creed was that, yes, it's a big sports movie, but what Michael and Ryan Coogler did when they created that franchise was really ground it in the character drama. It felt real and visceral, and grounded. They were able to use the trappings of a big Hollywood franchise, but Trojan horsed in an indie drama.
Have you got anything else lined up?
Zach Baylin: Rei (Reinaldo Marcus Green) has signed on to do a movie about Bob Marley at Paramount, and he very generously brought me on to do a little rewrite. I'm excited about that. And then my wife Kate Susman and I are developing a couple of other projects that we're really excited about.
King Richard is out in cinemas now. Read our review here.