Israeli filmmaker and first-time Oscar nominee Tomer Shushan sat down with Outtake to discuss the making of his short film, White Eye, a powerful debut exploring racism and prejudice in both Israel and wider society.
Set in Shushan's home city of Tel Aviv, the film centres on Omer (Daniel Gad), a middle-class, white man who, after finding his stolen bicycle on the street one night, accuses its new owner Yunes (Dawit Tekelaeb) of taking it. Yunes, an Eritrean immigrant, maintains his innocence and claims that he unknowingly purchased the bike from the thief without being made aware of its origin.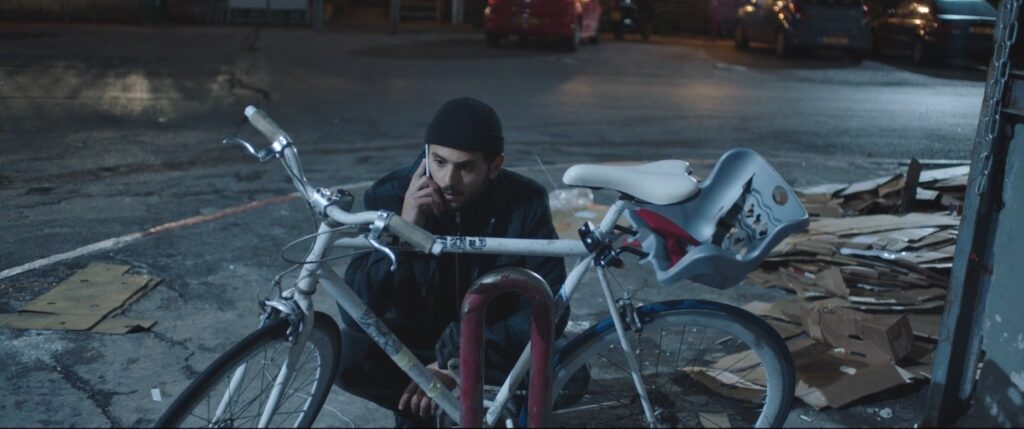 The situation escalates when Omer insists on involving the police who, upon questioning Yunes, discover that his visa has expired and that he is living in Israel illegally. Upon seeing the police arrest Yunes, Omer realises the grave consequences of his actions and attempts to rectify the situation; but by now it is too late, and he can only stand by and watch as Yunes is led away.
"This story happened to me in real life," Shushan says, revealing that the character of Omer is based on himself. "I mean, in the real story it ended up a bit better. The police didn't take [Yunes]. I managed to send them away in time. But it really affected me and changed me as a person."
"After that story I became much more adult and wiser in every situation," he reflects. "I felt so horrible that I almost caused a person to lose his life… I'm not trying to be the victim here, I'm not. But I felt so horrible that I did it, so I thought I should do something about it and because I'm a filmmaker, that's the only thing that I can do to pass on the message and let other people know what can happen if you're not aware of your actions."
It was this formative experience that prompted Shushan to write White Eye. By chance, on the day that the encounter took place, Shushan was due to submit a script to the Israel film fund for financing. "I was working on another script and I was on the way to meet my script mentor," he says. "We were working on another project but then the story happened. I was late and I was so destroyed after it. I came to see her and apologised for being late and then after telling her the reason, she opened my eyes and told me, 'Okay, let's forget what we worked on, let's write it. You have a few hours.' I wrote the script in, I don't know, less than an hour I think and we sent it and that was how it started."
After successfully securing funding, White Eye went into production in early 2019. "We did it in one night," Shushan reveals, "we only had money to make it in one night," – a hugely impressive feat considering that the film's 20-minute runtime is comprised of one highly choreographed shot. "We started at 4pm and until midnight we had nothing," Shushan admits, "at midnight we had our first full take. We ended up with six full takes."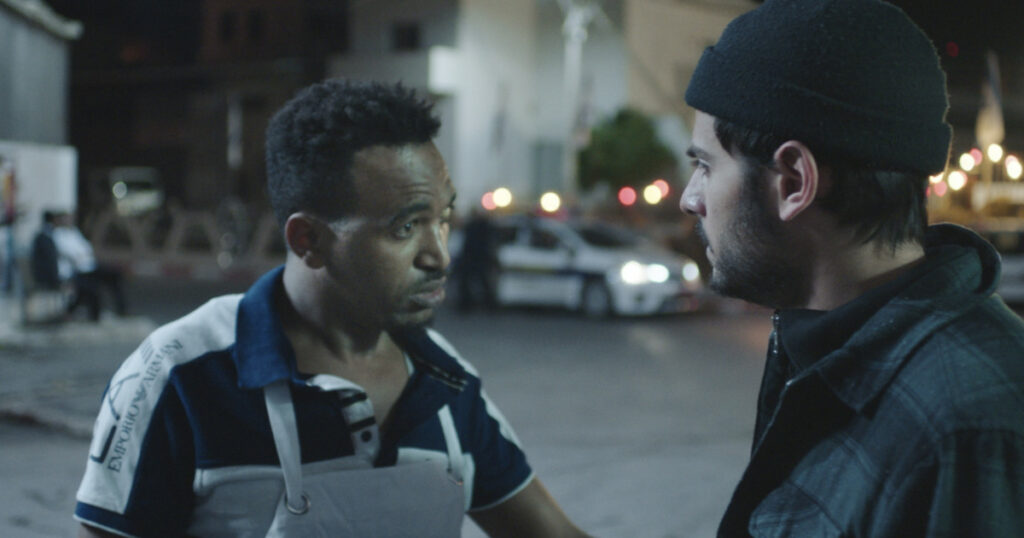 We discuss the logistical challenges of choreographing and directing a 20-minute shot. "It was lots of rehearsals," Shushan admits, "to understand mostly where everyone should stand and where everyone should go." We discuss Shushan's rationale for filming White Eye in this way. "I didn't do it because I was trying to be like a superhero director or something," he laughs. "I just thought that was the best way to pass on the spirit of the story and also to connect the audience to what the main character is experiencing – like how he can stop and breathe and understand what he's doing."
The film has a redemptive function for Shushan, who describes it as his way of finding closure from the situation. "In real life, I got myself the bike and after I started to ride it, I felt like, I couldn't touch it anymore. I wanted just to burn it or throw it away." Shushan actually used his own bike in the film. "I put it in my parents' garage and one year after, when we shot the film, I took it back from the garage and we used it on set. That was my closure."
White Eye premiered at the South by Southwest film festival last year and went on to win the first prize in the Narrative Short Competition. "That's how we became Oscar qualifying," Shushan explains. So far, the film has garnered critical acclaim, taking part in over 100 festivals and has since been nominated for the Academy Award in the category of Best Short Film (Live Action). "I didn't expect all of this, you know," Shushan laughs, "to win the Oscar? I mean, one year ago, I would laugh if you told me that, but it has been such a crazy journey."
Extraordinarily, White Eye marks Shushan's first project since leaving film school. We discuss how it felt to hear that his debut film had been nominated for an Academy Award. "It just… I don't know! It's so exciting. The first message that they sent me after I became a nominee was that today, I became part of history. And I was like, 'Wow.'"
Storytelling has always been at the forefront of Shushan's filmmaking. "I remember when I was young, my grandfather used to tell stories to people," he recalls. "People used to come and listen… it was in Moroccan, I couldn't understand anything, but I saw how he touched people and how he made them laugh, and cry, and feel excited. And I remember planning to be like that someday. I really fell in love with the magical powers that he had."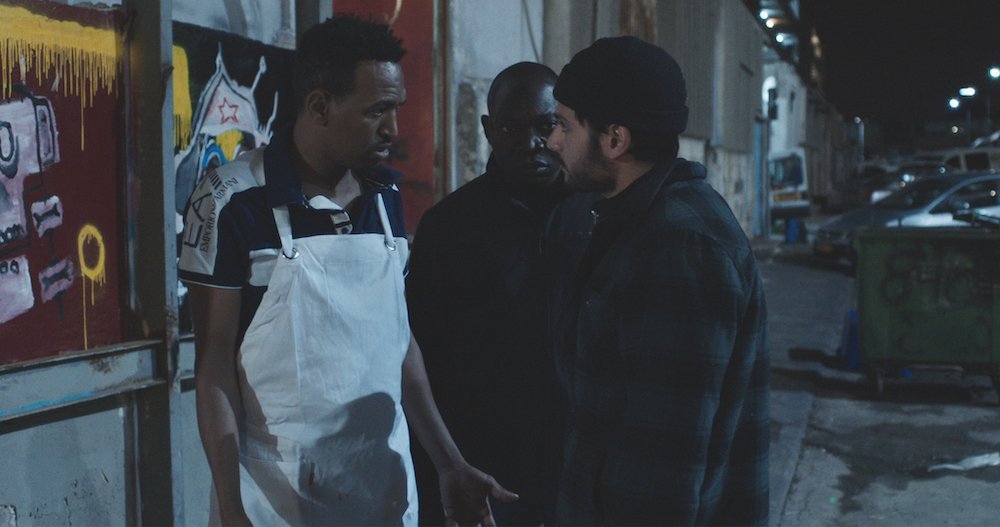 It was in the army that Shushan gained a more practical understanding of cinematography and cemented his ambitions as a filmmaker. "In Israel, we have to do army service," he explains. "I was a photographer in the army, so I had the chance to be with a camera all the time and see things from behind the lens. After the army, it was very obvious that I'd start to study film."
We discuss Shushan's socio-political motivations as a filmmaker and storyteller. "It's really important for me to make films that can fight racism and show the better side of humanity, to show class levels in society and how it's not supposed to be like that… I want to talk about these topics."
Shushan elaborates on his specific intentions in White Eye, explaining that "in every western country, there are refugees, and they are the lowest level of their society – I think that's how most people see it and that's what's wrong. That's what I'm trying to say to the world with my film, that it can't be like that anymore." Shushan's choice of film title offers a commentary on these ideas. "The story happens through a white person's eyes," he explains, "but also, for me, white eyes symbolise blindness, which is the mode that the main actor is in. He can't see the person in front of him and can't see what's good or wrong."
As for what he hopes viewers will take away from White Eye, "I really hope that people try to put themselves in the main character's shoes and understand that he's not a bad person, he's just a person who makes a bad choice… so in every confrontation, every time that you meet someone that is different from you, that is a stranger, remember that the most important thing is to keep your values."
Casting the two leads of the film was crucial to its success and initially, Shushan assumed he would be taking on the role of Omer. "At first, I was sure that I'd do it. But I couldn't – not in one shot. I mean, in one shot, you need to be behind the camera, you have lots of things to watch." It was only after meeting Daniel Gad that Shushan was convinced he had found his lead actor. "I was trying to meet someone that could remind me of myself," he explains, "I met Daniel Gad, and we just clicked… I started to show him lots of films that inspired me and we just became really good friends."
When casting Yunes, "it was very important for me to bring someone that was a real refugee, a real person that wakes up in the morning and feels that he is illegal. It's something that I don't know, I've never experienced it," Shushan admits. "I don't want to be like this wannabe director that thinks that he can imagine how it is… I don't know." We discuss the importance and value of authenticity in filmmaking, to which Shushan responds: "that's my main reason why I'm doing things. I mean, my main ambition, you know."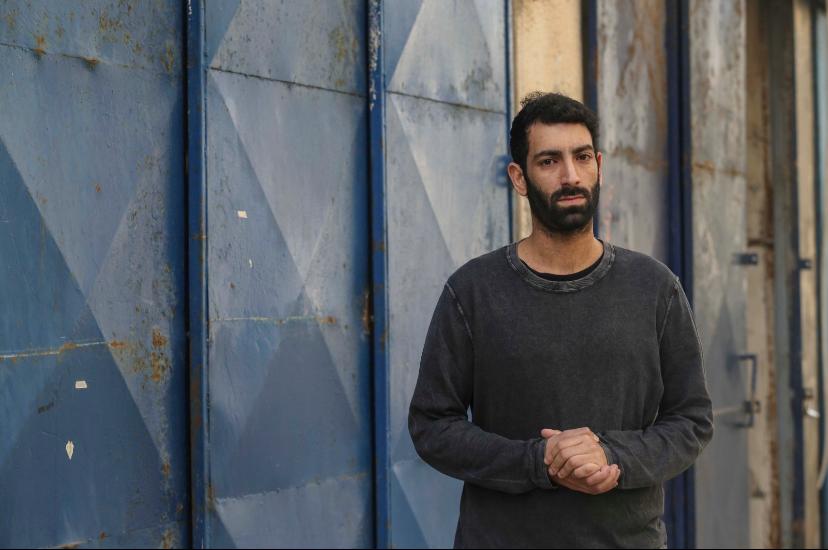 Shushan recalls his discovery of Dawit Tekelaeb, who had no prior acting experience before White Eye. "One night, I just went on the street, and I saw him washing dishes in some restaurant. And I just like looked at him for like 20 minutes. He had this aura and I felt how lonely he was. I just approached him, and we talked, and he didn't understand what I wanted from him. But at the end, I convinced him to have a coffee with me the day after. And when I told him about this film, he really, really liked the idea."
In order to create the on-screen distance between Omer and Yunes, Shushan explains that, "it was very important for me that those two characters didn't meet until the first time that we shot it. And they didn't meet, they never met before filming."
White Eye makes a clear commentary on societal apathy towards vulnerability. While the film mostly explores this in relation to refugees, it also touches on apathy towards women, through the inclusion of a background female character who can be seen entering and exiting men's cars throughout. We discuss Shushan's motivations for including this character. "I really wanted to put something in the background… like the refugee, a woman, a young woman, that no one cares about. While this crazy story is happening, a woman just comes and goes from men's cars. And no one cares, no one sees her. And she represents lots of women in this world, in the same situation. And it was very important for me to give the stage to this character."
Shushan is currently developing the ideas from White Eye into a feature film. "I mean, it's the same characters and it almost starts the same, but the refugee does not get arrested. The story happens in the desert, at an event where it's clear there are levels of society. Both of the characters meet there, [Omer] is a waiter and Yunes is washing dishes, and they meet again. They are going on a journey to help each other, despite what happened in the past."
As for the future, Shushan is working on another film, this time a true story based on his own family. "A second cousin, he got caught with a cocaine delivery in Colombia," Shushan explains. "He went to jail and it's about his mom that went on a journey from Israel to Colombia to release him and help him to escape and it's just getting really, really crazy. It's a journey story, it's a journey film."
Shushan's filmmaking is heavily influenced by personal stories, either his own or that of his family. "I always want to do things that I know close-up and I have access to – to research and to go deep, you know." But Shushan's introspective storytelling does not prevent him from exploring new and alternative experiences. "I want to keep my character as a creator," he says, "but also to explore more cultures and to talk to more people."
The 93rd Academy Awards will take place April 25th.