Batwoman and You actress Nicole Kang spoke with Outtake about her experience playing Jane Zap in The Social Ones, her attitude towards social media and her upcoming projects.
The Social Ones, written and directed by Laura Kosann and co-produced by her sister Danielle, is a timely mockumentary exploring the lives and anxieties of a group of social media influencers. As they prepare for a big magazine cover shoot, we follow a Snapchat celebrity (Colton Ryan), an eccentric fashion blogger (Amanda Giobbi), a self-titled Meme God (Setareki Wainiqolo), a food Youtuber obsessed with cheese, eggs and rainbow-everything (Desi Domo), and a Facebook vlogger obsessed with playing dress-up with cute animals (Nicole Kang). Acting veterans Richard Kind, Debra Jo Rupp, Jackie Hoffman, Allegra Edwards and Stephanie March also star in this satirical comedy reflecting on a generation's relationship to social media.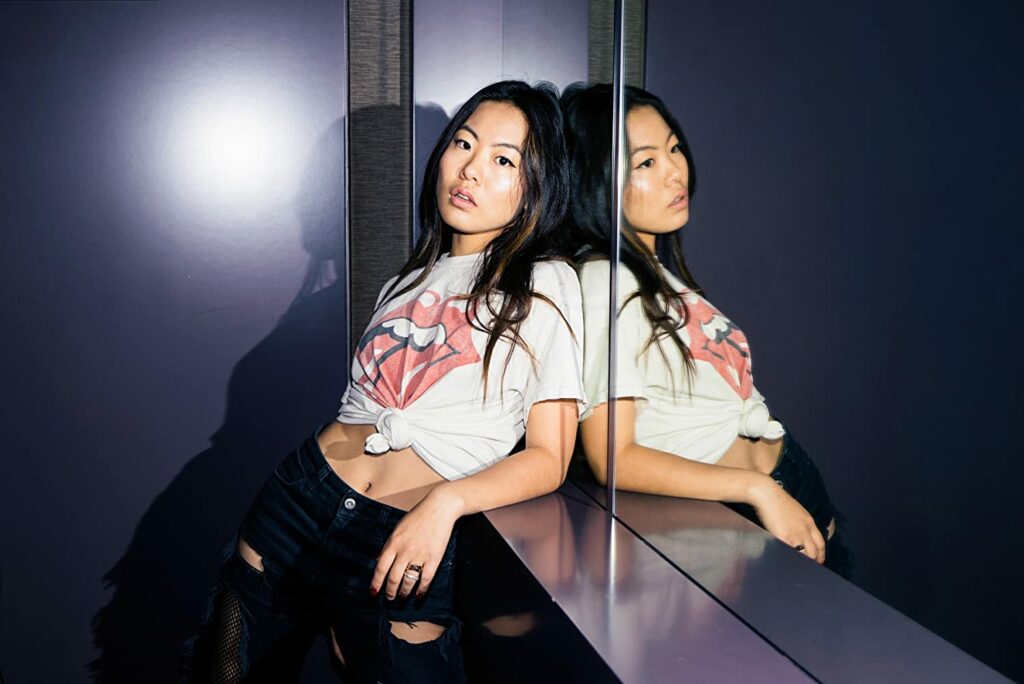 How did you get involved in The Social Ones?
Nicole: I was brought in initially for a number of roles; because it's such an ensemble movie, the audition process was about finding the perfect mix, this perfect group of people that would allow for the ridiculousness of the movie to ensue. So I came in and read for a few roles but, for some reason, I connected most with Jane – whether that's a good thing or a scary thing! I sort of fell in love with her, and then it became this amazing collaboration between me and Laura and Danielle in crafting the character. I had a really good idea of what direction I wanted to take her in, and our visions came together pretty seamlessly.
And what was it about the story and the script itself that you found really interesting?
I think it's both a love letter to social media and a little bit satirical. I often find that I'm drawn to movies that capture a moment in time, and it felt like this project exists right now, today, and they've captured it in such a hilarious way while maintaining the spirit of the age of social media. And to the point that even a year later, you know, another platform is born! TikTok has come about, and that wasn't there when we were filming. I think that's a really cool part of what we do, because now, that piece has become a sort of time capsule. That's really interesting to me.
And it is interesting because like you say, things like which platforms are in or out will change, but learning to balance our relationship with social media will always be something we work at. How much you found that your relationship with social media has changed since you've been in the public eye?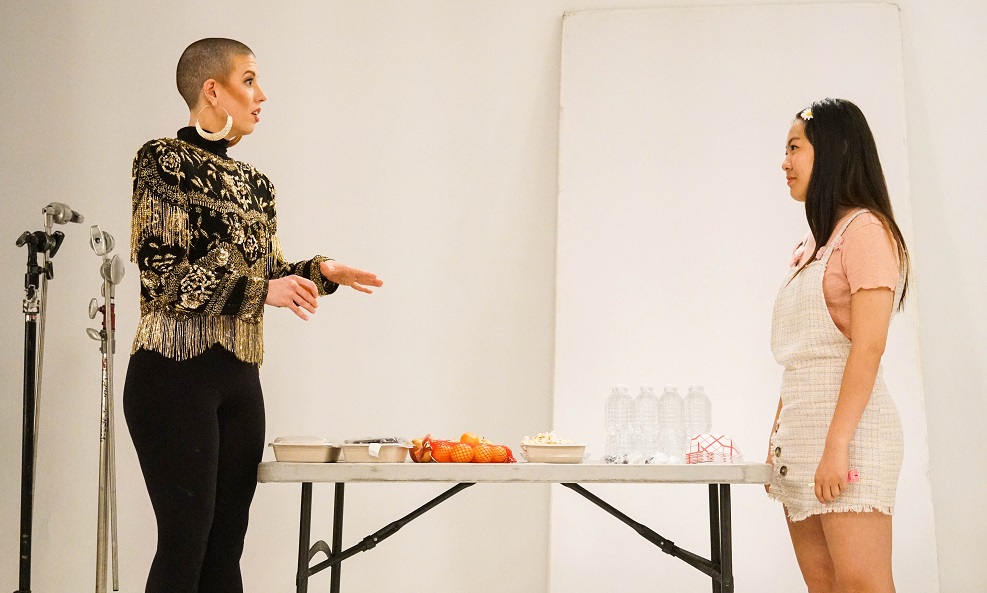 I think there's power in having a platform. I think, you know, my followers are all incredibly different, amazing people, and I do feel a type of responsibility to them in using my platform well. I choose to take on that responsibility so everything I do is mindful. I'm constantly thinking, "I have a responsibility to speak on this." I choose to speak on whatever issue needs addressed, I want to take a chance and have a moment of genuine interaction. And then I'm able to share tools and information with so many people, and we can start to create and talk to each other as a community; and me being in the middle of all these people I think is really, really special. I don't take for granted at all.
I definitely think it's a huge honour and especially as my platform grows, I get really excited to think that there will be movies I can talk about with people who've only seen me in a show, or there will be people from old circles of friends interacting with new friends. And yeah, I remember being a little bummed out that Comic Con was cancelled this year, and I think social media is a great way to still stay connected. And so, while we have to be careful what we consume on social media, it's also an incredible tool.
And it's also strangely timely that we're having this conversation while in lockdown and isolating because our relationship to social media has been amped over the last few months, and because we're entirely dependent on it as our connection to the outside world.
Oh, yeah. And any sort of formal Late-Night show or daytime show in which you're used to seeing personalities, now you're seeing them in their home, on Zoom. It's more personal. You know, on the one hand, I can't wait to get back to work. I can't wait to get back on set. And on the other hand, I do think it's been incredibly empowering to watch some of these barriers fall and have people welcomed into our homes. We can still stay connected, and that's a really beautiful thing. I hope the results of this isn't that we're more isolated; as a society we're already scared of physical touch, so I hope that through this we encourage each other to lean in and look to the other side of this in a different way, to connect fully with people and really enjoy those restaurants, and to eventually find some perspective on how important connection is. At least that's what it's taught me.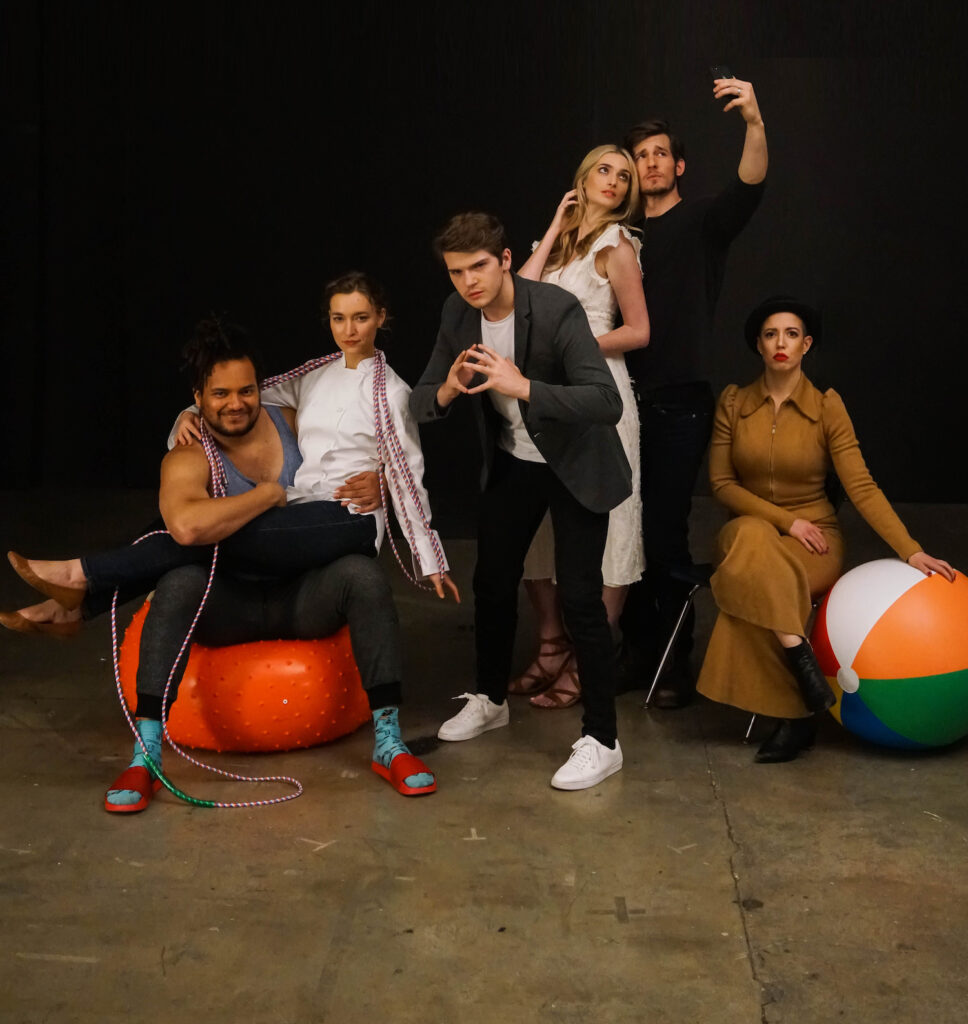 The moral of the mockumentary is that 'we are not a handle, we are human'. Do you think that it's really that easy to separate the two?
It's hard but you see it from time to time. Like a post or an IGTV moment where an influencer or a public figure will say, "Hey, I hear you, I hear everything you say. I think about what I say, please take one second to think about what you're saying. I'm real, and even though my armour is strong and I have a great sense of self, I'm putting myself out here and I hear you." So I do think the mental health aspect of this is important to consider. I actually just watched the wonderful ESPN Michael Jordan documentary series [The Last Dance], and it really hit me the amount of publicity he had, the worldwide global presence that he had which sort of appeared before him. It's amazing to hear him as a human being speak on that publicity in particular and say, yes, it weighs on you. And it is a lot of pressure, and I think that's part of the gig, for us at least. But I think it's important every so often to go on your platform and remind people that you're just a human being. That's why I will try and be as transparent as possible.
Of course you've got Batwoman season two coming up once filming can resume, but is there any other project that you have coming up and would like to mention?
Well, there are certain things coming soon that I can't speak on yet. But I will encourage people to follow me on social media on Instagram and Twitter! Follow me on that sort of news. And this month is Asian American and Pacific Islander Heritage Month, and I think it's been a real honour to see some of my colleagues be honoured and talk about their heritage and things like that. It's wonderful.
The Social Ones is available now on VOD.