Following in the footsteps of Clueless (1995), 10 Things I Hate About You (1999), and She's All That (1999), Easy A is one the great teen comedies based on classic literature. Yet ten years after its release, few have dared to re-attempt what Easy A accomplished.

Easy A follows the story of a 17-year-old girl Olive Penderghast (Emma Stone). Through speaking into her webcam, Olive attempts to clear up her reputation by recounting the story of how she became the school 'slut'. Directed by Will Gluck, Easy A is a loose adaptation of Nathaniel Hawthorne's 1850 novel 'The Scarlet Letter', swapping the strict Puritan society of 17th Century Massachusetts for the equally ruthless contemporary high school setting.
The plot is as follows: Olive tells her best friend Rhiannon (Aly Michalka) that she lost her virginity over the weekend instead of the truth, which is that she spent her time memorising the Natasha Bedingfield song, 'Pocketful of Sunshine' from a card. When this white lie is overheard by a member of the school's Christian group, it spreads like wildfire throughout the school. Leaning into her new persona as a sexually active woman, Olive and her friend, Brandon (Dan Byrd) hatch a plan pretending to have sex at a party so he will be accepted as a "straight stud". While Brandon's reputation changes for the better, Olive is labelled a "dirty skank" causing her to exchange fake sex with other marginalized students for payment. Unlike her predecessor Hester Prynne, Olive has some degree of agency. She leans into her new role, keeping up the performance as she stitches a red "A" onto her increasingly provocative clothing.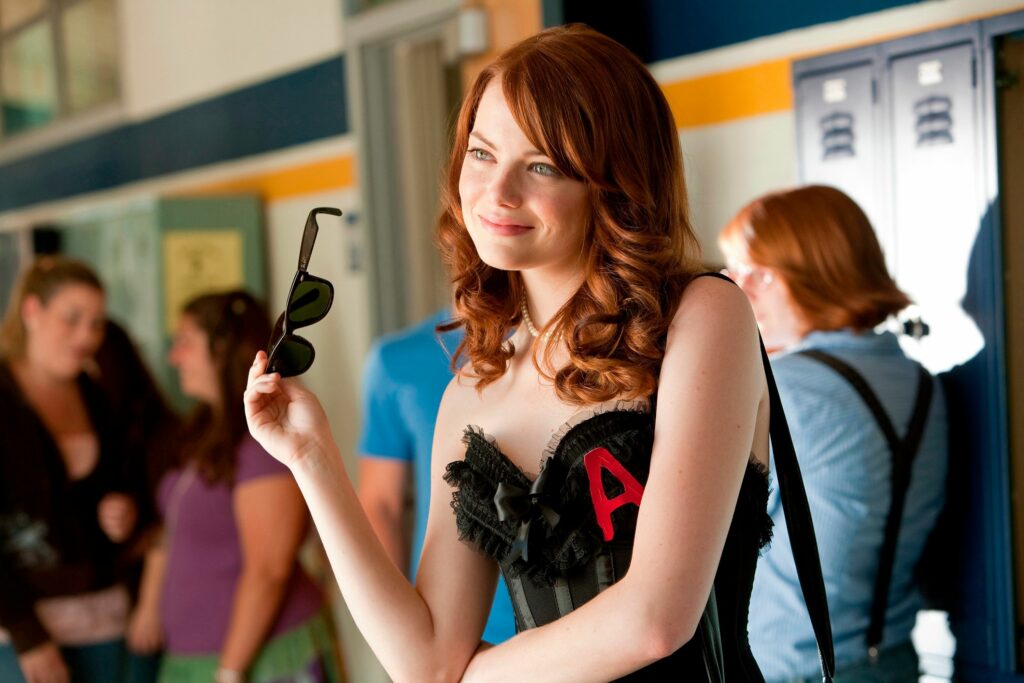 Upon its release, Easy A was enjoyed by critics and audiences alike. Coming out of supporting roles in Superbad (2007) and Zombieland (2009), Easy A was Emma Stone's first leading role and earned her first Golden Globe nomination. This unassuming teen comedy swindled in lofty ideas about double standards and sexism while joking that Tom Cruise is the higher power who will judge all our sins. A decade ago, just as Feminism™ was taking off in the mainstream, we were only beginning to have conversations about the implications of slut-shaming. Easy A brought forth a bitingly critical social commentary on how young women are both objectified and shamed for owning their sexuality.

Easy A owes much of its success to the films that came before it, both the classic 80s John Hughes movies Olive obsesses over and the loose literary adaptations it was inspired from. Like She's The Man (2006), Clueless (1995), and 10 Things I Hate About You (1999), Easy A similarly relies on the high school setting as a backdrop for its story. Being all about the danger of a rumour, it seems there is no better place to have gossip spread than a small-town high school. Yet unlike most of its predecessors, Easy A is explicitly referential to its source material, with Olive's class is studying 'The Scarlet Letter'. The film also references other adaptations of the novel as it mocks the much-ridiculed Demi Moore version.

The 90s were full of fun and witty re-imaginings of classic tales from literature. As well as introducing the world to the likes of young Paul Rudd and Heath Ledger, they also managed to conceal works of great literature in light-hearted and accessible teen rom-coms. The 2000s saw more classic literature remakes like She's The Man (2006) based on 'Twelfth Night', Whatever It Takes (2000) based on 'Cyrano de Bergerac' and John Tucker Must Die (2006) based on 'The Merry Wives of Windsor', with varying degrees of success. Like the 90s films that preceded them, these films defied the limits of adaptation and often veered wildly from the source's intended message. Importantly, many of these teen comedies leaned into their femininity and can be defined squarely as chick flicks.
By the 2010s, it was clear that the genre was dying. Despite the success of Easy A and to a lesser extent The Duff (2015), which is based on 'Pygmalion', it is now clear that Hollywood has largely given up on this particular corner of cinema. Perhaps this is a casualty of the larger trend that sees genre pieces disappearing from movie theatres as superhero films eat the box office numbers of mid-budget literary chick flicks. It is merely a product of changes in the industry that these sorts of films are now relegated to being quiet Netflix original releases such as The Half of It (2020) and Sierra Burgess is a Loser (2018), both based on 'Cyrano de Bergerac' though the former is far better.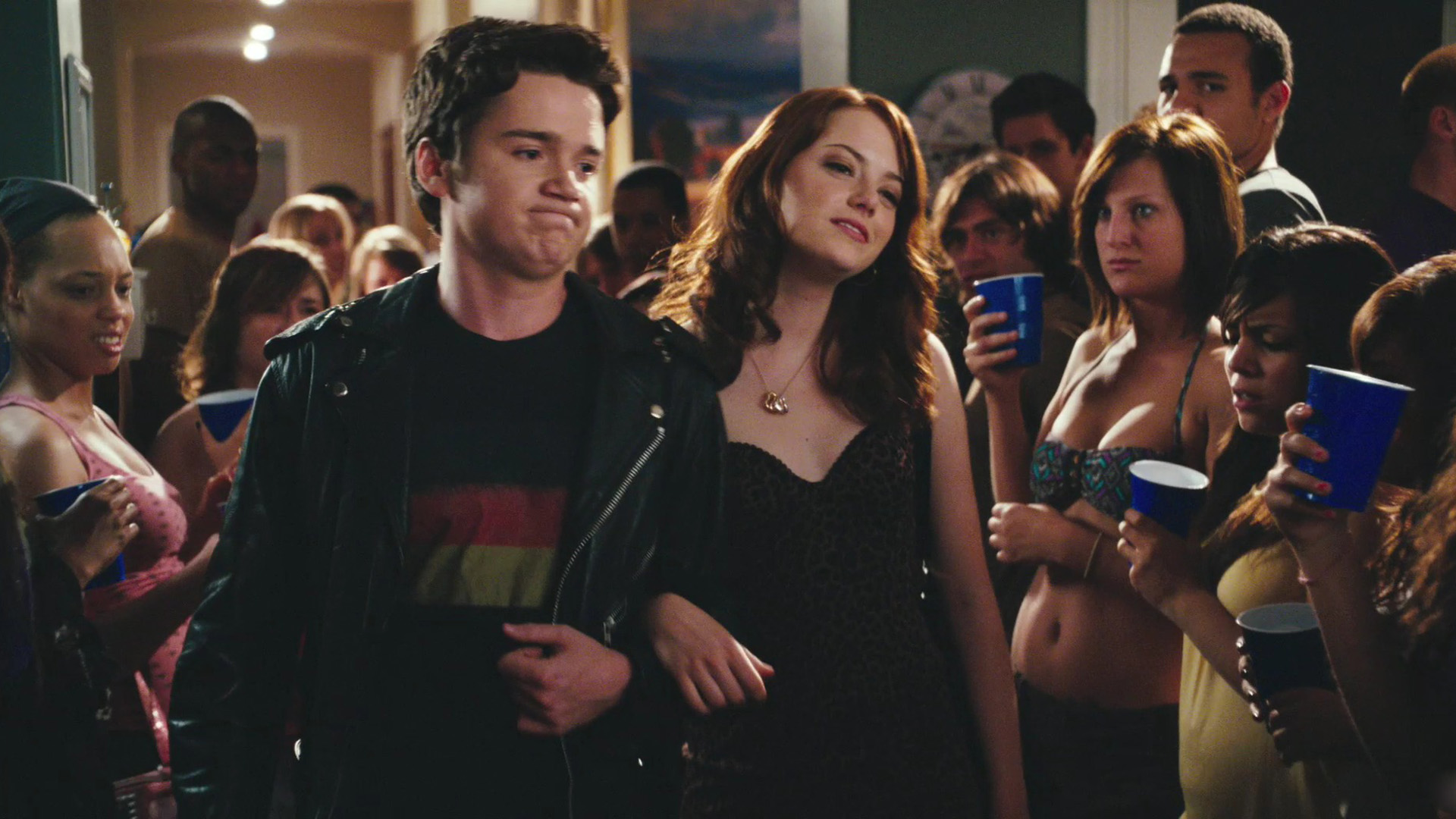 Many of the aforementioned films have now been heralded as secret feminist works, with Easy A joining the group. Olive is in conversation with She's The Man's Viola Hastings as well as the characters who ushered in the genre like Clueless' Cher Horowitz and 10 Things' Kat Stratford. While for a while it seemed that Hollywood would throw anything loosely based on Shakespearian text at the wall in hopes that teens would see it, many of the classic adaptations have not stood the test of time. Yet the ones which have justified their existence with light-hearted social commentaries (often) about the plight of women. As a high school comedy, Easy A manages to express a comprehensive message about reputation, in all the ways it matters and all the ways it doesn't.