"Jim Morrison? He's a drunken buffoon posing as a poet", proclaims legendary rock critic Lester Bangs (Phillip Seymour Hoffman) on a radio interview, "Give me the Guess Who. They got the courage to be drunken buffoons, which makes them poetic". With apologies to fans of The Doors, Bangs summarises the central conflict of Cameron Crowe's 2000 Rock 'n' Roll road-trip film Almost Famous. The desire for musicians to be prophets of great truth only separates them from authentic meaning. Fame inflates people's influence but often dilutes their values, and Almost Famous warmly chronicles its characters' attempts and failures during a 1973 Band tour to navigate the 'cool' and the 'real'. At the very least, Bangs is able to eloquently analyse bands and their tracks/tracts (the religious reverence is a subtle and recurring theme), critiques which must be recorded to separate true Rock Gods from False Idols, poets from buffoons.
Despite his brief appearances, Hoffman's world-weary yet warm scenes in Almost Famous are some of the film's best, capturing an integrity not often provided to 'cultural journalists', who from Ratatouille to Birdman are typically depicted as antagonists. The real-life Lester Bangs certainly influenced a young Cameron Crowe when he was a budding journalist for Rolling Stone magazine. Much of Almost Famous is semi-autobiographical, Crowe having graduated two years early and toured with Rock Bands as a teenager. Of course, Bangs was always a cynical writer, constantly bemoaning the "death-rattle" of Rock (one of his most famous pieces is an obituary on Elvis), while Crowe has always carried a proudly corny, sentimental streak.
His 1996 film Jerry Maguire was a manifesto for romance in the cynical world of sports-agents, and its massive success is what gave Crowe a blank cheque to create Almost Famous. His cinematic surrogate, 15-year-old William Miller (Patrick Fugit), uses this baby-faced innocence to ingratiate himself with fictional band Stillwater, which enabled him to follow them on tour and research his piece for Rolling Stone. Fugit's boyish and bewildered performance verges on cloying, but is pulled back by his earnest enthusiasm in memorising all the roadies' names, and the nagging reminder that his role requires him to resist feelings of acceptance and friendship, and as Lester says, "be honest and unmerciful".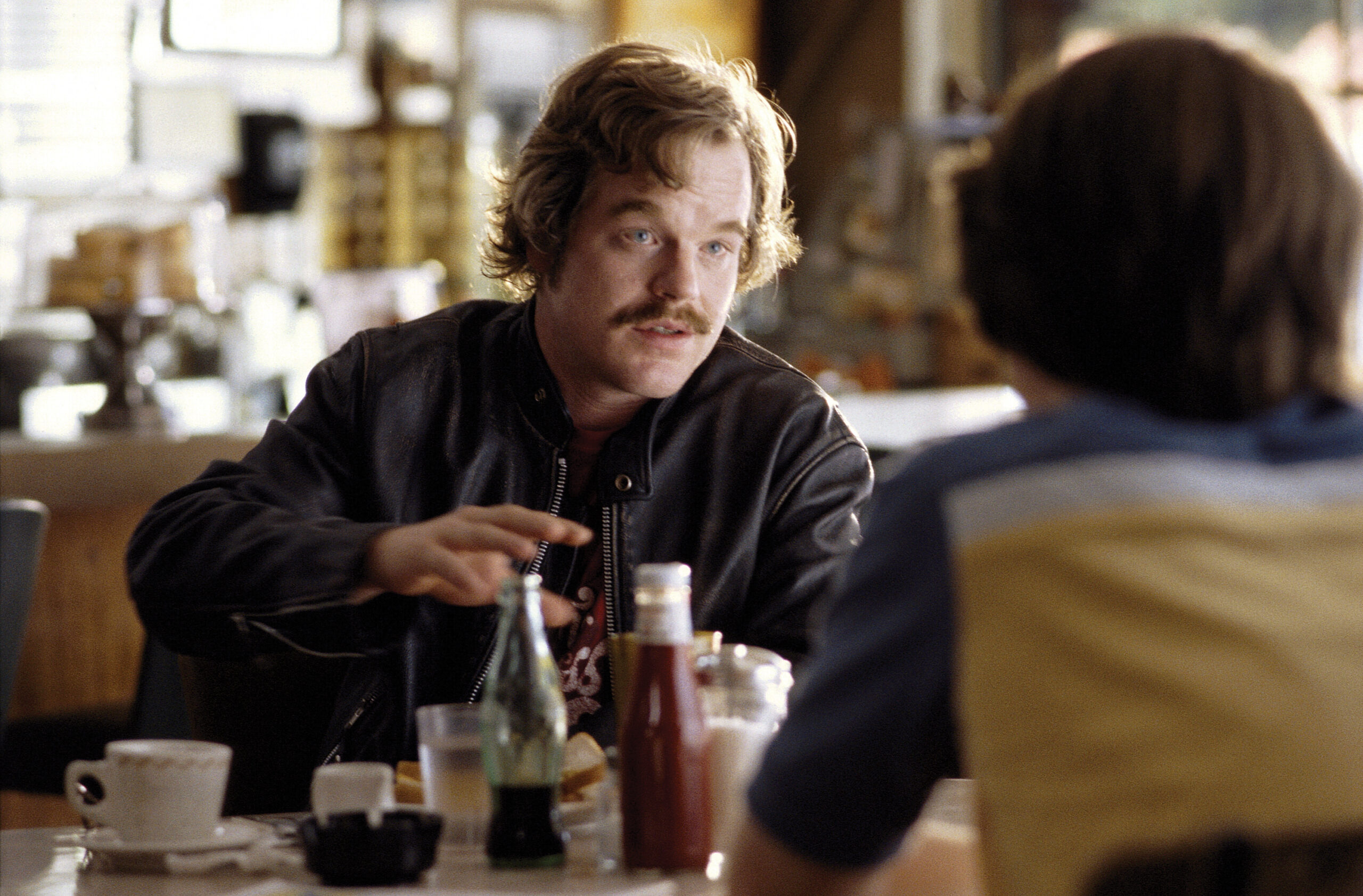 William's sister Anita (Zooey Deschanel) already left their San Diego home to, as she lets Simon & Garfunkel explain it, "look for America". She couldn't find it under the roof of their psychology professor mother Elaine (Frances McDormand), who banned rock music and moved Christmas to September "so it wouldn't be commercialised". Elaine was also inspired by Crowe's real-life mother, whose eccentric and controlling behaviours had caused his actual sister Cindy to leave home. McDormand's small but commanding performance elevates Elaine from a domineering stereotype to an intelligent mother who doesn't tolerate 70s youth culture's wilfully ignorant haze. She is unvarnished and unhip to an alienating degree, not understanding why "Narc" is an insult, making her a pillar of blunt truth against Rock music's mystical 'cool' artifice. One scene has Stillwater guitarist Russell Hammond (Billy Crudup) talk to Elaine on the phone, his laid-back attitude stiffening against her maternal sternness, stuttering out "yes, ma'am" as he's reminded of childhood structures and responsibilities.
Of course, as Russell himself tells Stillwater's lead singer Jeff Bebe (Jason Lee), "didn't we all get into this to avoid responsibility?". Crowe's fun script and stellar soundtrack show the appeal of being "on the road", away from the worries and routine of "the real world", the first half particularly depicting William's inclusion within Stillwater and their posse with the geniality of nostalgic anecdotes. Particularly notable is Penny Lane (Kate Hudson), a "Band-Aide" who distinguishes herself from 'groupies' by emphasising that she is not there for the famous musicians but for their music, even if she does sleep with Russell. She is based on several women Crowe remembers from rock-tours, the 'muses' who gave the experience a magical quality but are often side-lined. Penny represents the self-confident 'coolness' that William desires, even if it later becomes apparent her effervescent allure is a story that she created around herself. As a journalist, William has to extract himself from how these people want to be seen, and write about them as they really are.
In a way, Almost Famous is about William gradually maturing, even losing his virginity on the tour in a threesome (another autobiographical element from Crowe). It moves from him worshipping Stillwater and the 'cool fame' they represent, to understanding how human flaws exist in these musicians too. Many of Crowe's films, from Jerry Maguire to Vanilla Sky to Elizabethtown, are about failure and men who must rebuild themselves after their success crashes around them. After an argument with Jeff about their T-Shirt picture, which has him in the background with the guitarist out front, Russell drags William to a party of "real people", fans of Stillwater who, non-coincidentally, are all teenagers. In a sequence both very funny and kind of pathetic, Russell proclaims how "real" the house is, takes some Acid, and climbs onto the roof anointing himself "a Golden God!" as the self-perpetuating religious idolatry takes him over, before jumping in the pool.
After Russell is brought back to the tour-bus, tensions are still high and feelings are still hurt, but Crowe still peppers in moments of euphoric bonding. As the group rides along in awkward silence, Elton John's "Tiny Dancer" plays in the background. In arguably Almost Famous' most famous scene, the passengers on the bus slowly and tentatively begin joining in, singing along, the voices building upon each other. All their egos and arguments gradually dissolve to rally around their shared passion, music, until they are all joined together in a triumphant chorus.
It's a lovely moment, even if it is only a temporary reprieve. As the tour winds down, Stillwater get the more 'professional' manager Dennis Hope (Jimmy Fallon) who advises them on securing financial success and managing their fan-base; "I didn't invent the rainy day. I just own the best umbrella". Meanwhile Russell is about to reunite with his wife in New York, dismissing the romance he's had with Penny Lane as part of the "circus" of the road, something which didn't count. William sits in on a poker game where the manager loses Penny in a bet for "50 Bucks and a case of Beer". Penny could be considered a Manic Pixie Dream Girl, whose quirky jubilance serves only to inspire the male characters (a term which actually originated against Cameron Crowe's later film Elizabethtown). Yet when William angrily reveals this 'bet' to the love-struck Penny, it becomes clear that her semi-vapid, alluring 'cool-girl' attitude is a construct, an act to endear men to her. Penny is clearly devastated by William's news, but steadies herself and painfully smiles with tears in her eyes. She jokes to William, "what kind of beer?", her forced laugh not undermining the sequence but reinforcing its pathos.
Almost Famous is full of people putting up pretensions to avoid painful truths. It takes Penny being ignored by Russell at a restaurant with his wife and the rest of the band for the rejection to really hit her. She takes an overdose of Quaaludes but is rescued by William, the only member to see her as more than an ornament. It's only then that Penny can step outside her fantastical "on-the-road" persona and fulfil her promise to herself to fly to Morocco, setting out on her own journey. Later, Stillwater takes a private-jet flight and experience extreme turbulence, potentially referencing the 1977 Lynyrd Skynyrd plane crash. At first, they offer each other platitudes of love, but as it worsens their ugly hidden truths (hit-and-run accidents, their affairs, and Penny's overdose) come spilling out. Stripped of their assured facades, the band are finally honest with one another. As Lester will advise William as he struggles to finish writing his Rolling Stone article, "the only true currency in this bankrupt world is what you share with someone when you're uncool".
Almost Famous shows the value of authenticity and the perils of placing image over substance. The value of true music, true art, is not the status it provides but that ephemeral spark that burrows through all our defences. As Lester says early in the film, bands are "trying to buy respectability to a form that is gloriously and righteously dumb". It doesn't matter if Rock music is ridiculous, as its sincere silliness is what makes it so appealing. Or as Band-Aide Sapphire (Fairuza Balk) puts it, a new batch of 'groupies' "don't even know what it is to be a fan… to truly love some silly little piece of music or some band so much that it hurts". Maybe all fandoms are fanatical, worshipping at the altar of false gods. But maybe they understand how silly the whole thing is, and do it for the religion, the inspiration music can provide, rather than the creators themselves. The quotable, sincere, and sometimes pretentious Almost Famous gently looks over these flawed people following that buzz, and we adore it, warts and all, so much that it hurts.