Ferris Bueller once said that "life moves pretty fast", and for many of us, life has never moved or changed quite so fast as it has in the last month.
The Coronavirus, or COVID-19, has literally taken over the world. Stuck in self-isolation or lockdown, depending on where you are, and aware that times are only about to get tougher, we've compiled a few choice movie quotes that not only speak to the hardships we face, but also offer some useful guidance on how best to survive it.
"This is a goddamn bitch of an unsatisfactory situation"


Jack Twist, Brokeback Mountain (2005)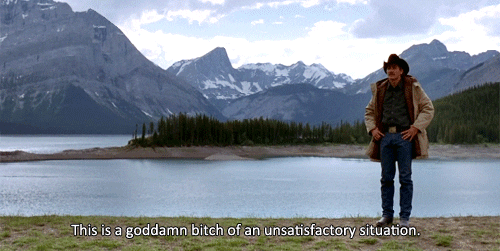 There's no denying that this all sucks. As Jake Gyllenhaal's cowboy in Brokeback Mountain once so eloquently put it: "this is a goddamn bitch of an unsatisfactory situation." Cinemas and other fun places are closed, socialising is prohibited, people are losing their jobs and their loved ones and a lot of us are stuck losing our minds indoors. It's okay to acknowledge this. You may, like Jack lamenting his love for Ennis, 'wish you knew how to quit this.' But thankfully, there are things we can all do to get through it…
"If we're kind and polite, the world will be right."


Paddington Brown, Paddington 2 (2017)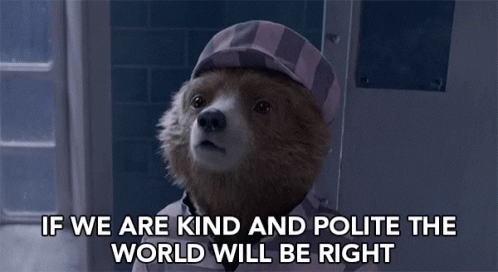 The world according to Paddington (or rather, his Aunt Lucy) is the world we should all be striving to make real right now. There's simply no time for selfishness, ignorance or prejudice. Now is the time to be your best self. "Be kind and polite and the world will be right." And if you spot anyone who appears to have lost their manners, you should definitely give them a hard stare. Speaking of…
"I ran out of toilet paper. Give me some of yours."


Ricky Baker, Hunt For The Wilderpeople (2016)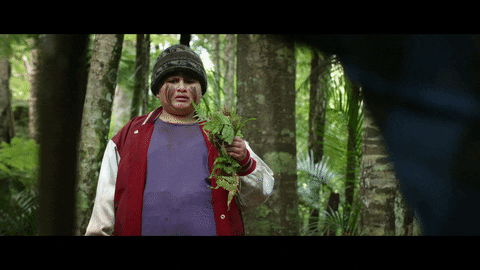 Don't hoard and bulk-buy toilet paper (or anything else), you eggs! Only buy what you need, and share if you can. Having survived the New Zealand wilderness (and the Terminator-like chase of Paula the social worker), Ricky and Uncle Hec aren't bad role models for this kind of situation, actually. Not only are they exemplary in the art of social distancing, but they were also resourceful – with both their supplies and their time: "Me and this fat kid / we ran, we ate and read books / And it was the best." (Sidenote: Haikus are fun.)
"Look for the helpers. You'll always find people who are helping."


Fred Rogers, A Beautiful Day In The Neighbourhood (2019)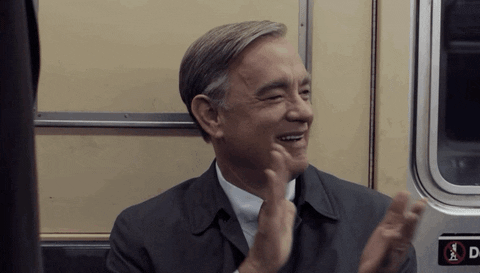 Is there anything lovelier or more wholesomely inspiring than Tom Hanks in the role of Mr. Rogers? As one of the first celebrities to 'come out' with a positive diagnosis of the virus, Hanks quoted this very line in one of his social media updates, and never has the philosophy of Mr Rogers' neighbourhood rung truer. If you're feeling overwhelmed by the state of things, just look out for those who are making an effort to make things right. Whether it's the medical professionals, the supermarket and delivery workers, or the far away efforts of friends, there are people trying to make things better.
Happiness can be found, even in the darkest of times, if one only remembers to turn on the light."


Albus Dumbledore, The Prisoner of Azkaban (2004)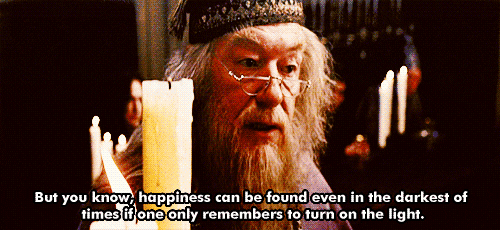 In these scary and uncertain times, it's very easy to feel sad and anxious – which, as it happens, are feelings that Dementors (or mental health issues, if you want to read past J.K. Rowling's metaphor) thrive upon. Try to heed Dumbledore's advice though and find happiness where you can. Keep active, find distractions (be it creative or just lazily fulfilling) and if the Dementors do get to you, talk about it with someone. "…And eat. You'll feel better!"
"Glory to the holy Wi-Fi!"


Ki-Taek, Parasite (2019)"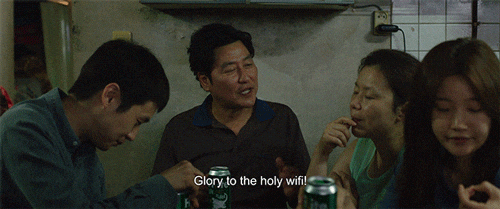 Speaking of finding distractions, let us all take a moment to praise and pay glory to the holy Wi-Fi! Social media isn't necessarily the healthiest of places to spend months of self-isolation, but the internet in general can provide a wealth of useful resources at the moment. Imagine how much worse quarantine would be without it! So, like the Kim Family, we should be very grateful for its presence right now. (Unlike the Kims however, we should probably not try and infiltrate a rich family's house though. Tempting as it is.)
"Hope is like the sun. If you only believe in it when you can see it, you'll never make it through the night."


General Leia Organa, Star Wars: The Last Jedi (2017)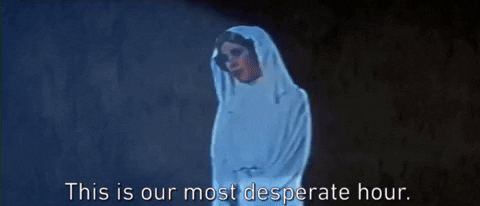 With things escalating so quickly and yet, somehow, also feeling like they'll go on forever, it's easy to "have a bad feeling about this" and to worry that it will never get better or go back to normal. But, so long as we're responsible, there is hope – and we have to believe in it. I would argue that no character in cinematic history personifies hope more clearly than Carrie Fisher's Princess Leia; a character who withstood enormous hardship and heartbreak throughout her life, but still stands tall.
Be like Leia, do the right thing and, above all, have hope.